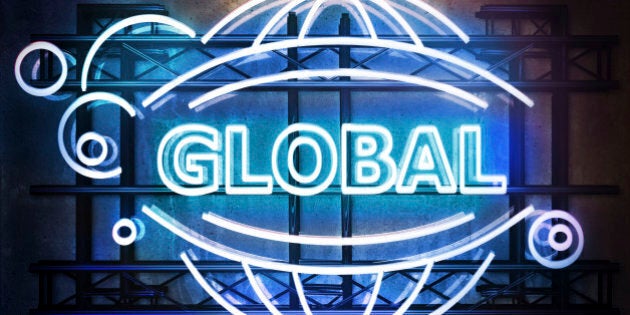 Even before the last economic cycle ended, the bell was tolling. High energy prices were driving globalization onto the rocks, according to a highly-publicized Canadian book. The onset of crisis compounded the doomsaying. Me-first nationalism swept across the planet, threatening to undo the vast global integration that was the last cycle's hallmark. Is globalization dead?
Not on account of energy prices. That theory seemed to die an early death with the brief crash of oil prices at the end of 2008. In addition, price spikes led to exploration and development that have unearthed new oceans of global oil -- we are not in imminent danger of running out of the stuff. What is more, the end of quantitative easing suggests that today's triple-digit oil prices won't last for long. At these prices, trans-globe transportation of the world's goods is still quite affordable; globally-integrated supply chains are indeed alive and well.
Recession-fed neo-protectionism is a much greater concern. The world has long since concluded that the benefits of freer trade far outweigh the costs. Yet as counter-intuitive as it was, there was a general capitulation to our basic instincts in a way that provoked a cascade of protectionist response -- in developed and emerging markets alike.
Frankly, the sequence of political pronouncements in the early throes of the global crisis was stunning. And it was particularly frustrating that some of globalization's greatest beneficiaries were the loudest proponents of erecting fortress walls around their economies. 'Buy America' is still with us; 'France First' policies were prominent. It seemed unthinkable, but even China -- the planet's trade juggernaut in the last cycle -- wanted to tighten its borders. One prominent head of state betrayed a woeful lack of understanding of supply chains by announcing that layoffs would occur in the foreign branches of its multi-national corporations, and not in their domestic operations. Logic like this made it easy to wonder whether globalization was headed for the historical archives.
Is the process dead or dying? It is far too early to tell. If recessions always and everywhere rekindle self-destructive economic selfishness, then the Great Recession, in whose sluggish slipstream we have stagnated for a half-decade, was bound to incite an exaggerated economic introversion. Yet as persistent as it has been, it is unlikely to last.
First, renewed growth is a great cure. Once momentum and confidence return, trade blockers will again be seen as prosperity-inhibitors, and are likely to fade from the political agenda.
Second, the speed of recovery will increase the urgency of removing trade irritants. Pent-up demand suggests that our half-decade hiatus will give way to a rush of growth that will reveal the economy's underlying constraints. Physical capital, labour, foodstuffs and even in certain places financial capital, will be in short supply locally. Most of these strictures can be greatly alleviated by further globalization of business activity.
Third, ongoing technological advances make the forces of globalization ever more inexorable. Location of investment is increasingly less important and is increasingly driven by fundamental efficiency. The upcoming growth cycle is likely to be characterized by ever-greater foreign investment flows and the activities of foreign affiliates.
Finally, when it dawns on the world once again that globalization's inclusion of the next wave of emerging markets is actually a great boost to domestic growth, the process will again be broadly embraced - and none too soon.
For multiple reasons, globalization has a gravitational pull that is hard to resist. We have likely just gone to the further reaches of an elliptical orbit that renewed growth will pull us back from. Over the coming months and years, we are likely to see the rapid dismantling of the post-crisis period's economic Maginot lines.
The bottom line? Globalization is alive and well, and the launch of the world economy's next growth cycle -- now underway -- will prove it all over again.