It's a grave day for journalism in Canada when one of the country's most venerable newspapers erects a fence around its building to keep out its own reporters and editors.
UPDATE: Globe and Mail union members vote 92.3 per cent to reject the company's contract offer, according to an Unifor official. Staff and management are reportedly to return to the bargaining table July 8.
That's just what happened Wednesday as members of The Globe And Mail's union prepared to vote on whether they'll go on strike. Leaders of Unifor Local 87-M have recommended that members reject management's latest contract offer.
If the strike vote fails, it's still possible that management will lock out union members.
It's also possible that both sides will head back to the bargaining table. But that doesn't seem likely in light of the barriers erected around the publication's Toronto office.
In the event of a strike or lockout, The Globe's management will be enlisted to continue publication. There are more than 30 managers in editorial, sources say, but staff from other departments could also be pressed into service to keep operations going. The Globe plans to transport staff past the fence in buses.
Globe reporter and union representative Shawn McCarthy told The Financial Post that "plans are being made" for the publication, which is rumoured to carry the title Globe Nation. The url globenation.com currently redirects to the website for Unifor Local 87-M.
The union has recommended rejecting management's contract offer on the grounds that it will require editorial staff to write articles paid for by advertisers, reduce salaries to sales employees and lower job security.
The Globe has roughly 350 staffers spread out over a number of offices in Canada and abroad.
UPDATE: @globefence joined Twitter Wednesday afternoon.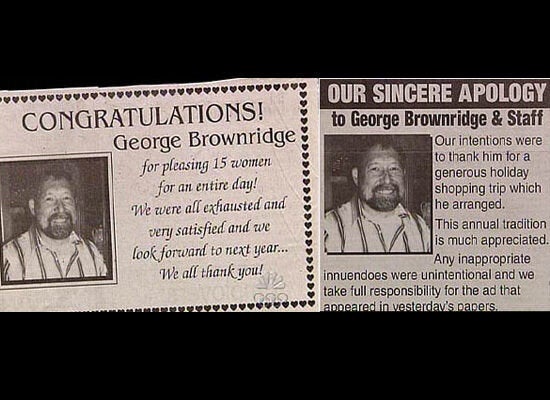 Funniest Newspaper Corrections