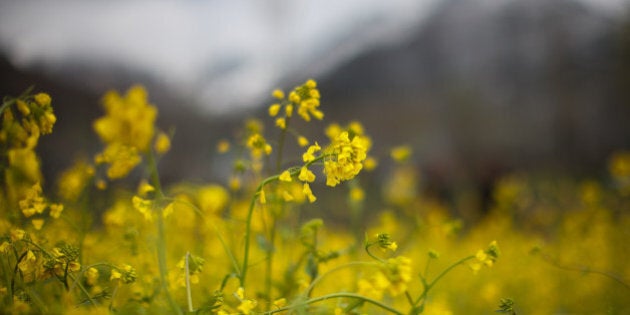 Global oilseed, agribusiness and biotech corporations are engaged in a long-term attack on India's local cooking oil producers. In just 20 years, they have reduced India from self-sufficiency in cooking oil to importing half its needs. Now the government's attempts to impose genetically modified (GM) mustard seed threaten to wipe out a crop at the root of Indian food and farming traditions.
In 2013, India's former Agriculture Minister Sharad Pawar accused U.S. companies of derailing the nation's oilseeds production program. Similar claims had been made in 1998 concerning the so-called mustard oil tragedy when Rajasthan Oil Industries Association claimed that a "conspiracy" was being hatched and that the "invisible hands of the multinationals" were involved.
Both figures seemed to have a point. India was almost self-sufficient in edible oils by the mid-1990s, but by 2014 it was the world's biggest importer of cooking oils. Under pressure from the World Bank, India began to reduce import tariffs on edible oils and imports then began to increase.
It is a Trojan horse crop that is intended to open the regulatory floodgates for the sanctioning of other GM crops.
The country now meets more than half its cooking oil requirements through imports, with palm oil shipped from Indonesia and Malaysia and soybean oil from Brazil and Argentina (see here). At the same time, there is a push to get GM mustard (and other crops) commercialized and grown in Indian fields.
The GM mustard issue cannot be divorced from the running down of India's indigenous edible oils production. The cynical argument being forwarded for introducing GM mustard is to diminish reliance on imports, especially as it is said to possess a trait that makes it high-yielding. Given the role that trade rules had in decimating India's oils sector, this argument is little more than a smokescreen to divert attention from this reality, which has to date certainly benefited U.S. agribusiness Cargill. What is more deceptive is that the genetically engineered mustard does not produce higher yields than non-GM mustard.
The '"Jairam Ramesh Report: of February 2010, imposing an indefinite moratorium on Bt Brinjal;
The "Sopory Committee Report" [August 2012];
The "Parliamentary Standing Committee" [PSC] Report on GM crops [August 2012]; and
The "Technical Expert Committee [TEC] Final Report" [June-July 2013]).
Given that trade rules -- not the low productivity of Indian farming -- undermined indigenous production and that non-GM varieties of mustard are better yielding, where is the logic in promoting GM varieties?
Consider that India is the biggest recipient of World Bank loans in the history of that institution. And consider that the opening up of India's agriculture sector to foreign agribusiness via the Knowledge Initiative on Agriculture is a quid pro quo deal for the U.S. sanctioning investment in and the opening up of India's nuclear industry. Such considerations steer us towards the real reasons for the relentless drive for a GM India.
The push to get GM mustard into India is presented as an endeavor independent from vested interests. However, the hand of Bayer is clear to see. It is a Trojan horse crop that is intended to open the regulatory floodgates for the sanctioning of other GM crops.
That's not a wild claim. It is a tactic that has already been employed the GMO agritech sector: Syngenta once described GM Golden Rice as a "latch-lifter" to create "regulatory tension" with the ultimate aim of breaking down regulatory barriers.
GM is not wanted or required in India. From research institutes, regulatory agencies and decision-making bodies riddled with conflicts of interests to strings-attached trade deals and nuclear agreements and pressure from the World Bank, the answer to why India is trying to pursue the global agribusiness-backed GM route is plain to see.
Transnational agribusiness armed with its chemicals and chemical-responsive (GM) seeds uses the language of crisis to convince people of its enormous value to humanity: that the world would starve without its products. However, in India, people go hungry because of, for instance, a lack of income, under-investment in farming, mismanagement or poor logistics -- not because of an inability to produce enough food.
"India has been self-sufficient in food staples for over a decade. It grows about 100 million tons (mt) of rice, 95 mt of wheat, 170 mt of vegetables, 85 mt of fruit, 40 mt of coarse cereals and 18 mt of pulses (according to the Economic Survey)... our farmers grow enough to feed all Indians well with food staples. We have 66 mt of grain, two-and-a-half times the required buffer stock (on January 1, 2013). The country has reached this stage through... the knowledge and skill of our farmers who have bred and saved seed themselves and exchanged their seed in ways that made our fields so bio-diverse."
If there are to be any winners here, it will be Monsanto/Bayer and Cargill as India's farmers continue to buckle under the pressures of neoliberalism and under-investment.
The genuine solution for securing sufficient healthy food is to adopt more sustainable, organic, ecological farming systems that draw on India's vast indigenous knowledge of agriculture to promote food self-sufficiency and sovereignty.
India should learn from the mistakes it made in adopting Green Revolution ideology. As Kermani argues, India's farmers have legitimate claims to being scientists, innovators, natural resource stewards, seed savers and hybridisation experts. And these knowledge and skills have been developed over millennia!
Follow HuffPost Canada Blogs on Facebook