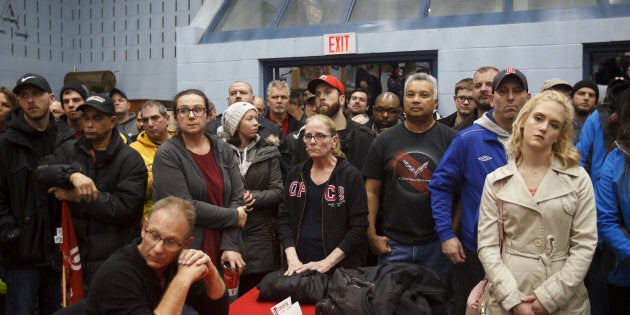 The shutdown of General Motors Canada's long-running and iconic auto plant in Oshawa, Ont., is a powerful symbolic blow to Canada's economy, but the good news is that, alone, it won't do much damage — except in Oshawa and surrounding areas.
GM Canada announced on Monday that the Oshawa plant will be "unallocated" as of 2019, meaning no new production is scheduled there.
For Oshawa, the loss of nearly 3,000 jobs will be "impactful," economists at the Bank of Montreal wrote in a special report Tuesday, "as the job losses consist of solid middle-income and some upper-income earners."
Watch: GM's Oshawa closure by the numbers (story continues below)
In all, Oshawa and surrounding areas will see incomes shrink by $300 million once the plant is shut, the BMO report estimated. A loss of income that large will likely hit the region's broader economy, potentially slowing retail sales and softening the housing market.
In terms of the whole auto industry, the job losses in Oshawa are notable but not catastrophic.
"The reality is that it's a blip, it's a fly speck," said Dennis DesRosiers of DesRosiers Automotive Consultants, a prominent industry analyst.
"There are over 800,000 jobs in the automotive sector (in Canada) and this is 2,500 (unionized) jobs," DesRosiers said in a phone interview. That number refers to jobs that are both directly and indirectly linked to the automotive sector. The industry directly employs about 140,000 people.
DesRosiers noted that three decades ago, there were more than 30,000 jobs at GM's Oshawa plant, and today it's below 3,000.
"No one seems to care about all the jobs that already disappeared."
But the decision to shut down the Oshawa plant could have ripple effects through Canada's auto parts industry, as some parts manufacturers relied on the assembly plant. As many as 15,000 additional jobs will be at risk when the Oshawa assembly plant shuts, Automotive Parts Manufacturers Association president Flavio Volpe told Global News.
"The canary in the coal mine has been dead in the cage for about a decade at this point. And we're just noticing that now."Dennis DesRosiers, DesRosiers Automotive Consultants
Still, the impact on Ontario's broader economy will be limited, the BMO economists forecast. The province's economic output will shrink by 0.3 to 0.5 per cent, not enough to "move the needle" on Ontario's unemployment rate. And for Canada as a whole, the effect will be even more diluted, with a 0.1 to 0.2-per-cent hit to the economy, BMO said.
In Canada's $2-trillion-plus economy, those small percentages still amount to a noticeable economic hit. But it is a fact that the auto industry is not what it once was in Canada, and changes to the industry just don't have the same impact they used to.
Since peaking in 2005, the auto industry has been shrinking as a share of Canada's economy. It took a particularly large hit during the Great Recession of 2008-09, and never quite recovered from those losses.
Both employment and auto production are lower today than they were before the Great Recession a decade ago.
"The canary in the coal mine has been dead in the cage for about a decade at this point," DesRosiers told HuffPost Canada by phone. "And we're just noticing that now."
To ensure its future, Canada's auto industry must shift focus from manufacturing to technological innovation, DesRosiers argued.
"If 15 years ago we had focused on the intellectual side of the industry, then we may have been positioned for the new technology era that the industry has begotten," he said, referring to innovations like autonomous cars and electric vehicles.
"Today we can get a piece of that action if we change our focus away from pure production."
Playing catch-up
But he noted that other places are out ahead of Canada on that front.
"If you look at places like Ann Arbor, Michigan, that's what they've done. They have the world's largest autonomous vehicle testing facility," DesRosiers said.
For that reason, DesRosiers is "not optimistic" Canada will get a large share of the new high-tech auto industry developing around the world, though he notes it's encouraging to see the development of such facilities as the provincially-funded autonomous vehicle testing centre in Stratford, Ont., that was launched by the previous provincial Liberal government.
"Is it enough to replace the manufacturing side? No, but there's tens of billions a year being spent by the auto sector in North America on things related to tech, and Canada could get a much much bigger piece of that," DesRosiers said.
Overall, he believes Oshawa will withstand the economic shock of GM's departure. The city has lost tens of thousands of auto jobs over the past few decades and "you go to Oshawa today and it's a growing, vibrant city," DesRosiers said.
"Economies like Oshawa are resilient. They find a way to survive."
Popular in the Community