Market analysts and union leaders say the Harper government may have gotten a bad deal in selling off its remaining shares in General Motors, and one estimate projects a $3.5-billion loss for taxpayers.
The Harper government announced earlier this week it had sold its remaining 73.4 million GM shares in an unregistered trade to Goldman Sachs, essentially ending its investment in the company that began in 2009, when the federal and Ontario governments joined the U.S. in bailing out the struggling automaker.
The share sale was widely seen as an attempt to balance the federal government's books ahead of this year's election -- as the Tories had vowed -- despite a drop in oil revenues.
Estimates for how much Ottawa received on the share sale range from $2.7 billion to $3.2 billion.
Many market analysts think the government would have been better off holding on to the shares a while longer. According to a report at the Financial Post, 14 of 24 analysts who follow GM say the time is right to buy, while only two are advising investors to sell.
"If you look at GM, it's grossly undervalued relative to other global automakers," John Stephenson, CEO of Stephenson & Co. Capital Management, told the Post.
"I think you could easily squeeze out another $6 to $7 per share in the next 12 months or so, so you're leaving a fair bit of money on the table if you believe that."
But an extra $6 per share would amount to an additional $440 million for the federal government's share sale -- hardly enough to cover the estimated $3.5-billion shortfall.
Unifor, which represents 21,000 auto sector workers in Canada, suggested the Harper government made a strategic mistake in selling out of GM because it makes it harder for Ottawa to convince the automaker to keep jobs in Canada.
Despite the government bailout, the automaker is currently planning to shut down production of the Chevrolet Camaro in Oshawa, Ont., later this year, moving production to Michigan. The future of other Ontario production lines is also in doubt, though GM has said it won't make any final decisions until 2016, by which time the company's commitments to maintaining employment in Canada, under the bailout deal, will have expired.
"It is remarkably short-sighted of the federal government to sell off its shares in GM at a time when there has been wide-spread agreement that securing GM's future in Canada is critical," Unifor President Jerry Dias said in a statement.
"The federal government is selling off its shares for short-term political gain, as it prepares its last budget before the next federal election. We need leaders with more vision, strategy and savvy than this."
The federal Finance Department is expected to release more details on the GM share sale shortly.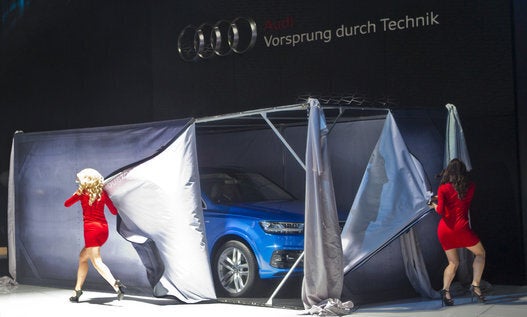 Detroit Auto Show Reveals Of 2015