I once began a lecture on the topic of "Good and Evil" with the question of whether Adolf Hitler believed he was doing evil. The inquiry challenged the audience. There was no doubt that everyone in attendance believed Hitler to have been evil -- but that was not my question. I was not asking them what they thought of Hitler but rather what he thought of himself. Did he believe himself to be evil? Did he consider his actions to have been evil? The simple response would seem to be, "no"; do people actually perceive themselves as doing evil, especially in such a broad manner? The challenge is, though -- if we answer in the negative and perceive Hitler to have not believed himself to have been evil -- or, even more so, to have actually believed his actions to have been good -- how can we ever then trust our own determinations of good and evil?
There is a Talmudic maxim that states that a person does not make himself/herself an evildoer. The simple understanding of this maxim is that a person will always attempt to find some justification for his/her behaviour; people do not wish to define themselves as evil. The fact is, though, that if the determination of good and evil is open to such fluidity, how can we ever be sure that our conclusion is the correct one?
Maybe the justification of the other is actually correct? Our usual response to such an inquiry is that the knowledge of good and evil must not really be so fluid -- that even with all the attempts at justification, one really knows, deep within his/her heart, that certain behaviours are wrong. As such, Hitler must have really known that what he was doing was evil, notwithstanding all his attempts at justification. Knowledge of good and evil must have some clarity; the evil person must know that he/she is doing evil. Without such clarity, how can we trust our own determinations of right and wrong? Yet with such clarity, how can we understand the nature of this person who is choosing to do evil?
This issue actually further complicates our ability to understand and respond to many of the concerns that face us today. It is one thing to confront a group or person with whom one actually shares a basic perception and recognition of the parameters of good and evil. For example, while a common criminal may have some arguments to justify why he/she is undertaking a certain act, there is often still a basic recognition by the criminal that the behaviour is inherently wrong. This allows for some shared frame of reference which enables a determination of how to proceed within a certain framework. We can more easily respond to evil with a perception that even the one doing the evil really recognizes it as such.
Given the dilemma noted above, this also provides for greater life clarity. When this is not the case, however, and the other does not share this basic perception and believes his/her behaviour -- which you see as clearly evil -- to actually, even in the extreme, be good, the complication is enormous. There is no shared frame of reference from which to proceed. The further challenge of understanding good and evil -- as noted above -- is ever present and before us. We become more limited in our options -- especially as we may try to implement plans that would only work if there was a shared frame of reference. We are very reluctant to perceive another in this fashion, for all these reasons, but the consequences of ignoring another's different and contrary vision of good and evil can be, simply, catastrophic.
Western society is in such a situation today. In many ways, we are confronting groups and forces that seem to not share our understanding of good and evil, abiding by a perception of what is right and what is wrong that may be diametrically the opposite of ours. The response of many is just to deny this -- supported by the many arguments for the lack of fluidity in our understanding of good and evil. This approach, though, may also be wrong.
If these groups are projecting a different understanding of good and evil, our response to them cannot be similar to our responses to the common criminal who generally, inherently shares our understanding of good and evil. There is no common frame of reference from which to proceed -- and the assumption that there may be one may only lead to further problems.
Extending, for example, the value of freedom of religion to all because one assumes that all, inherently, recognize this value may lead to some problems if it is not true that all inherently accept this value. Granting the rights of this value to those who actually believe the opposite -- who believe freedom of religion to be a bad value -- could cause great problems. How then to proceed? Would not limiting the right of freedom of religion because of such a concern also be a denial of this very right? Can we not believe them, though, when they emphatically declare that within their value system they have no respect for freedom of religion -- and given any power in this regard would do all they can to eradicate this freedom?
In so many cases, throughout the world, we are fighting enemies that are acting in ways that we find to be totally reflective of evil. The further problem, though, is that these groups actually believe themselves, in their behaviour, to be the virtues of good. This diametrically opposite perception of the moral good cannot be simply ignored. This presents a most complicated situation but it is one to which we must respond, thoughtfully and properly, with a true recognition of what is.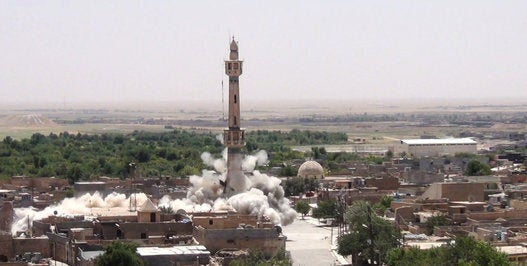 ISIS Destroys Shia Mosques And Shrines