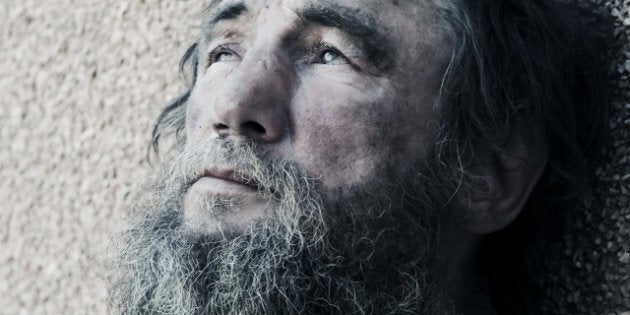 With his thick moustache and faded prison tattoos Pierre was no stranger to a life lived rough. But you'd never know it if you sat down and had a coffee with him.
He had a gentle bearing and spoke impeccable English and French. Pierre didn't talk much of his past but every now and then he would make a passing mention of his time in the notorious Angola Penitentiary in Louisiana, or sharing jail space with the Boyd gang at the Don Jail.
He had a rap sheet taller than me but he never hurt anyone. He was an old style con man who had made a lot of mistakes over the years. But Pierre was always aware of these mistakes and it made him more open and less likely to judge the mistakes in anyone else.
Working at my new job at the Good Neighbours' Club, a day shelter for homeless men over the age of 50, I see many men like Pierre every day. Our building is an old, ramshackle Victorian building that manages to somehow find just enough room for the almost 400 men who visit us everyday. And as each day passes, I realize just how hard life is for people who take a wrong turn in life or make a few wrong decisions.
Take Bill Buss. He was 71-years-old, a member of our club, and loved reading back copies of Popular Mechanics. He was one of the 15 per cent of our clients who live 'rough', preferring to sleep on the streets rather than in the potentially violent shelters.
Last year, he crawled under a stairway to get out of the cold winter weather. His body was found three months later.
Or Paul Croutch who was only 59-years-old when he was brutally murdered by three drunken army reservists while sleeping on a park bench.
This is the reality that our members face every day living as they do in the neighbourhood that is being described as the most gentrified in North America [Toronto Centre]. But their world is not the gleaming condos and overpriced lattes, but the tough and unforgiving streets.
So unforgiving, in fact, that in 2005 alone, seventy-three people died alone on the streets of Toronto. It's not a trend that will likely reverse soon.
At the Good Neighbours' Club, we're seeing more and more people use our services. As the population gets older, the homeless population is also getting older. You'd be surprised who comes through our doors. The recent economic recession has wiped out savings, pensions are being cut and the cost of living is increasing. If you're a single person with no dependents on Ontario Works, for instance, you get exactly $599 a month. After you pay your rent, what's left over?
The irony is that being homeless is extraordinarily expensive to the system. The cost in jail, health and social services is enormous. The Fifth Estate estimates the federal and provincial governments spend almost a billion dollars a year dealing with the homeless crisis.
It would be cheaper in the long run to ensure adequate housing and proper mental health and addiction centres to ensure that people don't end up on the street. But providing a real safety net at a lower cost and giving people a second chance just doesn't fit in with the current fixation with austerity and cutbacks.
I should probably let you in on a secret -- Pierre wasn't my 'real' grandfather. My parents invited him to move in with my family when he left jail in the 1980s. When my sisters and I were born, he stayed on with the family becoming our adopted Grandfather in the process. He fed us with endless amounts of popcorn and chocolate bars and was always patient. I loved him like he was family.
By getting a second chance, Pierre finally broke the cycle of drugs and crime and found a purpose to his life as the adopted "Grand Pere" of our family. Most homeless people never get this chance. One of the reasons I love working at the Good Neighbours' Club is that our team is always trying to give the forgotten a second chance they might not otherwise get.
Mariah Griffin-Angus was awarded the Global Changemaker Award in 2013 for her human rights work. She now works in inner-city Toronto at the Good Neighbours' Club, a day centre for homeless men over the age of 50.