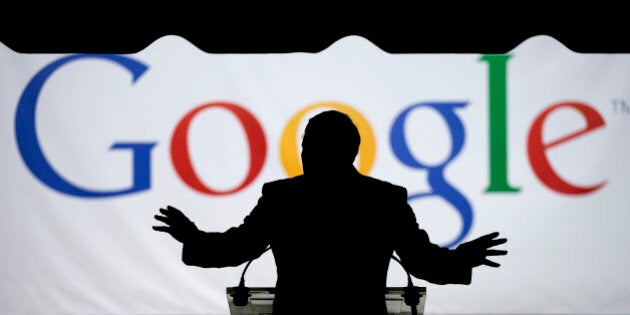 Google's CEO may be "proud" of the way his company avoids taxes, but a Canadian tax watchdog group thinks the tech giant's tax practices should disqualify it from partnering in a Canadian election debate.
The Globe and Mail is hosting a leaders' debate on the economy Thursday night in partnership with cable access channel CPAC and Google. But Canadians for Tax Fairness says it's a "conflict of interest" for Google to be involved, given its reported track record of shifting earnings from country to country to avoid paying taxes.
The group is "concerned that the issue [of tax avoidance] won't get the attention it deserves at the debate because of Google's involvement," according to a press statement it issued Tuesday.
"Companies like Google should be [the] subject of a leaders' debate, not sponsoring them," executive director Dennis Howlett said. "Canadians know that billions are funnelled out of our economy each year to places like the Cayman Islands, Bermuda and Switzerland by corporations looking to pay little or no tax."
The controversy over Google's tax practices has been going on for years, with much of the controversy focusing on whether the company is paying taxes in the right places. Reuters reported that in 2012 the company paid $55 million U.S. in taxes on $4.9 billion U.S. of income in the U.K. — an effective tax rate of 2.6 per cent in the U.K. The news was one of the main reasons the U.K. government has introduced a "diverted profits tax," which is being dubbed a "Google tax" (see video below).
In an annual report filed with the U.S. Securities and Exchange Commission, Google reported paying an effective tax rate of 19.3 per cent on its U.S. and international revenue, a total of $3.3 billion U.S., for 2014.
In an email to The Huffington Post Canada, Google said it got involved in the elections because "a growing number of Canadians are turning to the Internet to get their their news and stay connected."
The company "has made a significant investment in Canada," wrote Leslie Church, head of communications and public affairs for Google Canada. "Our offices in Toronto and Kitchener-Waterloo have doubled in size in the last few years, and our engineers work on world-leading products, including the recently released OnHub router.
"We provide services and infrastructure that help Canadians students learn, businesses grow and communities across the country stay engaged on important issues of the day -- like elections."
Google Chairman Eric Schmidt has been unapologetic about the company's tax practices, saying in a December, 2013, interview that he's "proud" of the company's ability to lower its tax bill.
Thursday night's debate, between Conservative Party Leader Stephen Harper, NDP Leader Thomas Mulcair and Liberal Leader Justin Trudeau, will be broadcast on CPAC as well as on Google-owned YouTube. Google is also funding closed captioning for the event. Globe and Mail editor in chief David Walmsley will moderate the debate, while political reporter Jane Taber will host a panel before and after.