Google's mesh Wi-Fi system has launched in Canada.
Google announced Friday that it will be available for $179 for one router, or $439 for three from the Google Store, Best Buy, Staples and Walmart.
Mesh Wi-Fi is a modular system that's meant to put an end to those pesky dead spots that can crop up around a home. Instead of a traditional, single router, mesh systems like Google WiFi place a few connections around the home. The points work together to make sure all areas are covered, bypassing doors and thick walls, and to ensure multiple devices in different rooms all are connected to a strong signal.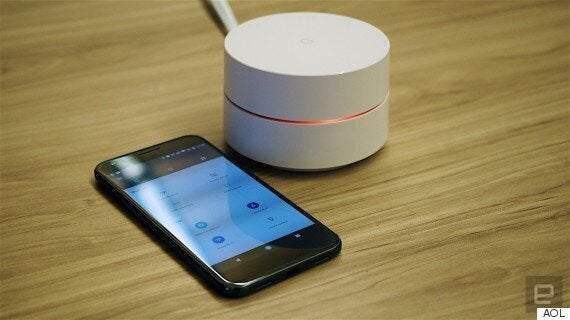 It can be a big boost from using a router with an extender, which can degrade speed. Plus, it's designed to be more attractive than most routers, meaning it can be left out rather than tucked away in a closet (which definitely doesn't help boost the signal).
Currently only two of Google's three major competitors for mesh Wi-Fi — NetGear's Orbi and Linksys' Velop— are available in Canada, according to AndroidCentral. (Its biggest challenger, Eero, is only available in the U.S.). A single Velop unit is $249, and a two-pack Orbi is $499.
Google says one router will cover a small home or apartment up to 1,500 sq. ft., and three will cover as much as 4,500.
The product runs on an app that lets you pause Wi-Fi on devices (for example, turning off kids' phones during dinner); prioritize a device to make sure it's running at the the highest speed; create a separate network for guests; and connect to smart-home devices.
It also uses machine learning, meaning it can realize when devices need to be switched to different wireless bands to make sure coverage is always strong.
Additionally, the app was built entirely by a Google team in Waterloo, Ont.
"We've been working here on it for about three years now, maybe longer. Waterloo was in from the ground floor," senior software engineer Melissa Dominguez told The Financial Post.
There is one downside to the product. Some users have taken to Google's forum to report connectivity issues, which seem to only be fixed for some customers with a hard reset or by disconnecting and reconnecting all devices. Google has been aware of the problem since March, but still has yet to release a fix, according to 9to5Google.