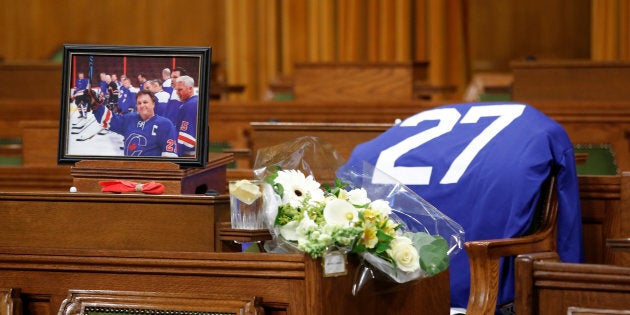 Members of Parliament reeling from the sudden death of a colleague took some comfort Wednesday in learning how Gord Brown dared to defy his leader just days earlier.
Brown, a well-liked and veteran Conservative first elected in 2004, died after suffering a heart attack in his Parliament Hill office earlier in the day. He was 57.
His passing spurred tributes in the House of Commons, where he was remembered as a decent man and collegial parliamentarian.
Conservative Leader Andrew Scheer relayed that all MPs were thinking about Brown's wife, Claudine, and their young sons, Tristan and Chance.
"Last week we had an event that we really wanted Gord to be at," Scheer said. "He turned down the initial invitation so I asked my office to follow up, just to make sure he knew how important it was that he was there.
"He called back and he said, 'Listen, I can't go. I've made a commitment to the only person more important to me than this team.' That was Claudine. He had made arrangements to have a date night with his wife and wasn't going to break that, Mr. Speaker, for anybody.
"And you know what, we were glad that he kept it."
Brown represented the eastern Ontario riding of Leeds-Grenville-Thousand Islands and Rideau Lakes. After the Liberals formed government in 2015, he served as the chief opposition whip for two years. He was tasked with enforcing party discipline and making sure Tories were where they needed to be ahead of votes.
Scheer said that when he served as the Opposition House leader, his office was near Brown's when the MP's staff bought him a bullwhip to commemorate his role.
"I remember for the first few days of that session, I could often hear the crack of that bullwhip," Scheer said. "And I was always worried he was going to hurt himself."
The Tory leader said even as whip, Brown made it a priority to reach out to other MPs with a compliment or supportive word because he understood the toll the job can take at a human level.
"We know not the time or the place — but we trust in God's limitless mercy and everlasting love. We trust that his memory will be a blessing on all of us here," Scheer said.
MPs from across the aisle also shared some personal stories about Brown. Veteran Liberal MP Wayne Easter recalled driving Brown — "a true blue Conservative" — around Prince Edward Island.
"For Gord to hop in my red truck and do a couple of tours with me around the Island was, to say the least, interesting but a lot of fun," Easter said.
Like others, NDP MP Brian Masse noted how Brown loved hockey. The Tory MP was captain of the Conservative Party Hill hockey team that would take on other parties or journalists.
Brown reportedly played hockey Wednesday morning. A jersey and a photo of Brown lifting his stick in the air was later placed on his desk in the House.
Masse said he and Brown would often talk about their sons playing the sport.
"I think that openness, Mr. Speaker, is some of the things that rooted him as a member of Parliament in his work," he said. "You simply knew where Gord was driving at every single time and it was always for the people he represented and for Parliament."
Green Party Leader Elizabeth May said while there is a tendency in life to sing the praises of people once they are gone, to remember only the good things, that's not what was happening with Brown.
"We're not exaggerating virtues. We're not eliminating faults," May said. "I don't think there's a single person in this place who knew Gord in his life who would have a bad word to say about him.
"And in politics, I don't think there's any greater tribute to a human being than to be universally well-liked and loved by colleagues in this place."
With a file from The Canadian Press