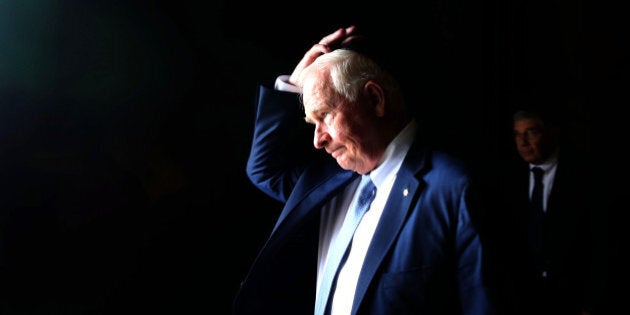 Governor General David Johnston apologized Monday for a flippant comment he made likening indigenous peoples to immigrants, rather than descendants of the original inhabitants of Canada.
Hours before he appointed 29 people, including Gord Downie, to the Order of Canada and other honours for outstanding indigenous leadership, he tweeted an explanation, calling his choice of words a "miscommunication."
In an interview with The House on Thursday, host Chris Hall asked Johnston a question on theme with Canada's upcoming 150th birthday, "What kind of country are we?"
Johnston responded by calling Canada "a smart and caring country."
He continued: "We're a country based on immigration going right back to our quote indigenous people unquote, who were immigrants as well, 10, 12, 14,000 years ago."
Listen to Johnston's comments starting at the 1:32 mark:
Johnston then referred to a quote he attributed to former President Barack Obama, who himself borrowed it from Martin Luther King Jr.
"The arc of history inclines upward to justice," said the governor general. He continued by saying Canada needs to make "diversity work to our advantage" by continuing to be an inclusive country.
"And recognizing the obligation that each of us as citizens, to see that as a responsibility," he said.
Johnston's "quote indigenous people unquote" phrasing raised eyebrows with some listeners.
GG's Order of Canada ceremony apology
In a statement to HuffPost Canada on Monday, spokeswoman Melanie Primeau said there was no malicious intent with Johnston's choice of words.
"The Governor General intended no disrespect during his interview on CBC The House when he referred to Indigenous peoples as immigrants who came to this land thousands of years ago, or by using 'quote/unquote' in talking about Indigenous peoples," Primeau said in an email.
"He has since apologized for not expressing himself correctly, recognizing that Indigenous Peoples are the original peoples of this land."
He made his comment before a room full of distinguished leaders shortlisted for their efforts in strengthening indigenous communities across the country.
"And let me apologize for not expressing myself correctly on this matter recently: Indigenous peoples are the original peoples of this land," he said.
Johnston is near the end of his tenure as Canada's 28th governor general. After accepting a two-year extension from former prime minister Stephen Harper, his term will end in September.
Popular in the Community