Grace Victory isn't here for your shaming.
The U.K.-based model and lifestyle blogger was recently announced as one of Nike's plus-size apparel models, and while social media celebrated more body diversity in fashion, some haters were quick to fat-shame her and call her unhealthy.
But the model isn't taking it. In fact, she went on Twitter on Monday to take a stand.
"Fat shaming me and my girl on our Nike campaign is hilarious. We be laughing all the damn way to the bank ☺️," she wrote.
"I'm struggling massively and I can't pretend anymore. I've been losing it for a while. Although its [sic] not really obvious is it? Im [sic] still posting selfies on Instagram and trying to be positive and upbeat and happy and inspiring, but to be honest, I don't really feel any of those things at all," she wrote on her blog.
"There is also an added pressure being part of the body positive community, to love myself day in and day out. But right now I just can't. Right now, I've lost my body confidence and I don't know how or when I'll get it back," she continued.
The blogger said her solution to this was to take a day off, pamper herself and go on a mini digital detox.
She also took to Instagram on Wednesday, International Women's Day, to post another photo of her body, this time encouraging her followers to be #boldforchange.
"Today I didn't think about what I looked like, I pressed a button and went with the first photo I took. And why? Because this is me. This is my body on one particular day, without trying to make it look like anything else. This is my stomach in one variation of lighting, one angle, one pose. This is how I look and whether people like it or not, I am learning to & that's what matters."
"I'm sick of beating myself up over 'bad angles' and always trying to look like the best version of myself. Every version of me is good enough," she wrote on Instagram.
She also talked about the importance of role models , something she didn't have growing up.
"I didn't have ONE role model growing up. I didn't need anyone perfect. I just needed someone to tell me I was good enough," she wrote on Twitter.
"I just needed someone to show me I could be or do anything. That I would amount to everything I dreamed about."
"If I can do that for others then my job is done. What I do, is for everyone. Girls like me wanna see girls like me win."
Nike's plus-size line offers sizes 1X to 3X. And their new sports bra will be available in a 38E.
The line will also feature bright colours, as opposed to just black garments.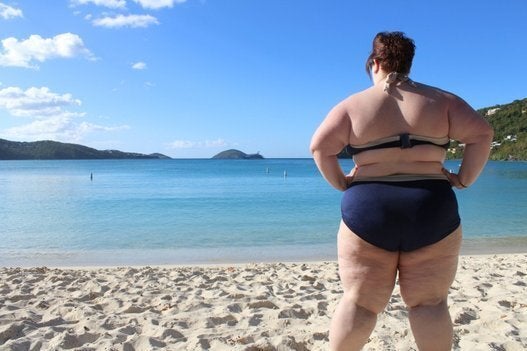 We Exist: Diversity In Plus Size Bodies