The 56th annual Grammys came down to an unlikely battle between a pair of French disco robots and a white hip-hop duo from Seattle -- and while Daft Punk ultimately proved victorious with five trophies to Macklemore and Ryan Lewis' four, including the top prize, they did tip their hats to the latter for staging the night's most memorable (and matrimonial) moment.
Daft Punk, comprised of Guy-Manuel de Homem-Christo and Thomas Bangalter, was an obvious choice for best dance / electronica album. After all, they're legends who crested the EDM wave with a record that doesn't actually sound very electronic, which must have appealed to the recording academy's older voters who want to be hip more than they actually are hip. And while their later win for best pop duo/group performance and record of the year for "Get Lucky" (which they performed with the added star power of Stevie Wonder) had nothing to do with luck, it was still a welcome surprise given the stiff competition.
But Daft Punk's Album of the Year win at the Grammys was, while totally well-deserved, as out of left field as their album and it's collaborators, ranging from '70s crooner Paul Williams (of "Rainbow Connection" fame) to disco kingpin Nile Rodgers to hip-hop producer-turned-falsetto singer Pharrell Williams and more. (Daft Punk also won an engineering award before the telecast began.)
Thought the "robots" stayed silent at the podium, their hug in stands after winning best album was adorable and Pharrell made a point of saying, "Honestly, I bet France is really proud of these guys right now."
Macklemore and Lewis went out on a high note, too, as 33 couples, gay and straight alike, were married during their performance of "Same Love." (Madonna even hobbled out to sing "Open Your Heart" for their first dance.)
But the duo's domination of the rap categories is bound to inspire a thousand thinkpieces -- and has already inspired a flood of Twitter hate -- after the pair won best rap song and best rap performance for "Thrift Shop" while "The Heist" took best album.
Though the indie Seattle duo have experienced mammoth success in 2014, Macklemore himself said he felt Kendrick Lamar's "good kid, m.A.A.d city" deserved to win the album prize. In fact, after the show he Instagramed a text he'd sent Kdot, which read" "You got robbed. I wanted you to win. You should have. It's weird and sucks that i robbed you. I was gonna say that during the speech. Then music started playing and I froze. Anyway, you know what t is. Congrats on this year and your music. Appreciate you as an artist and as a friend. much love."
Going into the awards, an anonymous source leaked that the rap committee tried to boot the pair out and into the pop categories. (Ironically, they're an independent act and even got played offstage by music when Macklemore pointed out "we made this record without a label.") Presumably, the attempt to make them ineligible was to prevent what happened, which was that Macklemore and Lewis beat more purist choices like Jay Z, Kanye, Kendrick and Drake (who lost all five of his nominations, including best rap album for "Nothing Was the Same" and best rap song and best rap performance for "Started From the Bottom" and the posse cut "Fucking Problems").
Article continues after slideshow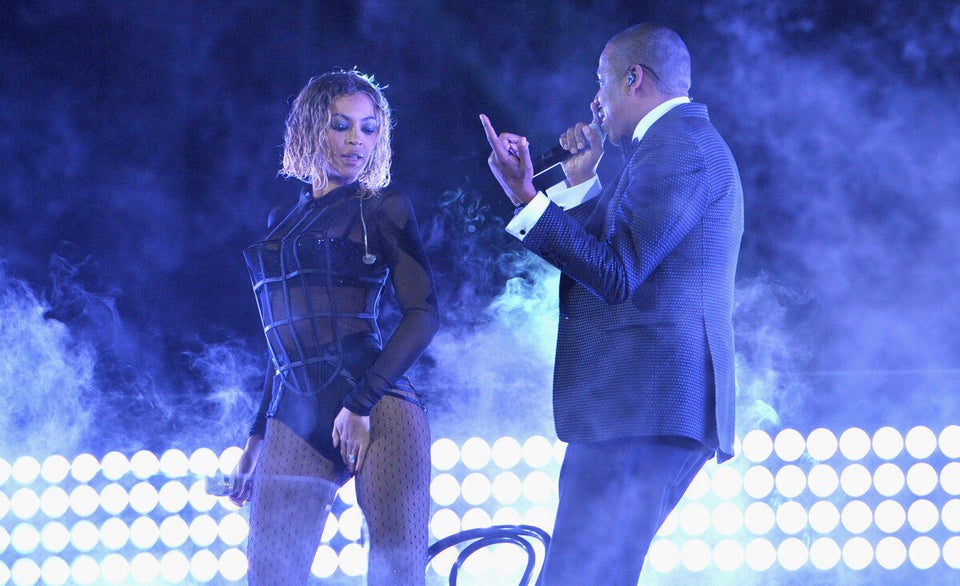 Best of The Grammy Awards 2014
Jay Z, who came into the Grammys with a leading nine nominations, picked up just one for "Holy Grail," his duet with tourmate Justin Timberlake (who picked up an R&B award for "Pusher Love Girl" while the pair also nabbed a best video award for their other collab "Suit & Tie") and joked to baby daughter Blue Ivy, "Daddy got a gold sippy cup for you." Blue's parents kicked off the show with their collab "Drunk in Love," in what amounted to preview of next year's Grammys when "Beyonce" will likely run the boards.
Macklemore and Lewis also took Best New Artist, once again besting Kendrick Lamar (who, as if to rub salt in his wounds, had to perform with modern rockers Imagine Dragons). It would be hard to argue with their win here, though, after the year they had, especially when the other obvious winner, Lorde, wasn't even nominated. Still, proved her best new artistry with a minimalist and gothy take on her super smash "Royals," which also took best pop solo performance and made the 17-year-old the youngest-ever winner of Grammy's Song of the Year. Her response was priceless: "It's been mental."
The youngest best album winner in 2010 for "Fearless," Taylor Swift, did not take a second one home (though sure looks like she briefly thought she had) but she nonetheless made a mark with her piano performance of "All To Well," which ended in some gif-worthy headbanging.
But Taylor's country crown may be up for grabs after a double win by Kacey Musgraves, who took best country song and best country album as well as performing "Follow Your Arrow," an open-minded tune that included the line "kiss lots of boys, or kiss lots of girls, if that's what you're into."
Over in the rock category, what we feared might happen came true when Led Zeppelin won their very first Grammy award for best rock album, unfortunately that award was doled out this year to "Celebration Day," a live album from their 2007 reunion concert in which they play their hits from the 1970s. Imagine Dragons, one of the few non-senior citizen nominees in the rock category won best rock performance for "Radioactive" while Ozzy Osbourne's return to Black Sabbath netted the band a best metal performance award for their new song "God Is Dead."
Best Rock Song was televised, but it, too, was full of relic nominees, including the eventual winners Paul McCartney with Nirvana's ashes (Dave Grohl, Krist Noveselic, Pat Smear) for their collab "Cut Me Some Slack" off Grohl's "Sound City" doc.
Paying tribute to music's elders was a theme throughout the award show, including a reunion of McCartney with Ringo Starr on drums, an inexplicable pairing of Robin Thicke with Chicago, a country music collab with Willie Nelson, Kris Kristofferson, Merl Haggard and relative young'un Blake Shelton and a rock finale that paired Nine Inch Nails and Dave Grohl with Queens of the Stone Age's Josh Homme and Fleetwood Mac's Lindsay Buckingham.
LL Cool J was the host for the third year in a row, thanks to synergy with his cop show "NCIS: Los Angeles, a fact hinted at when he opened the show, admitting "there are millions of people who don't know that I do music, too." (But he does, and back in the day it was awesome.)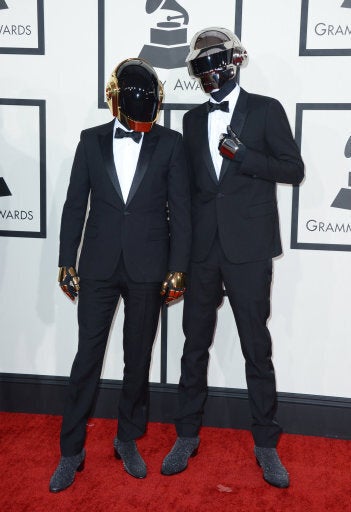 1. Album of the Year: "Random Access Memories," Daft Punk
2. Record of the Year: "Get Lucky," Daft Punk Featuring Pharrell Williams & Nile Rodgers
3. Song of the Year: "Royals," Joel Little & Ella Yelich O'Connor, songwriters (Lorde)
4. Best New Artist: Macklemore & Ryan Lewis
5. Best Pop Solo Performance: "Royals," Lorde
6. Best Pop Duo/Group Performance: "Get Lucky," Daft Punk Featuring Pharrell Williams & Nile Rodgers
7. Best Pop Instrumental Album: "Steppin' Out," Herb Alpert
8. Best Pop Vocal Album: "Unorthodox Jukebox," Bruno Mars
9. Best Dance Recording: "Clarity," Zedd Featuring Foxes
10. Best Dance/Electronica Album: "Random Access Memories," Daft Punk
11. Best Traditional Pop Vocal Album: "To Be Loved," Michael Buble
12. Best Rock Performance: "Radioactive," Imagine Dragons
13. Best Metal Performance: "God Is Dead?" Black Sabbath
14. Best Rock Song: "Cut Me Some Slack," Dave Grohl, Paul McCartney, Krist Novoselic & Pat Smear, songwriters (Paul McCartney, Dave Grohl, Krist Novoselic, Pat Smear)
15. Best Rock Album: "Celebration Day," Led Zeppelin
16. Best Alternative Music Album: "Modern Vampires Of The City," Vampire Weekend
17. Best R&B Performance: "Something," Snarky Puppy With Lalah Hathaway
18. Best Traditional R&B Performance: "Please Come Home," Gary Clark Jr.
19. Best R&B Song: "Pusher Love Girl," James Fauntleroy, Jerome Harmon, Timothy Mosley & Justin Timberlake, songwriters (Justin Timberlake)
20. Best Urban Contemporary Album: "Unapologetic," Rihanna
21. Best R&B Album: "Girl On Fire," Alicia Keys
22. Best Rap Performance: "Thrift Shop," Macklemore & Ryan Lewis Featuring Wanz
23. Best Rap/Sung Collaboration: "Holy Grail," Jay Z feat. Justin Timberlake
24. Best Rap Song: "Thrift Shop," Ben Haggerty & Ryan Lewis, songwriters (Macklemore & Ryan Lewis Featuring Wanz)
25. Best Rap Album: "The Heist," Macklemore & Ryan Lewis
26. Best Country Solo Performance: "Wagon Wheel," Darius Rucker
27. Best Country Duo/Group Performance: "From This Valley," The Civil Wars
28. Best Country Song: "Merry Go 'Round," Shane McAnally, Kacey Musgraves & Josh Osborne, songwriters (Kacey Musgraves)
29. Best Country Album: "Same Trailer Different Park," Kacey Musgraves
30. Best New Age Album: "Love's River," Laura Sullivan
31. Best Improvised Jazz Solo: "Orbits," Wayne Shorter, soloist
32. Best Jazz Vocal Album: "Liquid Spirit," Gregory Porter
33. Best Jazz Instrumental Album: "Money Jungle: Provocative In Blue," Terri Lyne Carrington
34. Best Large Jazz Ensemble: "Night In Calisia," Randy Brecker, Włodek Pawlik Trio & Kalisz Philharmonic
35. Best Latin Jazz Album: "Song For Maura," Paquito D'Rivera And Trio Corrente
36. Best Gospel/Contemporary Christian Music Performance: "Break Every Chain [Live]," Tasha Cobbs
37. Best Gospel Song: "If He Did It Before... Same God [Live]," Tye Tribbett, songwriter (Tye Tribbett)
38. Best Contemporary Christian Music Song: "Overcomer," David Garcia, Ben Glover & Christopher Stevens, songwriters (Mandisa)
39. Best Gospel Album: "Greater Than [Live]," Tye Tribbett
40. Best Contemporary Christian Music Album: "Overcomer," Mandisa
41. Best Latin Pop Album: "Vida," Draco Rosa
42. Best Latin Rock, Urban or Alternative Album: "Treinta Días," La Santa Cecilia
43. Best Regional Mexican Music Album: "A Mi Manera," Mariachi Divas De Cindy Shea
44. Best Tropical Latin Album: "Pacific Mambo Orchestra," Pacific Mambo Orchestra
45. Best American Roots Song: "Love Has Come For You," Edie Brickell & Steve Martin, songwriters (Steve Martin & Edie Brickell)
46. Best Americana Album: "Old Yellow Moon," Emmylou Harris & Rodney Crowell
47. Best Bluegrass Album: "The Streets Of Baltimore," Del McCoury Band
48. Best Blues Album: "Get Up!" Ben Harper With Charlie Musselwhite
49. Best Folk Album: "My Favorite Picture Of You," Guy Clark
50. Best Regional Roots Music Album: "Dockside Sessions," Terrance Simien & The Zydeco Experience
51. Best Reggae Album: "Ziggy Marley In Concert," Ziggy Marley
52. Best World Music Album: (TIE) "Savor Flamenco," Gipsy Kings / "Live: Singing For Peace Around The World," Ladysmith Black Mambazo
53. Best Children's Album: "Throw A Penny In The Wishing Well," Jennifer Gasoi
54. Best Spoken-Word Album: "America Again: Re-becoming The Greatness We Never Weren't," Stephen Colbert
55. Best Comedy Album: "Calm Down Gurrl," Kathy Griffin
56. Best Musical Theater Album: "Kinky Boots"
57. Best Compilation Soundtrack For Visual Media: "Sound City: Real To Reel," Butch Vig, compilation producer
58. Best Score Soundtrack For Visual Media: "Skyfall," Thomas Newman, composer
59. Best Song Written For Visual Media: "Skyfall," Adele Adkins & Paul Epworth, songwriters (Adele)
60. Best Instrumental Composition: "Pensamientos For Solo Alto Saxophone And Chamber Orchestra," Clare Fischer, composer (The Clare Fischer Orchestra)
61. Best Instrumental Arrangement: "On Green Dolphin Street," Gordon Goodwin, arranger (Gordon Goodwin's Big Phat Band)
62. Best Instrumental Arrangement Accompanying Vocalist(s): "Swing Low," Gil Goldstein, arranger (Bobby McFerrin & Esperanza Spalding)
63. Best Recording Package: "Long Night Moon," Sarah Dodds & Shauna Dodds, art directors (Reckless Kelly)
64. Best Boxed or Special Limited Edition Package: "Wings Over America (Deluxe Edition)," Simon Earith & James Musgrave, art directors (Paul McCartney And Wings)
65. Best Album Notes: "Afro Blue Impressions (Remastered & Expanded)," Neil Tesser, album notes writer (John Coltrane)
66. Best Historical Album: (TIE) "Charlie Is My Darling - Ireland 1965," "The Complete Sussex And Columbia Albums"
67. Best Engineered Album: "Random Access Memories," Peter Franco, Mick Guzauski, Florian Lagatta & Daniel Lerner, engineers; Antoine "Chab" Chabert, Bob Ludwig, mastering engineers (Daft Punk)
68. Producer of the Year, Non-Classical: Pharrell
69. Best Remixed Recording, Non-Classical: "Summertime Sadness (Cedric Gervais Remix)," Cedric Gervais, remixer (Lana Del Rey)
70. Best Surround Sound Album: "Live Kisses," Al Schmitt, surround mix engineer; Tommy LiPuma, surround producer (Paul McCartney)
71. Best Engineered Album, Classical: "Winter Morning Walks," David Frost, Brian Losch & Tim Martyn, engineers; Tim Martyn, mastering engineer (Dawn Upshaw, Maria Schneider, Australian Chamber Orchestra & St. Paul Chamber Orchestra)
72. Producer of the Year, Classical: David Frost
73. Best Orchestral Performance: "Sibelius: Symphonies Nos. 1 & 4," Osmo Vänskä, conductor (MinnesotaOrchestra)
74. Best Opera Recording: "Adès: The Tempest," Thomas Adès, conductor; Simon Keenlyside, Isabel Leonard, Audrey Luna & Alan Oke; Jay David Saks, producer (The Metropolitan Opera Orchestra; The Metropolitan Opera Chorus)
75. Best Choral Performance: "Pärt: Adam's Lament," Tõnu Kaljuste, conductor (Tui Hirv & Rainer Vilu; Estonian Philharmonic Chamber Choir; Sinfonietta Riga & Tallinn Chamber Orchestra; Latvian Radio Choir & Vox Clamantis)
76. Best Chamber Music/Small Ensemble Performance: "Roomful Of Teeth," Brad Wells & Roomful Of Teeth
77. Best Classical Instrumental Solo: "Corigliano: Conjurer - Concerto For Percussionist & String Orchestra," Evelyn Glennie; David Alan Miller, conductor (Albany Symphony)
78. Best Classical Vocal Solo: "Winter Morning Walks," Dawn Upshaw (Maria Schneider; Jay Anderson, Frank Kimbrough & Scott Robinson; Australian Chamber Orchestra & St. Paul Chamber Orchestra)
79. Best Classical Compendium: "Hindemith: Violinkonzert; Symphonic Metamorphosis; Konzertmusik," Christoph Eschenbach, conductor
80. Best Contemporary Classical Composition: "Schneider, Maria: Winter Morning Walks," Maria Schneider, composer (Dawn Upshaw, Jay Anderson, Frank Kimbrough, Scott Robinson & Australian Chamber Orchestra)
81. Best Music Video: "Suit & Tie," Justin Timberlake Featuring Jay Z
82. Best Music Film: "Live Kisses," Paul McCartney