While the Grammys are all about recognizing the music industry's hottest stars, it would be a complete and utter lie if we told you we're only watching for the awards. After all, history has shown that the Grammys are where celebs show off some of their most unique, outstanding and sometimes surprising looks (we're looking at you, CeeLo Green!).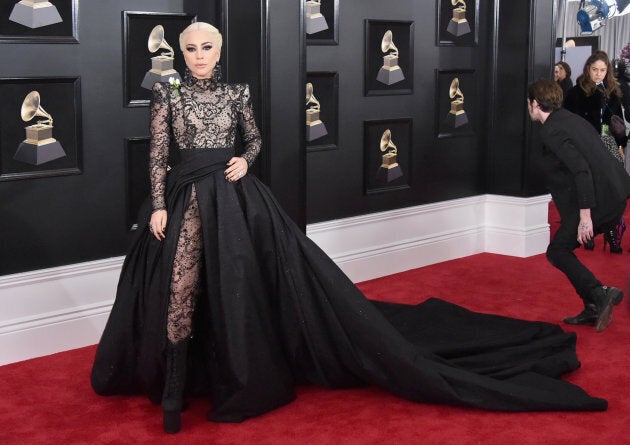 Lady Gaga can command the attention of any room, no matter what she's wearing. In stark contrast to last year's scandalous leather number, the "Million Reasons" singer was the picture of elegance as she strutted across the red carpet in an Armani Privé black lace dress. The dramatic gown was complete with lace leggings, a full skirt and train, as well as a pair of white roses pinned to Gaga's right shoulder in support of the Time's Up and Me Too movements.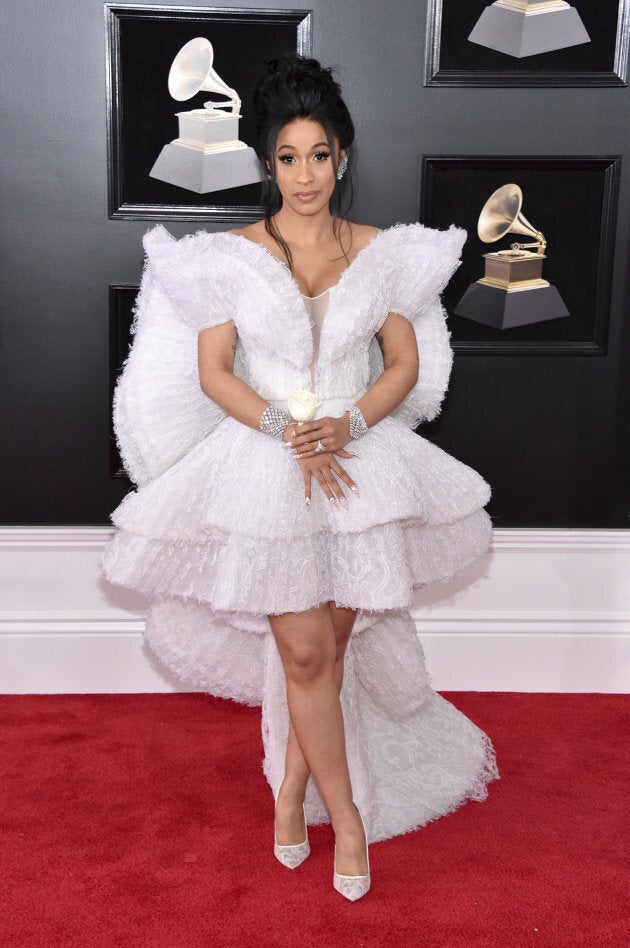 Of course Cardi B stunned on the red carpet. The rising star looked like an angel wearing a statement Ashi Studio dress that was both sweet and sexy. The high-low frock looked as if it had wings and showed off the rapper's killer legs and Christian Loubotin shoes.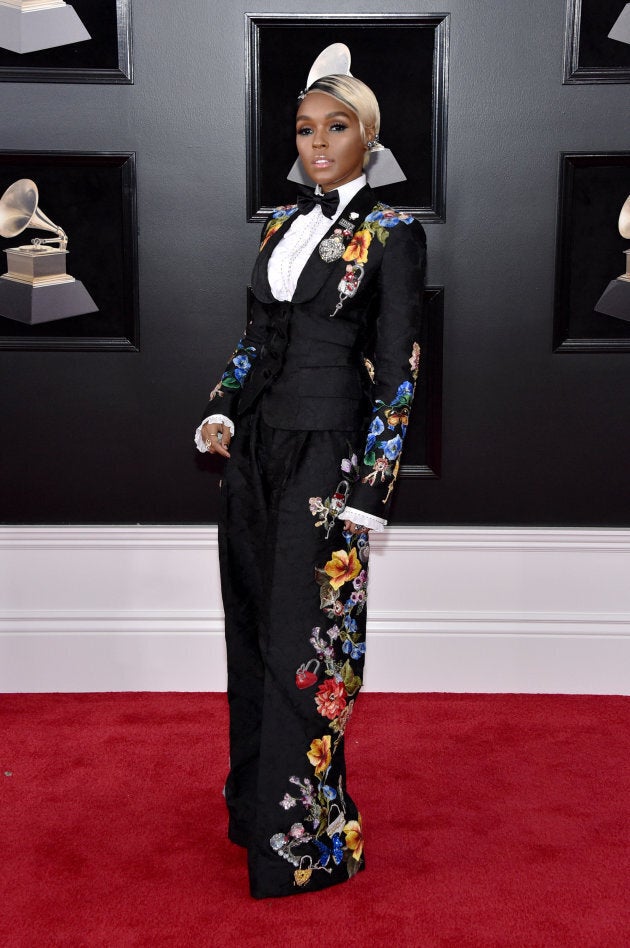 We love Janelle Monae's oh-so-cool attitude on the red carpet, but we're not so sure about her outfit choice. Although the floral embroidery on her Dolce & Gabbana suit is super unique, the placement of the detail is a bit much and the loose-fitting pants aren't doing any favours for her petite frame.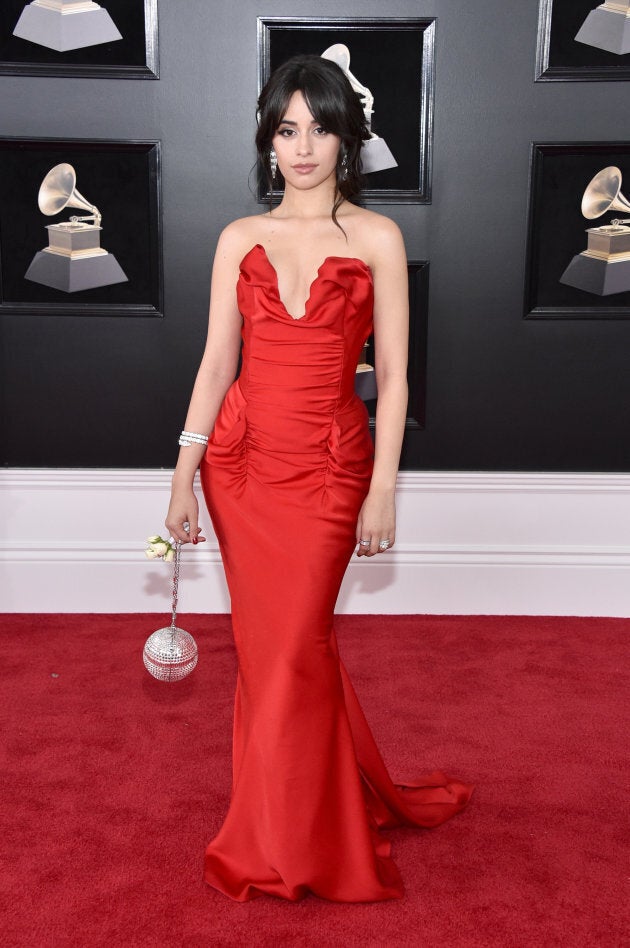 If we've learned anything from Camila Cabello, it's that if you want to make a statement, always wear red. Despite matching the red carpet, the "Havana" singer stole our gaze when she showed up in a strapless, ruched gown and accessorizing with a disco ball purse and small bunch of white roses.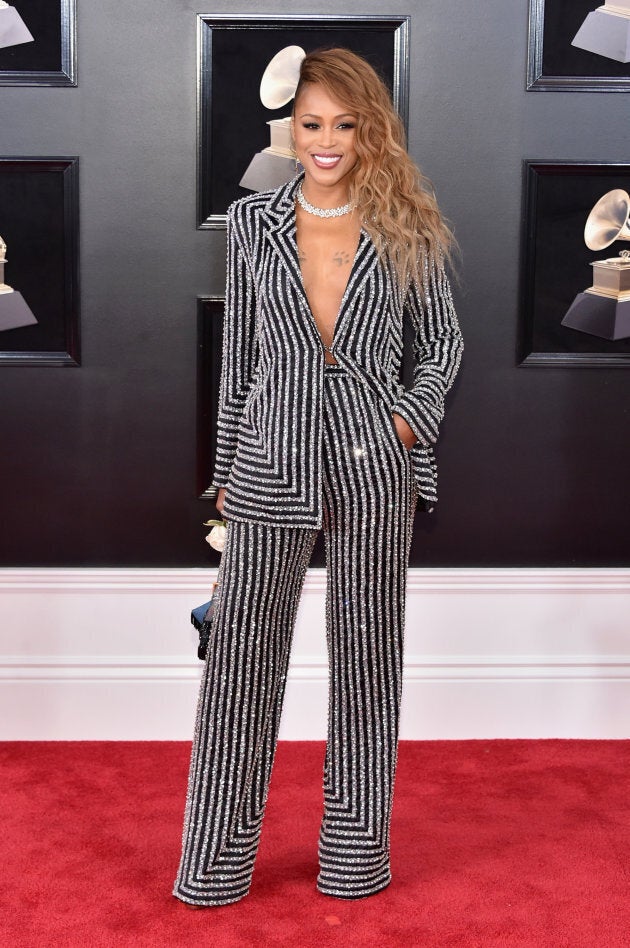 Now here's a woman who knows how to rock a suit. Eve slayed in a Naeem Khan suit that was embellished in gems from head to toe! The plunging neckline cheekily showed off the rapper's iconic paw tattoos and gave off a sultry vibe.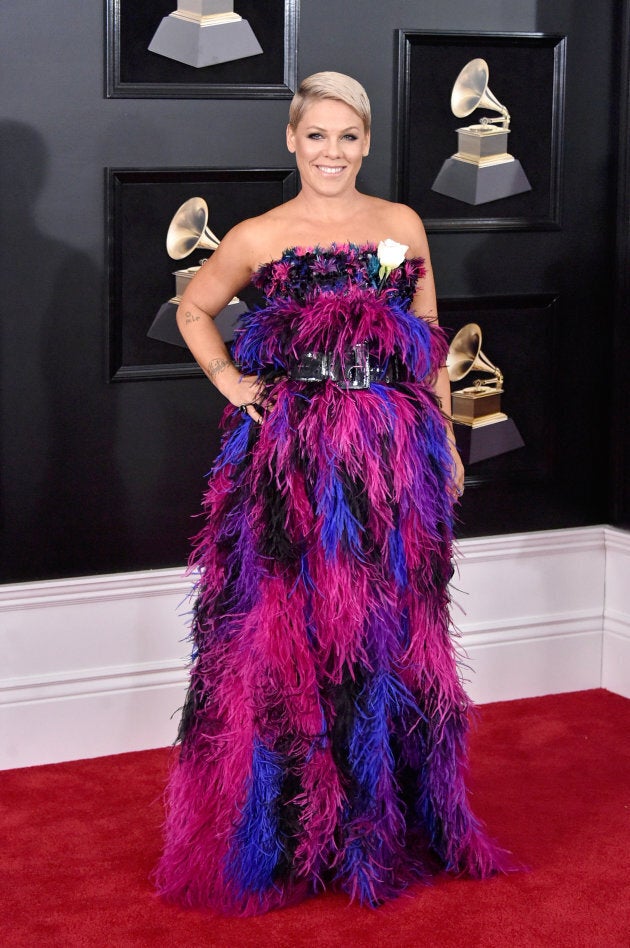 Pink's Grammy outfit was certainly colourful. But the multitude of feathers on her strapless gown made for an unflattering silhouette and the mix-matched tones didn't make her stand out in the best way. Maybe something less frilly next time?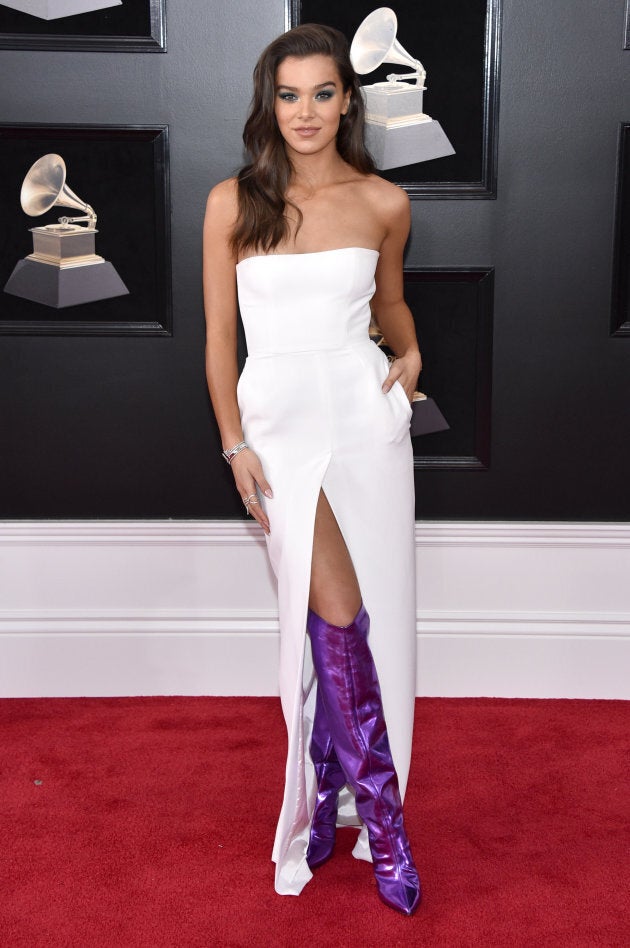 OK, Hailee Steinfeld's outfit is next level thanks to her metallic purple over-the-knee boots. Seriously, who else could pull those off while wearing a sleek white gown with a thigh-high slit? The look just works. Plus, the 21-year-old singer gets bonus points for her flawless beauty look featuring blue smokey eyes.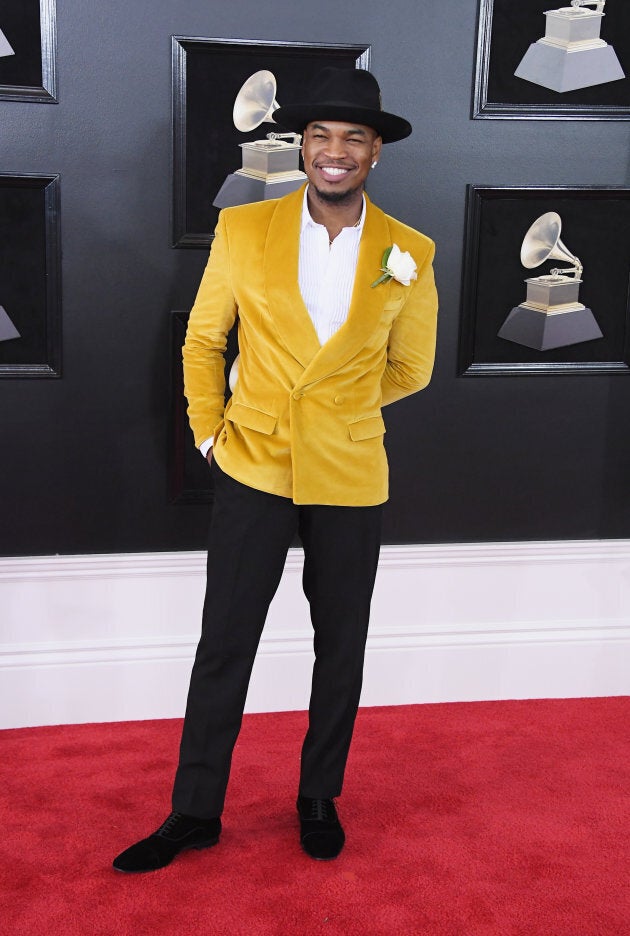 Honestly, Ne-Yo could wear anything and he'd still charm us with that smile! For the Grammys, we love that he ditched the traditional black-and-white suit in favour of a mustard yellow velvet jacket and black dress pants. Looking casual cool, he also proudly wore a white rose for his boutonnière.
Even though we love Sara Silverman's IDGAF attitude, we have to admit that we're confused by this outfit. The capped sleeves give off a baby doll vibe that doesn't really work with her messy 'do, studded clutch, and fishnet stockings.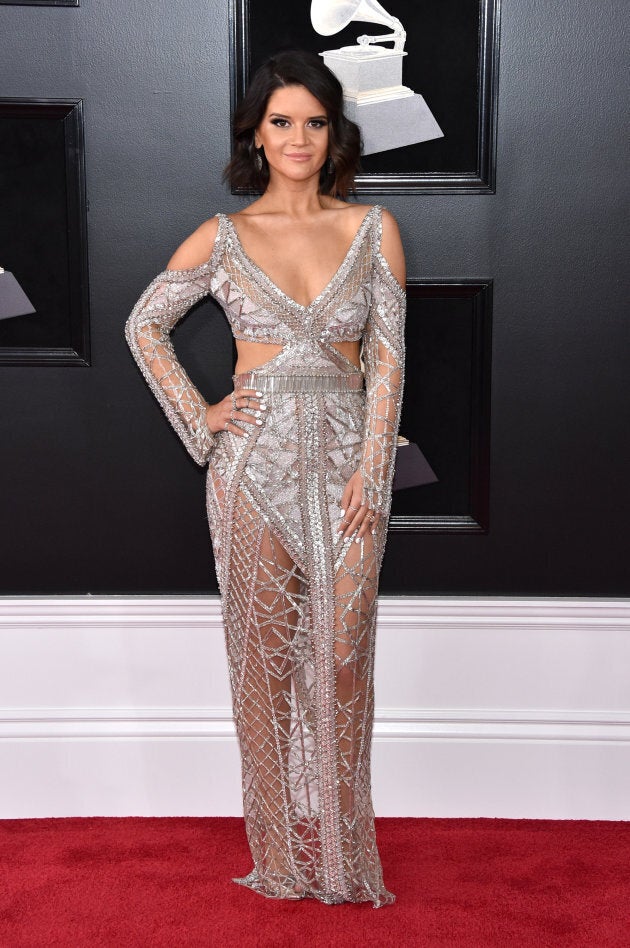 Maren Morris deserves an award for her Grammys red carpet dress. The sexy, silver frock had geometric cutouts in all the right places, perfectly flattering the country star's petite physique.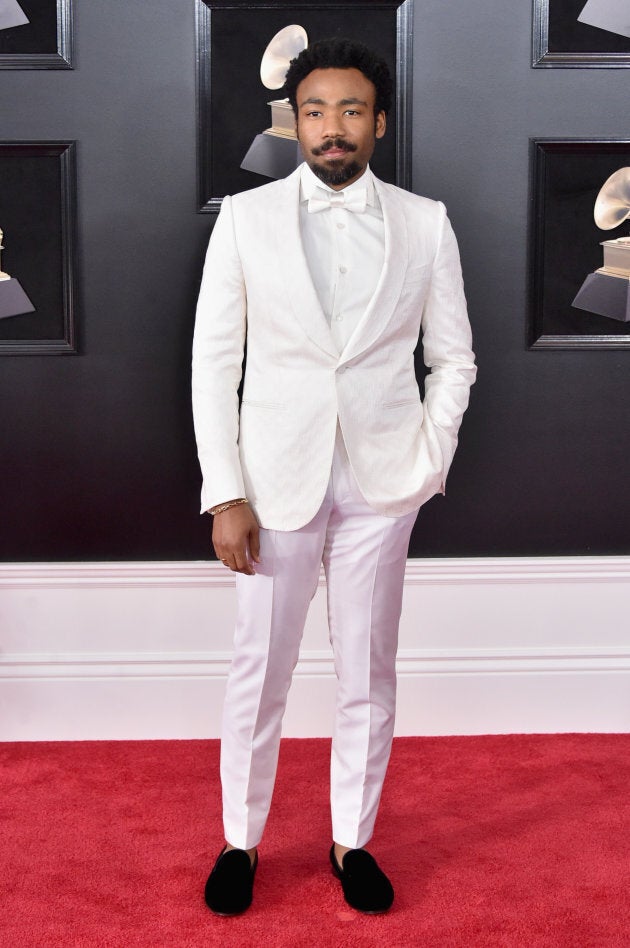 Donald Glover looked dapper as hell in his all-white suit from Ermenegildo Zegna Couture. The 34-year-old artist paired his outfit with black Tod's shoes and a dazzling bracelet from Tiffany & Co. Who says men can't rock jewelry?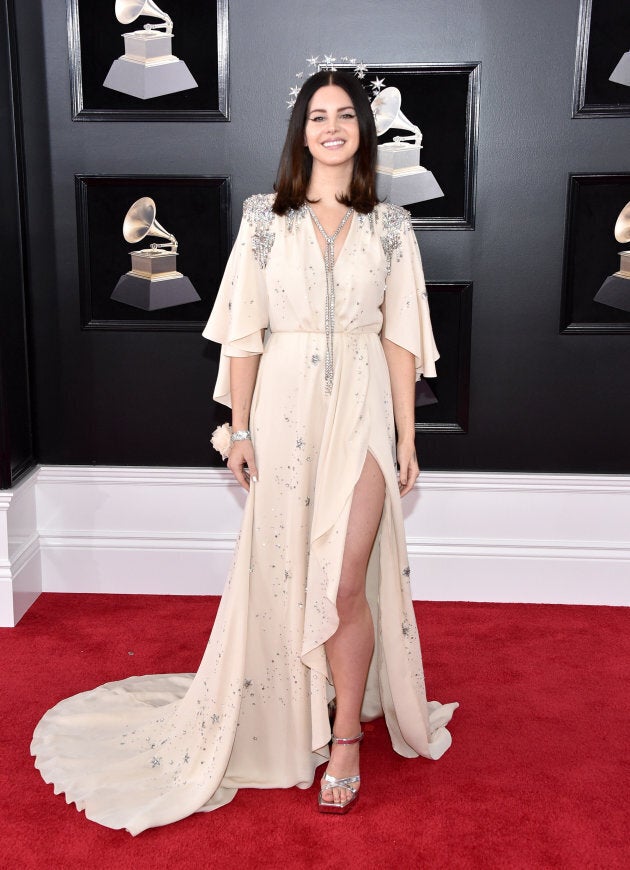 We almost did a double take when we saw the "Lust for Life" singer step out in this custom Gucci gown. The ivory frock was both soft and sexy thanks to its flowy sleeves, thigh-high slit and gem embellishments. To complete her boho chic look, Del Rey wore a crown of stars.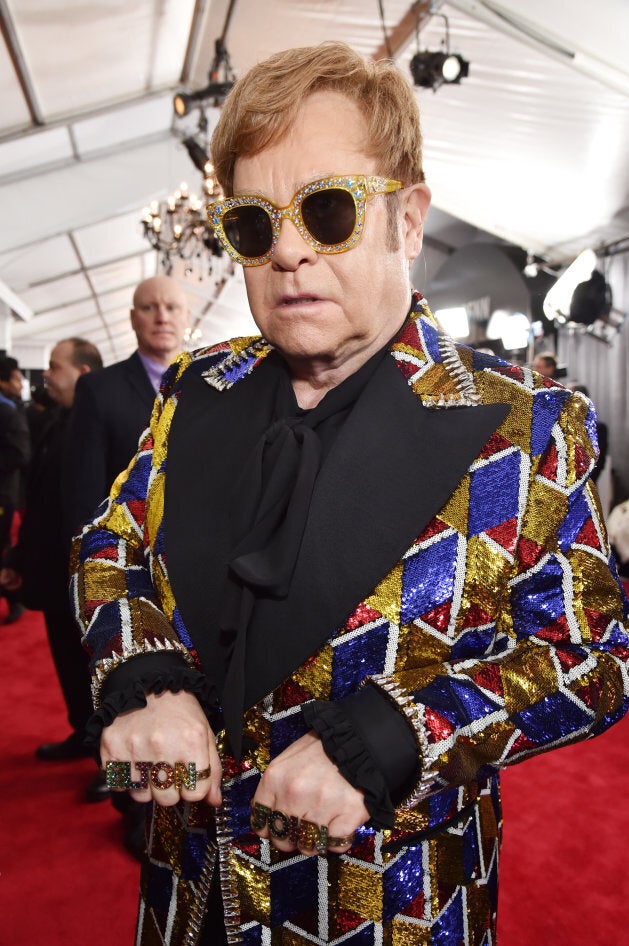 We can't say we're surprised by this one. Elton John went full Elton John for his 2018 Grammys outfit. The 70-year-old singer wore a sequined suit jacket with colourful geometrics and accessorized with block-letter rings that spell out his name. Honestly, no one else but the "Rocket Man" singer could pull off a look like this.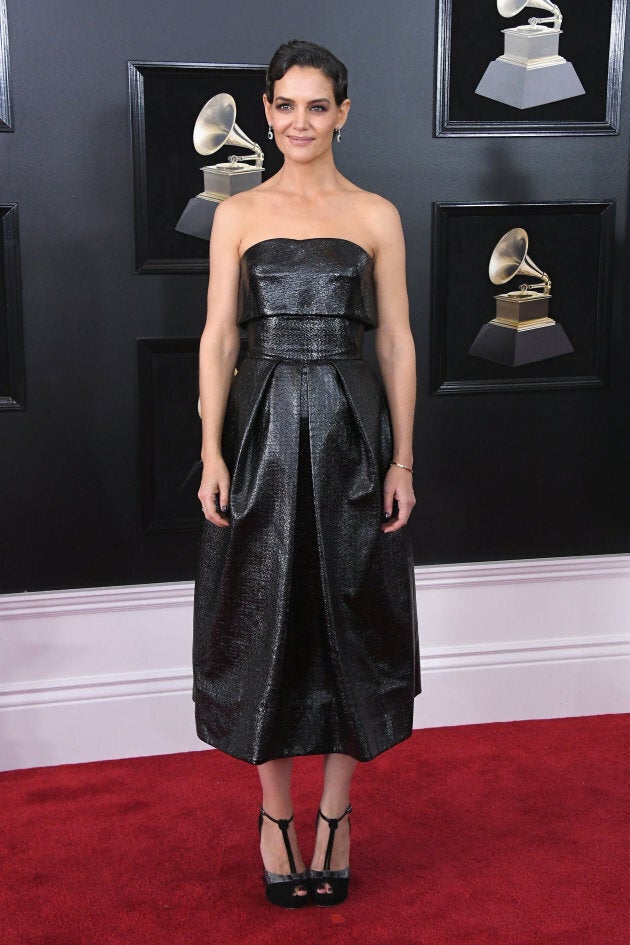 We were surprised to see the oh-so-sweet Katie Holmes step out in a textured Zac Posen dress. But it's the actress' beauty look that has us uncertain. The dark smokey eye and nude lip is a bit too understated for the dramatic frock.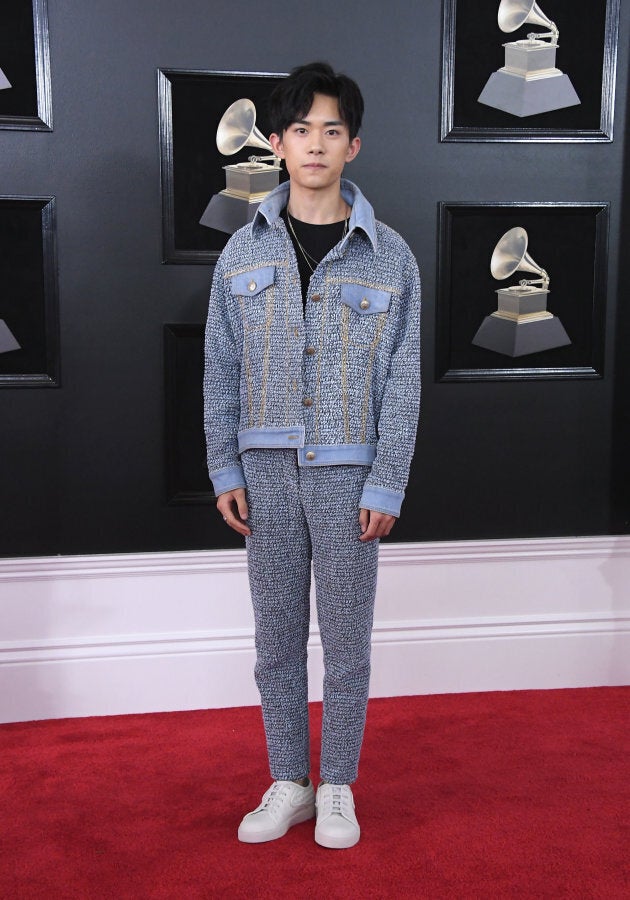 We are very into Jackson Yee's textured outfit. The blue on blue just works and the plain black undershirt gives it a clean, casual look. Also, props to the youngest Chinese musician for wearing an outfit that resembles the Canadian tuxedo.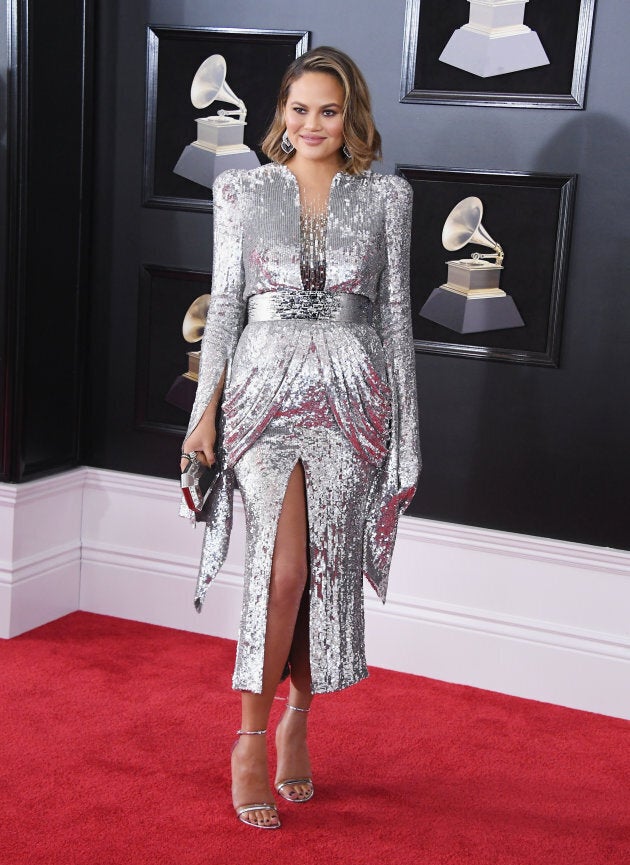 Pregnancy looks good on Chrissy Teigen! The 32-year-old model donned a long-sleeved silver gown that flattered her waist and growing baby bump. Paired with strappy heels and dangly earrings, Teigen looked a vision as she walked the red carpet.
17. HUH: Tyler, the Creator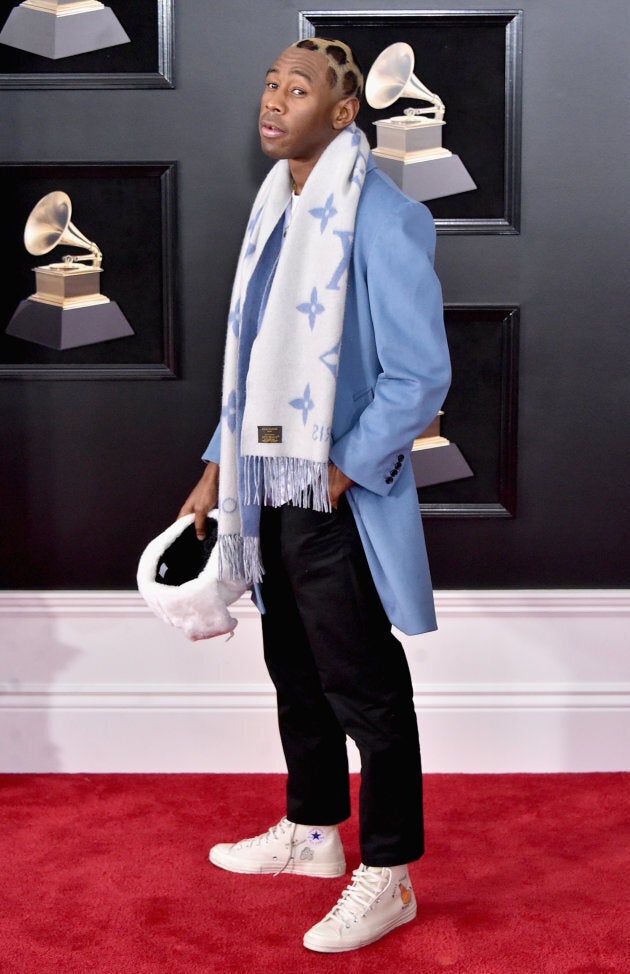 The 26-year-old rapper showed up to the Grammys with the most unique hair colour: leopard print. Tyler showed up wearing a white fur hat, only to remove it to reveal his new look. The style didn't really work though, as it clashed with his fashionable Supreme jacket and matching white and blue Louis Vuitton scarf.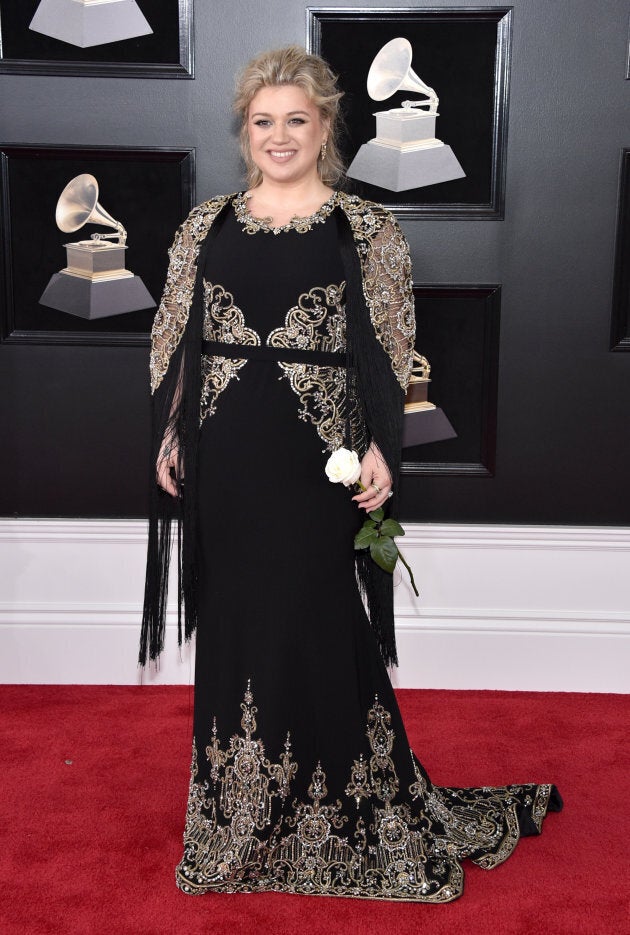 The "Love So Soft" singer looked elegant as ever in a Christian Siriano gown. The black dress had chic gold embroidery and detailing throughout, matching the singer's own golden locks. Clarkson also carried a symbolic white rose for Time's Up.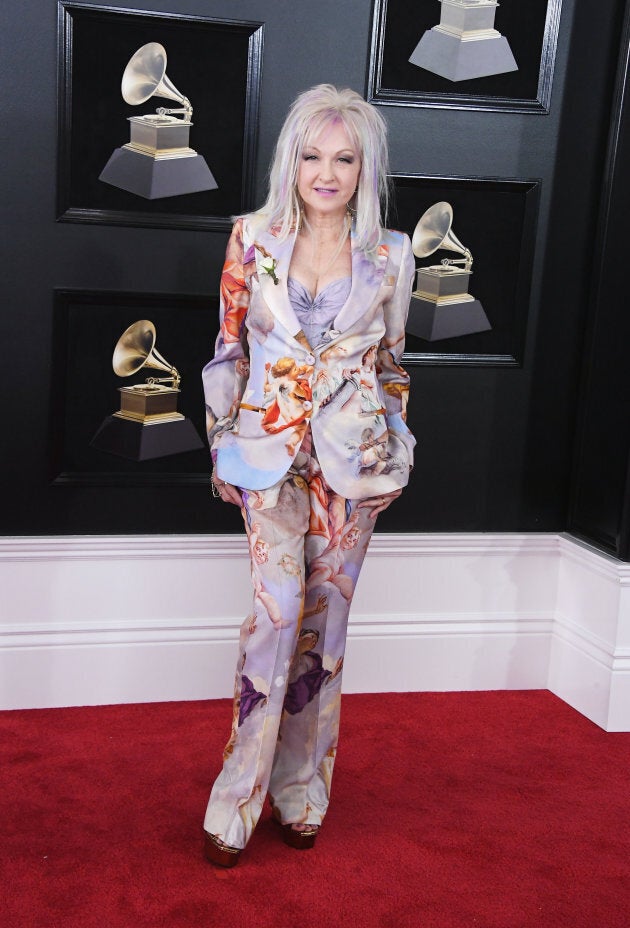 With time, this outfit could grow on us (graphics are in, after all), but Cyndi Lauper's pastel hair is too matchy with the colours on her cherub-covered Moschino suit.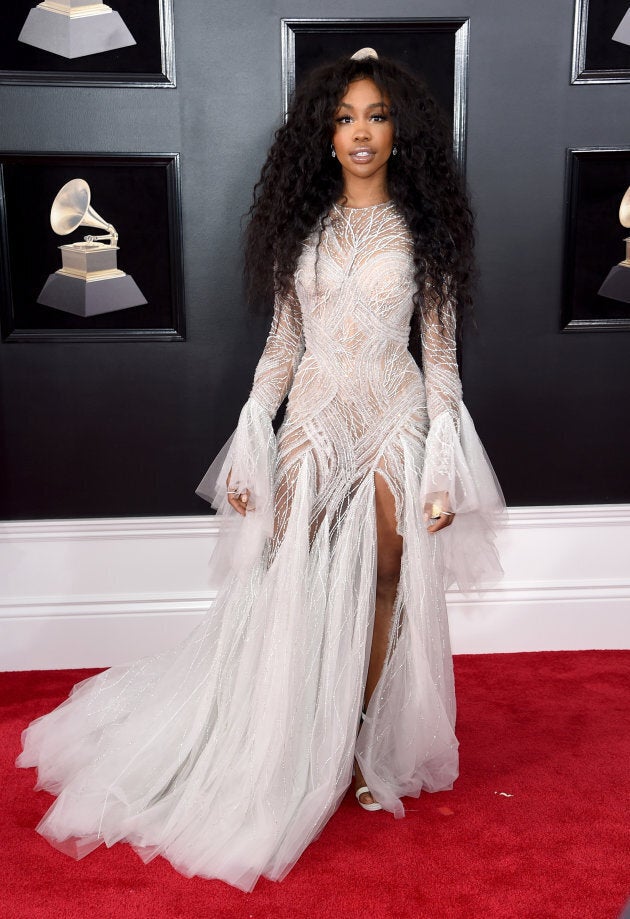 We're on the fence about SZA's Grammys outfit. We loved her beauty look and her natural hair, but her gown is a little contradictory. While the form-fitting dress has a unique pattern and flattering silhouette, the multiple thigh-high slits and excess fabric at the bottom doesn't seem to balance out the dress as well as we'd like.
Popular in the Community