A graphic video released by an animal rights group allegedly shows hens in cruel conditions at one of Canada's largest egg producers.
The footage collected by an investigator for Mercy For Animals is at times graphic. A dead hen can be seen lying in its cage and being stepped on by other birds, as eggs move along a conveyor belt near its head.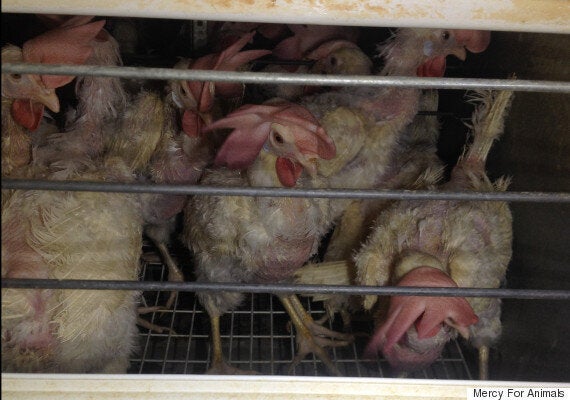 Hens are confined to battery cages at what an animal rights group says is at a Gray Ridge Farms barn in Listowel, Ont. (Photo: Mercy For Animals)
The video, which also shows multiple hens crammed into cages, was allegedly recorded over several months at the Gray Ridge Egg Farms facility in Listowel, Ont. earlier this year.
"I probably spent more hours cleaning dead corpses out of battery cages than anything else," the undercover investigator told The Huffington Post Canada.
He requested anonymity as he works regularly as an undercover employee at factory farms and slaughterhouses. The investigator said his job at Gray Ridge mainly consisted of removing dead hens from cages with live hens, who were still laying eggs.
"You'd see the dead rotting birds decomposed beyond recognition, just left in cages with hens still laying eggs that all go for human consumption."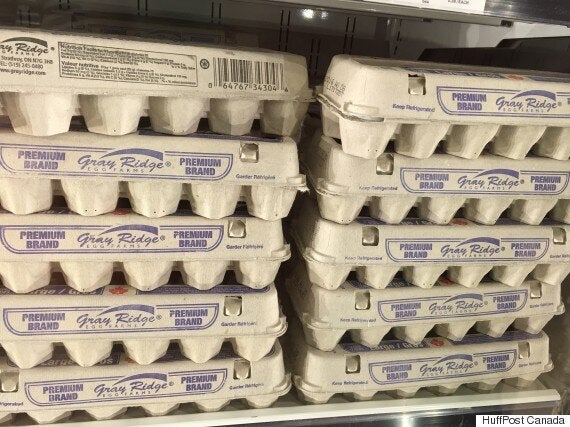 Cartons of Gray Ridge eggs are shown at a Toronto grocery store. (Photo: HuffPost Canada)
"You'd see birds with bleeding prolapses, extreme feather loss, and other serious afflictions, all of these birds denied proper veterinary care," he alleged.
Many of the hens would get their legs trapped in the sides of the cages, unable to reach food or water, and would be trampled by other hens, he said in an interview.
Mike Walsh, vice-president of marketing for Gray Ridge Egg Farms, disputed the animal group's video being filmed at his company.
"We are really struggling to recognize that as our barn," he said in an interview with HuffPost Canada. "So it's probably offered more questions to us than you have for us."
He said battery cages are a common industry practice, but that no new ones were being built at Gray Ridge.
Battery cages banned in EU
The small battery cages are made of wire and used primarily for egg-laying hens. They're named after batteries, which follow a similar pattern of rows and columns connected with shared dividing walls.
Battery cages are banned in the European Union, Switzerland, and several U.S. states because of the negative impacts on the animals' welfare.
A 2006 study from Humane Society International that included Canadian researchers found that battery cages fostered "abnormal" behaviour including cannibalism.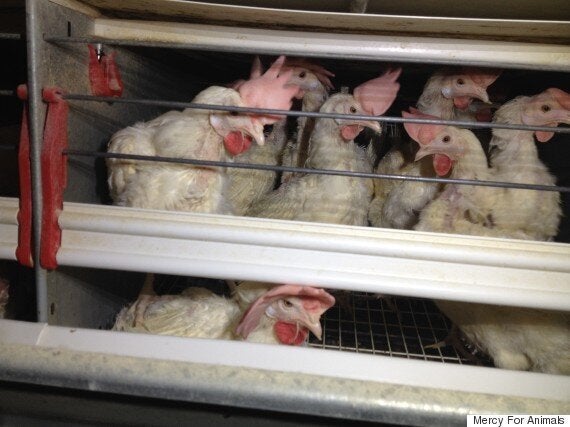 Some hens step over other hens in order to move around in cages. (Photo: Mercy For Animals)
Mercy for Animals managing director Krista Hiddema said hens confined to such cages sit in them for virtually their entire lives.
"We certainly take the position that these are some of the most abused animals in the food industry because they literally never have the opportunity to even stretch their wings or flap their wings."
The company was subsequently fined $80,000 for failing to humanely transport chickens. It was also forced to spend $1 million over three years to meet federal guidelines.
Walsh would not commit to eliminating battery cages but said that Gray Ridge will provide what customers are looking for.
"If Loblaws wants to be 100 per cent free run, then we will provide them with the free run. If Walmart want to be 100 per cent free run, we will provide them with the free run," he said.
Most Canadians would pay more for cage-free eggs: poll
Mercy for Animals group commissioned a poll this spring by NRG Research Group about cage-free egg production.
A majority of Canadians (76 per cent) said it was unacceptable to keep egg-laying hens in cages nearly their entire lives, and 79 per cent agreed that the National Farm Animal Care Council should recommend cage-free systems for egg producers.
A greater number (83 per cent) said the government should enact laws to ensure the humane treatment of animals raised for food, and 81 per cent said they would be willing to pay more for eggs produced in a cage-free environment.
The poll surveyed 1,001 people across Canada over the phone from May 26 to May 31, 2016. The results are accurate +/- 3.10 per cent, 19 times out of 20.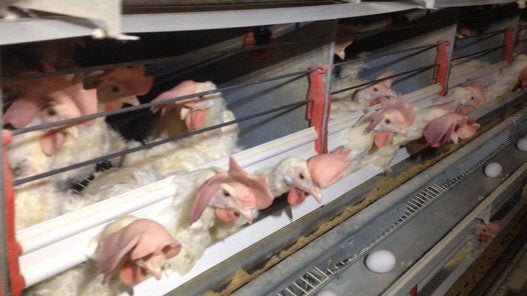 Egg-Laying Hens In Battery Cages