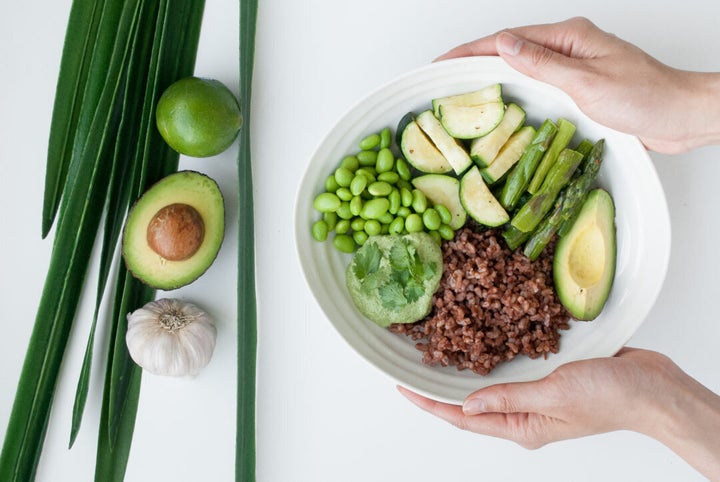 We all want to carry that sun-kissed summer skin that we got in the summer in the fall, but how? Today I'm sharing some of my tips for glowing skin, and one of them is this Green Goddess Glow Bowl that I created.
Beauty really does work its way from the inside out. Along with a solid skin-care routine, a nutrient-packed diet can make all the difference. It all starts with taking the time to take care of yourself and filling your plate with nutrient-dense (and of course, delicious) food is a great start.
This bowl is everything you need for an energizing, blood-sugar-balancing meal with the benefits of some of my favourite skin foods! Everyone is a bit different, but for those that have skin that is sensitive to dairy and/or sugar, this flavour-packed dish is vegan and refined-sugar-free, so no matter who's at the table, this bowl of goodness will deliver!
One of the things you want to consider for optimizing your skin health is keeping blood sugars balanced in order to prevent hormonal spikes. The key to this is including healthy fats and protein in every meal. Both of these powerhouse macronutrients slow the rate of digestion and slow the rate of blood sugars rising after you eat. Plus, this combo will keep you full and satisfied longer for natural appetite and craving regulation!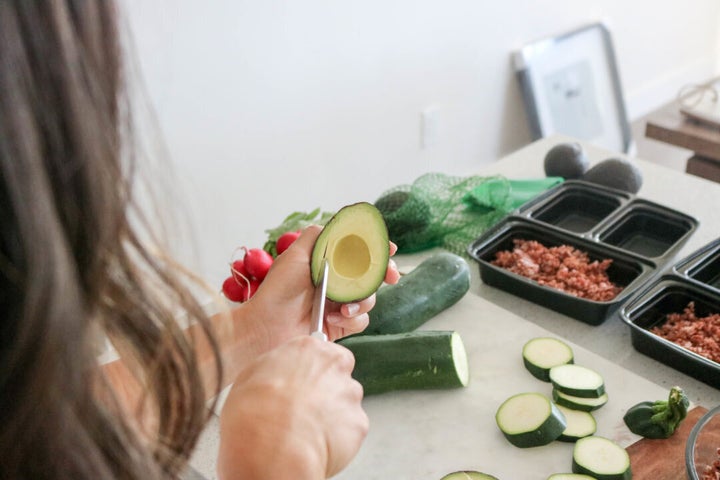 When it comes to food, there's nothing like the power of green.
Edamame beans are a great source of plant-based protein and zinc, which plays a role in preventing and repairing cell damage as well as building new cells. Zinc is often found in sunscreen and topical acne treatments.
Avocado adds satiety as a healthy fat and boasts the benefits of antioxidant vitamin E. Antioxidants protect our cells from oxidative damage which can prematurely age our skin.
What are your favourite skin foods? Leave us a comment and let us or follow me on Instagram for a daily dose of wellness inspiration and share your secrets! If you have any recipe requests, I'd love to hear from you!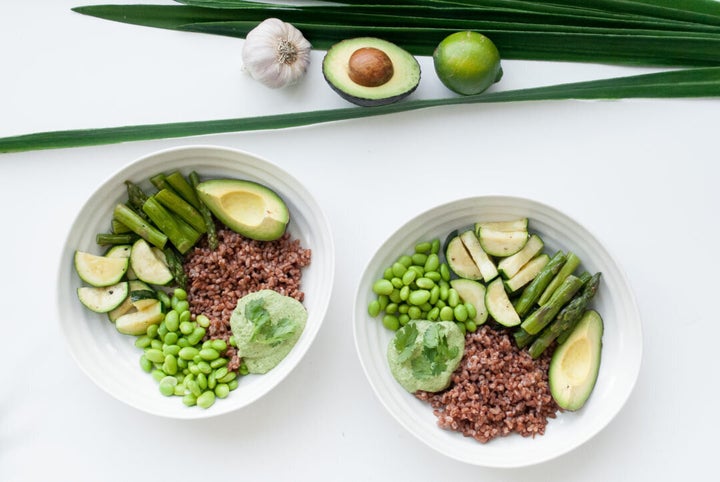 Green Goddess Glow Bowl
2 cups brown rice (I used Level Ground Trading's Aromatic Heirloom Rice)
8 stalks asparagus, white tips cut off and remaining stalk cut in thirds
1 medium zucchini, sliced in rounds, approx 1-cm thick and then rounds cut in half
1 tbsp. avocado oil
Salt and freshly-cracked pepper
1 avocado, quartered and sliced
2 cups edamame beans, shelled
4 cups baby spinach or arugula
Cilantro lime cashew pesto
½ cup cashews
¼ cup boiling water (this will help the cashews break down and give a creamier texture)
½ cup cilantro
Juice of 1 lime
1 large clove of garlic
1 tbsp olive oil
Salt and pepper to taste
Preheat your oven to 400 degres Fahrenheit.
Toss your asparagus and zucchini in avocado oil and sprinkle with salt and pepper.
On a parchment-lined baking sheet, lay your veggies out and bake for 15 minutes or until fork tender and starting to brown a bit on the edges.
While your veggies cook, prepare your cashew pesto. Add your cashews and water to a food processor or high speed blender and blend until smooth (like a thinner peanut butter consistency) add more water if needed to thin it out.
Add remaining pesto ingredients to food processor and blend until smooth, adding more olive oil or water as needed.
If edamame beans were frozen, place in a colander and run hot water over them to defrost. Add them to one end of your baking sheet with the veggies to roast for the last five minutes of cooking time.
When everything is ready to go, start making your bowl! Start with your base of rice, followed by spinach and finish with edamame, veggies and avocado. Finish by drizzling with your cashew pesto and extra lime if desired.
Add more warm water or olive oil if you prefer a runnier consistency to drizzle over your bowl.
May also add 1 tbsp nutritional yeast or 2 tbsp parmesan cheese for a cheesy kick.