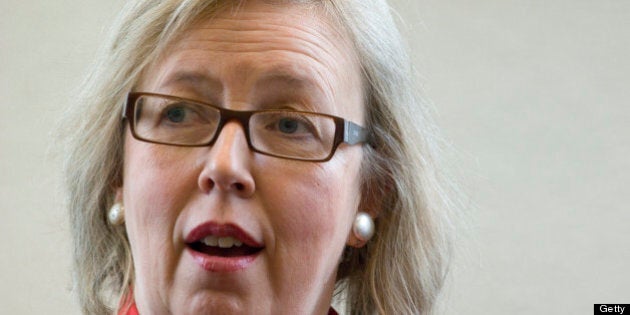 OTTAWA — The Green party, the Bloc Québécois and upstart Forces et Démocratie party could be frozen out of the upcoming federal election debates, The Huffington Post Canada has learned.
The Conservatives and the NDP want many debates, but sources in both parties say they also want to limit the number of participants to the "main parties," believing that the contrast between Prime Minister Stephen Harper, Liberal Leader Justin Trudeau and the NDP's Thomas Mulcair would be sharper without the three other party leaders on stage.
The broadcast consortium, the group of TV networks that sets the rules for the debates, has yet to meet with the parties but some networks already seem to prefer more debates with fewer participants.
On Wednesday, Mulcair refused to say who should be part of the debate.
"That is something that is completely left up to the consortium, and I will follow whatever they decide," he said. "Every time the prime minister is going to be there, I can guarantee you, I'm going to be there."
"If that's one a week or two a week, I'd love to have as many debates as possible," he said, adding that he would like some debates focused on women's issues and the environment.
Trudeau wouldn't tell reporters what his preferences were either. Does he think two debates – one in English and one in French, as has been the norm – are sufficient? Does he think Green Party Leader Elizabeth May should be included in the debates? He would not say.
"I look forward to having discussions about that with the consortium of broadcasters as it comes closer to it. Right now, it's too early to say who should be in," Trudeau said.
Trudeau said he wants to spend "as much time as possible talking with Canadians." He elaborated in French, saying that meant more time meeting Canadians on the doorstep than connecting with them through their television sets.
Cory Hann, the Conservative party's spokesman, also wouldn't say what his party's preferences for the debates were but he said he wanted Canadians to be able to see "clearly" the choice between Harper and Trudeau.
"[W]e are not in the position to confirm scheduling decisions for the October 2015 election campaign," he wrote in an email.
The smaller parties Wednesday were left to defend their right to take part in the high-profile election debates.
May told HuffPost she has no doubts the media consortium will include her this time.
"I will be in the debates. Obviously," she wrote in an email.
May pointed out that Reform MP Deb Grey got leader Preston Manning into the 1993 debates before he won his seat.
She also said she wants to see more debates, believing it is a way of "boosting citizen engagement." A source in the party said the Greens are pushing to have three debates, one in French and two in English – with one in Eastern Canada and another out West, possibly focused on women's issues.
The Bloc Québécois said it didn't know exactly how many debates it would want to participate in, but the party said it believes it is entitled to participate in all the debates, both English and French.
"I don't want to have a debate on the debate," Simon Charbonneau, the Bloc spokesman told HuffPost. "[But] the Bloc Québécois must participate in the debate. For us, that is not debatable.
"More than a million people voted for the Bloc in the last election, the Bloc must be represented."
Forces et Démocratie Leader Jean-François Fortin said the number of votes a party has received shouldn't determine whether it is included in the debates. Forces et Démocratie is made up of one MP who crossed the floor from the NDP and Fortin, who was elected under the Bloc banner in 2011.
Fortin said he would like to see at least two debates in French; he wasn't sure whether he wanted to participate in any English debates.
"Because we are only going to present candidates in Québec, we think it's appropriate to be in the francophone debate," Fortin told HuffPost. "And, for the English debate, we think that should be for parties that present candidates in other regions.
"Our presence is de facto since the media consortium has always held that they invite leaders that have MPs when the House is dissolved," he added.
Fortin said he thinks the NDP doesn't want to have his party in the debates because it would give Forces et Démocratie a larger platform. The party plans to run 25 candidates at least in the upcoming election.
Conservative MP Brad Trost told HuffPost he understands the precedent does exist to have the smaller parties take part in the debate. But he wonders how an expanded panel, including the Bloc Québécois and "Forces and Democracy or Strength and Democracy or whatever they are calling themselves," would be managed.
"How the heck are we going to handle [this?]," he said. "This is going to be a gong show if we have six people up there."
Quebec appears to be leaning towards having at least two debates, one on Radio-Canada and other on TVA. Véronique Mercier, a vice-president with TVA, said she would not be ready to say what the network preferred until the writ had dropped. But she noted that TVA, during the last provincial election in Quebec, held a series of one-on-one, face-to-face leaders' debates over three nights that had proved immensely popular with viewers.
Troy Reeb, the vice-president of news for Shaw Media, said Global News' position is that the more debates that can be organized, the better it is for Canadian democracy.
"If, however, the parties determine, as they have in the past, that they are unwilling to have their leaders attend multiple debates," Reeb said in an email, "then we stand prepared to work again with other broadcasters to ensure any single English-language debate reaches the widest audience possible.
"Questions of format and who would be invited would obviously be up for discussion at that time."
The consortium, which meets usually when the election called, is not bound by any written rules or, technically, any precedents.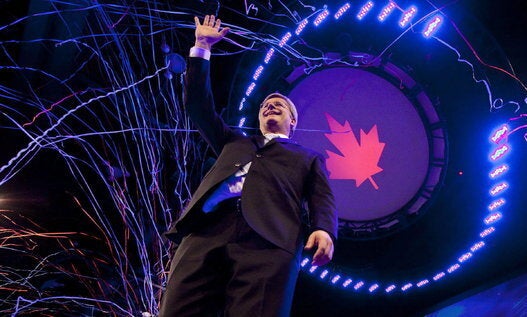 5 PMs Who've Served Longer Than Harper