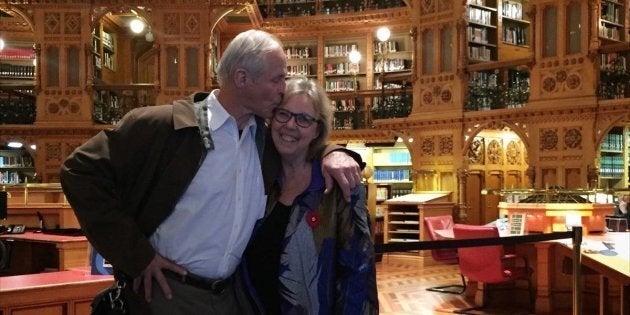 You're never too old for love, and federal Green Party Leader Elizabeth May's story proves it.
She announced Monday that she is engaged to John Kidder, who helped form B.C.'s Green Party.
"In my 65th year, to actually find the person I think I was supposed to be with all along has just taken a really long time," May joked in an interview on Monday. "I've had quite a few single friends tell me: well this gives me some hope!"
The federal party's Twitter account posted a picture of the happy couple along with the announcement.
Kidder grew up in Labrador City, according to May's Twitter page. He ran in the 2013 B.C. provincial elections for the riding of Fraser-Nicola. The duo met when May visited Merritt, B.C. to support his campaign.
"We definitely had an immediate connection," but the timing wasn't quite right, May told HuffPost Canada.
Friendship blossomed
Kidder told the Surrey Now-Leader that he found May "charming in every way" when they first met, and despite their busy schedules, he made time to see her.
"He said, whenever you have a day off I'll be there," May said. And he followed through on his pledge. Kidder travelled from his home in Ashcroft, B.C. to spend time with May wherever she was.
Their friendship blossomed into something more, and Kidder proposed in October, according to the Now-Leader.
The Green Party leader confessed she's had a rough time finding love, joking: "It's not that likely that anyone would want to date me, much less marry me," because of her schedule. "I work seven days a week, really long hours. I get a day off a month — if I get the day off the month."
May seems to be brimming with joy — telling well-wishers on social media (including HuffPost Canada's Althia Raj) that she has "never been happier" and that it was a "great love story."
She confirmed that the engagement doesn't mean she's moving from her B.C. riding of Saanich-Gulf Islands. She's staying to run again, and also hopes to win the Greens more federal seats.
Kidder has been a cowboy, farmer, miner, pipeline layer, fish buyer and warehouse worker, according to a profile Lillooet News published during the 2013 B.C. election. He also created a few tech companies in the 1980s and ran as a federal Liberal in the 2011 election.
A widower, Kidder has three children and four grandchildren, while May has a daughter, three stepchildren, and seven grandchildren.
Kidder's sister was Emmy-winning actress Margot Kidder, best known for her role as Lois Lane in the "Superman" movies in the '70s.
Cheeky idea
Along with being federal Green Party leader and its sole MP, May is also an author and lawyer.
May has had an eventful year including being arrested by Mounties in Burnaby, B.C. during a protest against the Trans Mountain pipeline. She said when she got engaged, a cheeky idea popped into her head.
"It had even occurred to me to try to get the RCMP officers who arrested me so very kindly to be the ones who walk me down the aisle for the wedding," May said. "But my daughter nixed that because she thinks she ought to be the one that gets to give me away."
The pair will be wed on April 22, 2019, the Surrey Now-Leader reported.
With files from Zi-Ann Lum