If you get queasy at the sight of people drinking green smoothies, we're so sorry, but we're about to convert you to the green side.
Not only are green smoothies high in nutrients, vitamins and fibre, they can also make any vegetable you probably don't like (be it kale, spinach or broccoli) taste great. The secret behind blending the perfect smoothie is using sweet fruits or even seeds to give your drink a unique taste.
There's a reason why kale and spinach seem to be the main ingredients in almost every green smoothie. Not only do they give smoothies their verdant colour, they are also packed with calcium, protein and iron. Talk about your super vegetables.
And while these smoothies below pretty much all look the same, we promise you each one is unique in ingredients. And pro tip: all you need to do is blend.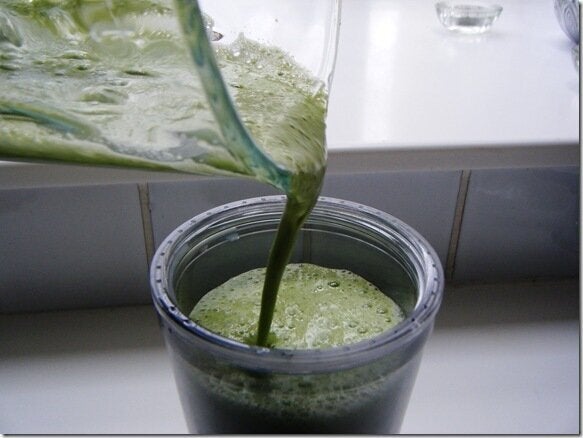 11 Green Smoothie Recipes
For Seriously Sneaking In Veggies
The smoothie: Banana And Spinach Smoothie
The smoothie: Blueberry Avocado Smoothie
The smoothie: Parsley, Kale And Berry Smoothie
If you don't like to eat your greens, blending them with tangy fruits like berries will help disguise the taste. The parsley adds a little more folic acid, which is excellent for cardiac health. Get the full recipe from Bon Appetit here.
The smoothie: Kale Smoothie With Pineapple and Banana
Literally Instead Of A Salad
The smoothie: Sweet Punch Romaine Lettuce Smoothie
If You're Feeling Under The Weather
The smoothie: Kale Ginger Smoothie
For Your (Fruity) Sweet Tooth
The smoothie: Mango, Kiwi, Peach And Spinach Smoothie
The smoothie: Cucumber Apple And Ginger Smoothie
The smoothie: Lemon Celery Smoothie
The smoothie: Banana Broccoli Smoothie
The smoothie: Chocolate Mint Green Smoothie