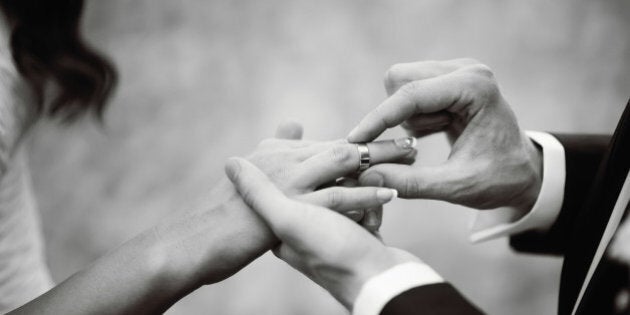 Spring fever, spring trips, and backpacking through Europe can lead to the declaration: "I'm in love!" So can snorkel lessons or tennis classes on a Caribbean island. A relaxed frame of mind, coupled with breathtaking scenery and good weather play their part, too.
Of course it's romantic to have sunset ceremony with a senorita on the Costa del Sol, or an impromptu ceremony with a pretty mademoiselle at Paris City Hall. After all, there's a song about "April in Paris."
Before you start picking out wedding invitations and planning on bringing your sweetheart back to Canada, there is a lot of wisdom in getting the facts about your legal obligations if you to want to marry someone from a foreign country and sponsor them to come to Canada.
It can be wonderful to travel, on vacation or on business and meet "The One," but you should know what the financial implications are for you if the relationship doesn't last to even the three-year mark. It can -- and does -- cost Canadians thousands of dollars.
Here's the big revelation: separation and divorce do not make the sponsorship agreement to Canada null and void. Even worse, a court can order spousal support which is much higher than social assistance and child support on top of that, if you sponsored children of your spouse to come to Canada.
I don't want to sound like a crank or a wet blanket, it's just that I have been a divorce lawyer for 20 years. And everyone thinks that getting misled by "The One" will never happen to them. Yet, it happens to more people than care to admit it, so I'm just putting the facts in front of you.
The Canadian government had to tighten loopholes for foreigners marrying Canadians because a number of foreigners were using Canadians not just to get into Canada, but also to receive financial assistance once they arrived here. This was costing taxpayers millions. The Canadian government changed the immigration rules in 2011 (the test case was the Supreme Court of Canada in Canada (Attorney General) v. Mavi, 2011 SCC 30), largely shifting the responsibility for detecting immigration fraud to individual Canadians. While this may seem harsh, a large government department has no way of knowing why a foreign national wants to come to Canada, whether that is for love or financial advantage.
If you are a Canadian citizen or a permanent resident of Canada, you can apply to sponsor a common-law partner or spouse to come to Canada as a permanent resident. To do so, however, you must sign a sponsorship agreement in which you commit to supporting your spouse financially for at least three years.
While your spouse must try to become self-sufficient, you are obligated to support them if he or she cannot (or will not) support him or herself. This obligation includes providing the basic necessities of life, such as food, shelter, clothing, household supplies, and any necessary healthcare (eye care, dental care, prescription drugs) not covered by OHIP.
This means that if at any time in the three years following immigration your spouse applies for social assistance, you will have to repay the government for all money paid out. Even if your financial situation changes for the worse, you will still be liable to repay all federal and provincial money paid out to your spouse.
How to prevent being a victim of immigration fraud?
Be sure before you sponsor your partner that you are comfortable with this undertaking and willing to support your partner for three years, no matter what happens to your relationship. This is serious business and has the potential to derail your financial life for years. Don't be pressured into having the wedding ceremony "right away." Whirlwind romances and rushing into things is a frequent pressure tactic.
You should also be sure you know your spouse's intentions; Do not allow people from other countries to use you and the pretext of marriage to come to Canada.
In some of the worst sponsorship cases, a sponsored spouse arrives in Canada, obtains the desired permanent resident status, and promptly disappears, leaving the Canadian spouse with the sudden realization that this was a relationship of convenience -- convenient for them.
The Runaway Bride was a cute movie with Julia Roberts, but repaying thousands of dollars to the government is not cute at all.
To make matters even worse, if the sponsored spouse then applies for any form of social assistance, the Canadian spouse will have to repay that money to the government. The first indication you may have that your sponsored partner is, in fact, still in Canada could be a bill from the government, demanding repayment of many years' worth of social assistance money.