With less than two weeks to go before the civic election, incumbent mayor and Vision Vancouver leader Gregor Robertson is suing opponent Kirk LaPointe for defamation.
In a statement of claim filed Thursday in B.C. Supreme Court, Robertson and Vision councillor Geoff Meggs allege that LaPointe and his Non-Partisan Association (NPA) party made "false and defamatory" claims about "secret union deals."
The lawsuit says defamatory statements were made in The Province newspaper, at a press conference last month, in paid radio and TV ads that began airing on Tuesday, and on the NPA website (screenshot below).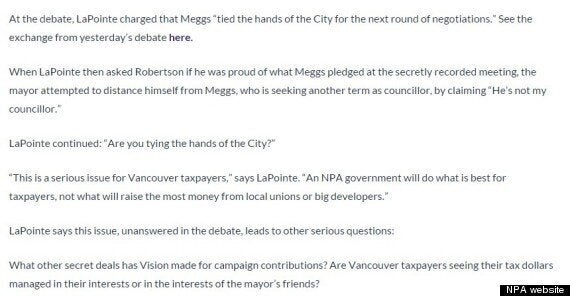 Opponents have been attacking Robertson and Meggs over a private meeting with a local of the Canadian Union of Public Employees that represents city workers. A leaked recording revealed Meggs told union officials that the mayor was "again recommitted" to not contracting out union jobs, reported the Vancouver Courier.
Following the meeting with Meggs, the union donated $34,000 to Vision's campaign. The Vancouver Sun said matching union funds from national and provincial offices pushed that to $102,000.
In the court filing, Robertson and Meggs say the NPA's claims imply that they:
"are corrupt"
"cut a secret deal with CUPE"
"were buying votes"
"are dishonest politicians."
Those implications are "false, malicious and defamatory," said the statement of claim.
The defamation suit is seeking a complete retraction, damages, costs and the removal of the ads, said a news release.
LaPointe responded with a statement on Thursday evening, calling the lawsuit an "attempt to stop our criticism of [Vision's] record and behaviour."
It continued, "The NPA recognizes intimidation by lawsuit as a typical tactic of Robertson and Vision. This legal action can now be added to the countless costly, time-consuming suits involving community groups and individuals across the city."
Read the full statement of claim:
Like this article? Follow our Facebook page

Or follow us on Twitter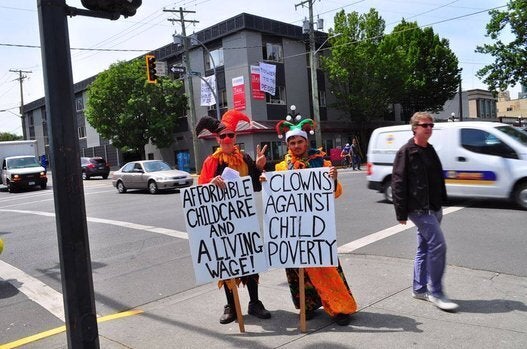 Unusual B.C. Municipal Election Candidates