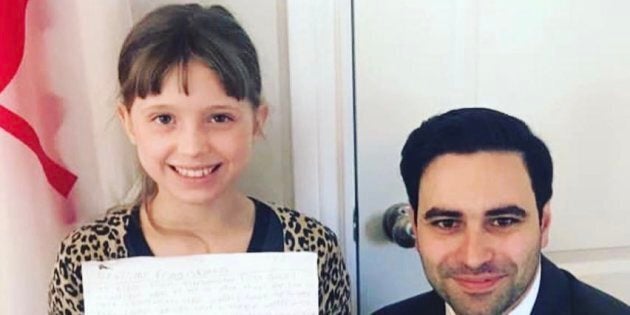 "I want to make a change about this," wrote nine-year-old Greta Fleet in a letter to an Ontario member of Parliament.
Fleet had just learned that Indigenous residents in the remote, northern Ontario community of Attawapiskat did not have access to clean water, safe schools and adequate housing. An Elder had visited her school in London, Ont. to give a presentation about what life was like in the Cree community, opening up the eyes of the students to the stark differences between the two communities.
Appalled that this Indigenous community lived in such abysmal conditions, the Grade 4 student went home to tell her parents about the presentation.
"I felt really bad about it and also confused — like how could this be happening to people in Canada? We are all Canadians, shouldn't we all have the same opportunities? Shouldn't we all be treated the same?" Fleet told HuffPost Canada. "I really wanted to do something to help."
So, with her parents' help, she sat down to write a letter to their MP Peter Fragiskatos.
"I am writing this letter to ask you as a member of Parlament (sic) to help our next-door neighbours in Attawapiskat and other Aboriginal communities. they deserve the same oppertunites (sic) and choices as us in London, like being able to go to a great school like Pearson and do art and drama and music and dance like I get to."
Fleet said that when some of her relatives couldn't sign it in person due to their location, her mom Elsa Rose Eastabrook uploaded the letter to Change.org, so that folks could sign it no matter where they lived.
"All of a sudden, people I didn't know started signing it, and soon it had over 1,000 signatures," she said excitedly.
Prime Minister Justin Trudeau announced in 2015 that his Liberal government would reshape its relationship with Indigenous peoples. However, by that point, Attawapiskat was in the depths of a suicide crisis.
Fleet's hope for families in Attawapiskat, especially for children her age, is that they will finally have access to the same basic human rights that she took for granted, she said.
"I hope for equal opportunity for Canadians," said Fleet. "If a nine-year-old like me can do something as simple as write a letter and get so much support, imagine what we could do if we all stood up together and said, 'We have to fix this?'"