Not content with simply being a world-renowned environmental activist at age 16, Greta Thunberg is also aiming to change perceptions of people on the autism spectrum.
The Swedish climate activist, who arrived in New York on Wednesday after a two-week trip across the Atlantic on a zero-emission yacht, took to social media over the weekend to open up about her Asperger's syndrome.
"When haters go after your looks and differences, it means they have nowhere left to go. And then you know you're winning!" Thunberg wrote.
"I have Asperger's syndrome and that means I'm sometimes a bit different from the norm. And — given the right circumstances — being different is a superpower."
People with Asperger's are on the autism spectrum and are generally considered to be high-functioning, according to Autism Speaks Canada. They're often very intelligent, with a lot of knowledge in highly specialized topics, but sometimes have trouble with social interactions.
Thunberg has spoken openly about her diagnosis before, and some of her opponents, including many climate change deniers, have used it against her.
An opinion piece in the New York Times that argued her approach was too "radical," and hemmed and hawed about whether or not she's qualified "to debate in a democratic forum" drew a swift backlash.
"They feel at liberty to do it because autism has been framed as a pathology for decades, so they feel like they don't have to hold back. [They] just 'other' her, turn her into a freak when she's actually making more sense than 95 per cent of the adults who have addressed this issue for the last 30 years."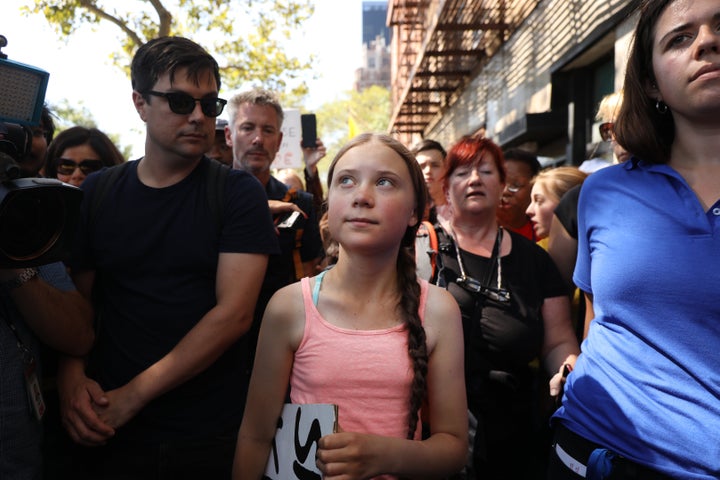 This weekend's post is in line with the way Thunberg has spoken about her Asperger's before — as something that can result in her feeling isolated and unhappy, but that can motivate her, too.
She's careful not to romanticize the condition. "My diagnosis has limited me before," her post reads.
"I've had my fair share of depressions, alienation, anxiety and disorders.... Autism is not a 'gift.' For most it is an endless fight against schools, workplaces and bullies," she wrote in April. "But under the right circumstances, given the right adjustments it CAN be a superpower."
She feels her diagnosis has had some benefits, too. "It makes me see things from outside the box," she told the BBC earlier this year. "I don't easily fall for lies, I can see through things. If I would've been like everyone else, I wouldn't have started this school strike for instance."
She elaborated in her TED Talk: "For those of us on the spectrum, almost everything is black or white," she said. "We aren't very good at lying and we usually don't enjoy participating in the social game as the rest of you seem so fond of. I think in many ways we autistic are the normal ones and the rest of the people are pretty strange — especially when it comes to the sustainability crisis."