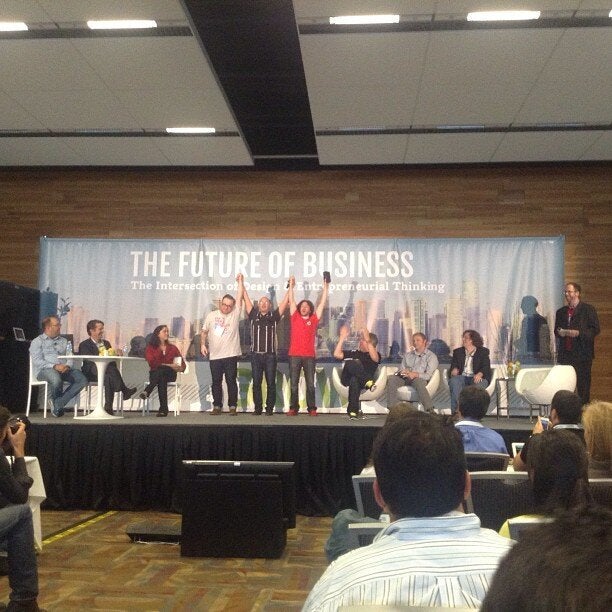 "Whatever you can do or dream you can, begin it. Boldness has genius, power and magic in it." Goethe
Roger Martin in The Design of Business: Why design thinking is the next competitive advantage, states that to innovate and win, companies need to consider design thinking as a means to illustrate their entrepreneurial spirit. Debbie Landa put it concisely as recognizing the problems that need solving in this world, seeing the unseen and creating something that really matters. This was the clear WHY behind the GROW conference this year A challenge to 'think differently' and to change the world for the better in some way.
The diversity of content, placed into context, gave a well-rounded view of the future of business. GROW is about the future of innovation, growth and entrepreneurship. Providing a curated environment that brings together technology pioneers, founders, executives, influencers & investors who are passionate about identifying problems worth solving. It's this bringing together of people from diverse backgrounds that is key to addressing the worlds' wicked problems. So on one hand you have Danny Robinson,CEO and Co Founder of Perch who believes whole-heartedly, that entrepreneurs who exploit internet-technology will bring us world peace, bio-technology will end disease and hunger, and clean-technology will heal our planet. Danny's current venture is a solution to help companies maintain the positive culture they have created once they start to grow in size & location. On the other hand we have Manjul Shah, EIR CRV.com talking about the significance of the legacy we leave behind in business as he addresses health and fitness via technology - vital considering the obesity epidemic that is costing health services millions, and affecting the quality of life of so many.
The diversity of talks and the caliber of speakers in the GROW schedule
reflected the thought leaders of today and illustrated attention and an openness to learn from each other. Everyone may have come with their own agenda, yet learning from each other's differences was the magic that was happening on the stage and in the informal conversations outside - It was this intersection that was aspiring the future of business. People attended to network and meet potential investors - that was a given, yet it was also "to get a feel for the thought ideas for the future areas of business as GROW is where this happens" (Chris Forrest, Deloitte) "Engaging tech industry professionals to create internship and leadership opportunities for students abroad" (Calvin Bondoc, AIESEC "to link with the huge growing technology fields on the West Coast, which has talent in terms of lessons, people and clients" (Phil Noelting, Qwalify). And boy did they get all this and more.
Yes, it's about business and return on investment, yet that's not what everyone around you is talking about. It's their product or start up ideas they share with a childlike exuberance for sharing, that is often missing from the world of business.
"Never doubt that a small group of thoughtful, committed, citizens can change the world. Indeed, it is the only thing that ever has." Margaret Mead
Game changers - do your thing!!!
Popular in the Community