Alan Thicke is a TV dad we'll never forget — and neither will his cast members from "Growing Pains."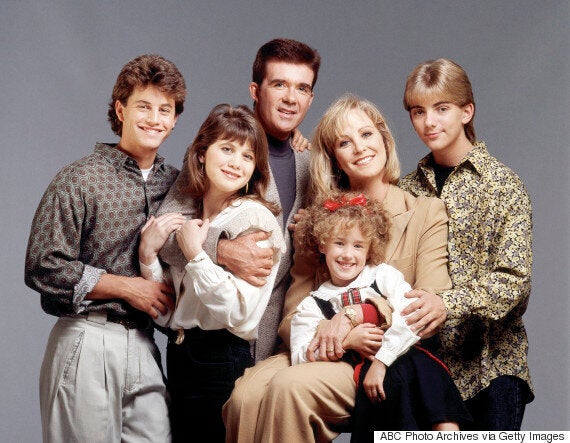 Left to right: Kirk Cameron (Mike), Tracey Gold (Carol), Alan Thicke (Jason), Ashley Johnson (Chrissy), Joanna Kerns (Maggie), Jeremy Miller (Ben).
Joanna Kerns, who played Thicke's TV wife, Maggie Seavers, admitted his death still feels "very surreal."
"We loved him. We were a family," she said. "We spent, you know, 10, 12 hours together a day sometimes. Sometimes we were with Alan and each other more than we were with our regular family. We miss him."
According to Tracey Gold, who played Thicke's onscreen daughter Carol, she had a "weird" and "very surreal experience" the day Thicke died.
Initially, Gold thought Thicke had passed away that evening, but later learned that his death occurred around noon. At that time, the 48-year-old was on her way to meet her husband, Bobby, at his work.
"I started to feel this rush over me," she explained. "I felt dizzy and that never happens to me. I never get sick. But I was like, 'Bobby, I need to sit down … I don't feel well.' I didn't even think I could get behind the wheel and drive."
The feeling finally passed after a few moments, and Gold found out about Thicke's death later that day.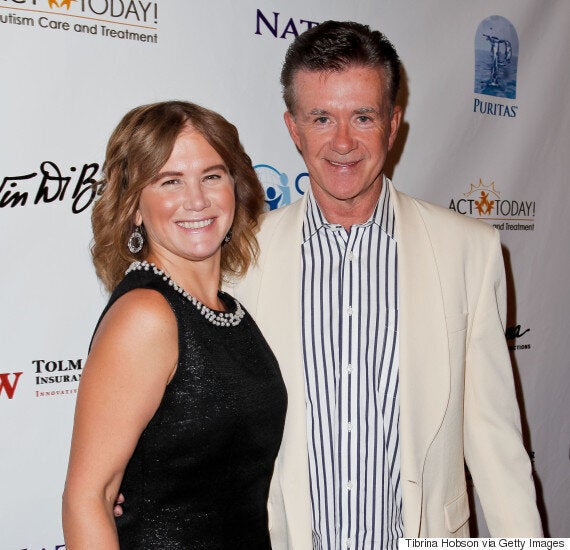 Tracey Gold and Alan Thicke in 2013.
Jeremy Miller, who played the youngest son, Ben, on "Growing Pains," also appeared on "The Dr. Oz Show" to talk about the last day he spent with Thicke.
"Tracey and I got to spend a wonderful day with him. We got to sit there and just talk and tell stories and mess around all day. It was really special," the 40-year-old said.
Miller also spoke to the late actor about a new show he was working on. "Even with everything going on, Alan being Alan, on the phone, doing autographs, selling his book, doing this, working, taking meetings, he still took me aside, talked to me about the show, gave me a little advice," Miller said. "That's just who he was. He was so generous with his time."
Thicke certainly touched the hearts of many with his role as the beloved dad, Jason Seaver. At the time of his death, a number of fans and cast members paid tribute to the late actor on social media, including Leonardo DiCaprio.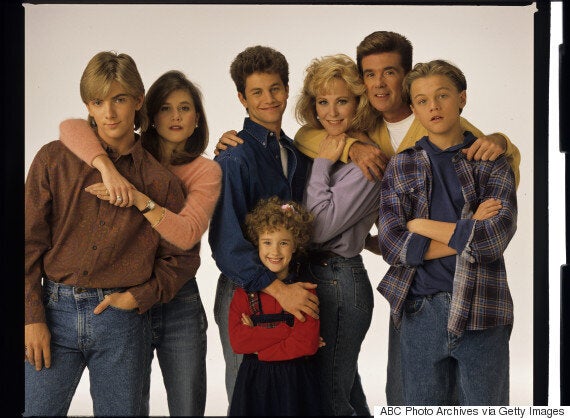 The cast of "Growing Pains."
The Hollywood star actually got his break on the '80s sitcom at the age of 17. So when Thicke's death was announced in December, DiCaprio also took the time to pay tribute to him.
"Alan was a devoted father, husband, friend and role model," DiCaprio wrote on his Facebook page. "He knew how to harness the power of the entertainment industry to be a positive influence in so many lives – including mine. He had tremendous class, a huge heart, and he taught me and so many others the valuable lessons about humility and gratitude. I miss him already."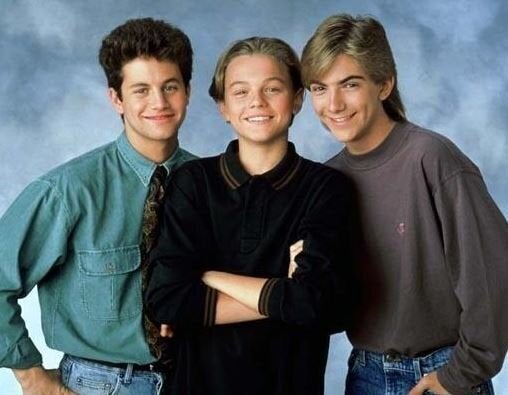 Stars You Forgot Were On 'Growing Pains'