The experts say it can't go on forever, but it just won't stop. In fact, it's accelerating.
House prices and home sales in Canada's largest metro area continued their juggernaut in January, with sales up 8.2 per cent and prices up 14.1 per cent in a year.
The upward price pressure has shifted to the city's suburbs. Detached home prices in the 905 region have soared nearly 21 per cent over the past year, to average $783,565, according to data from the Toronto Real Estate Board (TREB).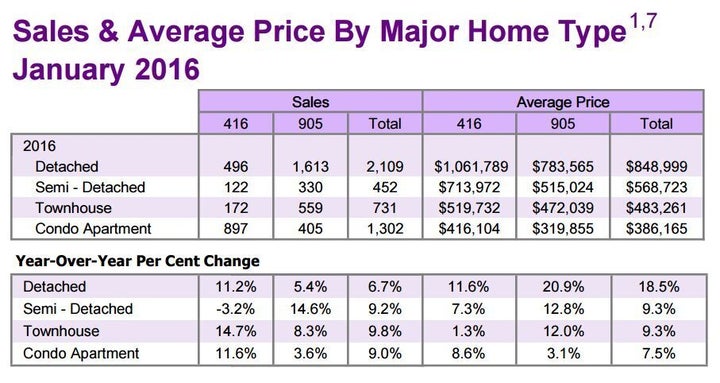 (Chart: Toronto Real Estate Board)
Some of that spike in the average price came from a larger number of high-end homes selling in the GTA, TREB said.
In Toronto itself, detached homes grew at a slower pace of 11.6 per cent, to $1.06 million.
Price growth is accelerating. This time a year ago, detached homes in Toronto were up 7 per cent in a year, and 905 prices were up 4.2 per cent.
Condo prices were less heated. Apartments in the city of Toronto averaged $416,104, up 8.6 per cent in a year, while apartments in the GTA grew 3.1 per cent, to $319,855.
Most experts would question whether these rates of price growth are unsustainable in the long run.
For some perspective: If price growth continues its current pace, a single-family home in Toronto's 905 suburbs would average $1.46 million five years from now, in 2021. (That assumes $135,000 in house price growth annually over five years.)
In the city of Toronto itself, a single-family home will average $1.62 million, five years from now, if the past year's rate continues.
Part of the price inflation comes from the fact fewer people in the region are putting their homes on the market. Even as sales jumped 8.2 per cent in the past year, the number of new listings fell by 6.2 per cent.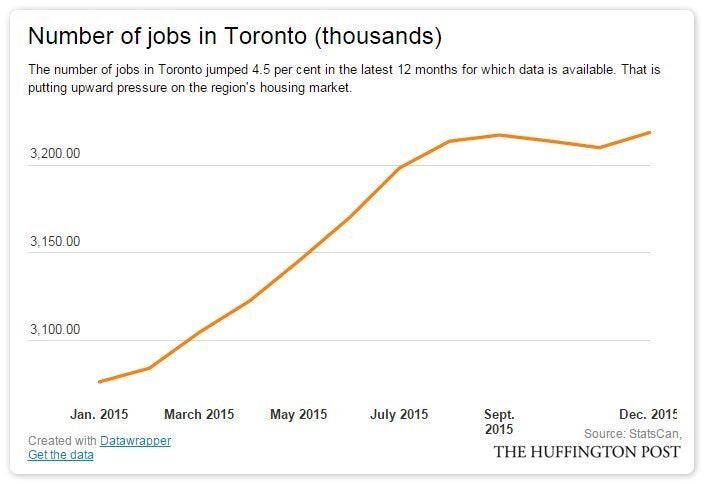 "Recent polling conducted for TREB by Ipsos suggested 12 per cent of GTA households were seriously considering the purchase of a home in 2016," TREB president Mark McLean said in a statement.
"Buying intentions are strong for this year as households continue to see home ownership as an affordable long-term investment."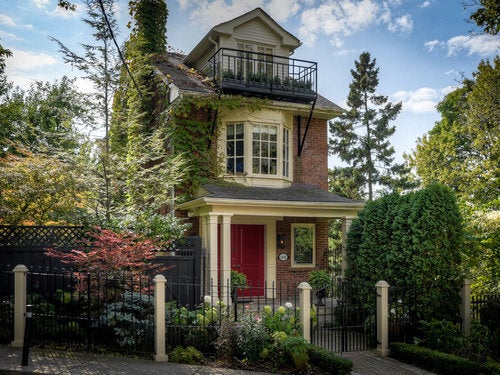 Gord Downie's Toronto House Sold Nov. 2015)