If you live in Brampton, Vaughan or Mississauga and feel like you're paying too much for car insurance, you're not alone and you're definitely not imagining things. Brand new Kanetix.ca data shows these three cities are first, second and third on the list, respectively, for the highest average estimated auto insurance premiums in Ontario.
Drivers in Brampton are forking over about $2,392 annually, while motorists in Vaughan see their premiums hit $2,018. Mississauga drivers pay about $1,930 each year. That's more than twice as much as the least expensive town on the list - Hawkesbury - where premiums are estimated at about $956 each year.
How did we come up with these numbers?
We can thank InsuraMap - a Kanetix.ca interactive tool that allows motorists to compare estimated auto insurance premiums across Canada. You can simply place the cursor over the area in which you live or search for your postal code and the estimated rate - based on a single, 35-year-old driver with a clean driving record - will pop up on your screen. It's a great way to find out if you're paying too much for car insurance and if so, a reminder to shop around for a better price.
After comparing all the data we retrieved from InsuraMap, we calculated the average rate for car insurance across Ontario as being about $1,448. That's considerably lower than the estimated premiums for Toronto and the majority of cities within the GTA, meaning many drivers within this area are paying between 10 and 60 per cent over that average.
2016's Top 10 List of Most Expensive Cities for Car Insurance in Ontario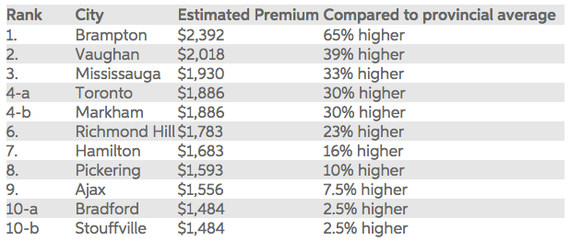 Why are these areas so expensive?
There's a long list of variables that determine your auto insurance rate, but where you live is one of the most influential factors. If you're located in a heavily populated city like Brampton, Vaughan, Mississauga or Toronto, then you've likely experienced firsthand the headaches of commuting and the daily traffic grind. And if you live near an intersection that's prone to traffic accidents, even if you're a good driver yourself, or your neighbourhood experiences higher rates of vehicle theft, that too can impact how much you're paying.
But there are other factors that come into play, including the type of vehicle you own, the coverages and deductibles you choose and your insurance provider's claims history. And finally, your personal driving record is extremely important when it comes to your rate. That's why it's so important to stay focused, limit distractions and obey all traffic laws while behind the wheel.
What are some of the cheapest areas for car insurance?
While Hawkesbury - a town near Ottawa - takes first place on this list, several other municipalities come close to the same rate. Premiums in Kincardine, Perth and Gananoque are estimated at just over $1,000 per year. That's closely followed by Woodstock and Stratford at about $1,035 per year, and Port Hope and Kingston at $1,054.
But you don't need to go that far away from the GTA to see a lower rate. Kitchener ($1,251), Cambridge ($1,172), Waterloo ($1,165) and Guelph ($1,128) all see considerably lower estimated premiums. Within the GTA, Oshawa comes in at about $1,354 per year, Oakville at $1,344 and Burlington at $1,330 - all seven to eight per cent lower than the provincial average.
How can I lower my insurance rate?
Besides maintaining a clean driving record, there are a number of ways you can save without having to move! Bundling your home and auto insurance can lower your rate by anywhere from five to 15 per cent, installing winter tires can save you up to five per cent, and paying your premiums in one lump sum annually is less expensive than paying month-to-month.