New condo prices haven't grown in a year
Low-rise home prices turned downward in August
Lack of supply the main factor, BILD says
Sales of new single-family homes and condos in Greater Toronto fell by 25 per cent in August, compared to the same month last year, while a 19-month run of rising low-rise home prices came to an end.
Is it the start of the long-predicted housing market crash we've been warned about so often? Not necessarily.
While there is some evidence that demand is weakening, the researchers behind the numbers say the city is seeing a precipitous drop in supply, especially for single-family homes.
"Demand for new homes is outpacing supply across the GTA," Building and Industry Land Development Association (BILD) president Bryan Tuckey said in a statement. "Constrained supply of serviced, developable land has significantly limited inventory of new homes, and you can't sell what you don't have."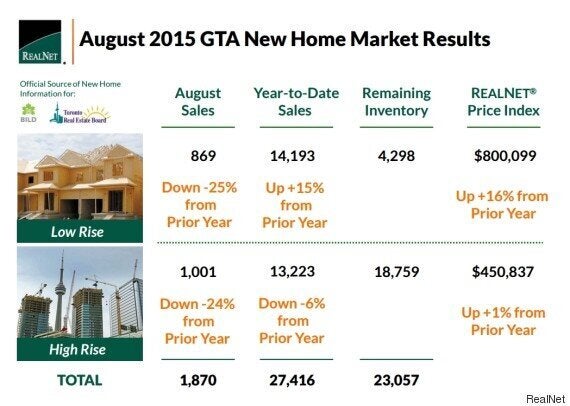 There were 869 low-rise homes sold in the GTA in August, according to data from market research firm RealNet and real estate industry group BILD. That's a 25-per-cent decline from the same month last year.
Even as sales fell, low-rise prices spiked and are now 16 per cent higher than they were a year ago.
But that run-up in house prices ended last month. Low-rise home prices fell from July to August, marking the first decrease in 19 months. The average price fell by about $6,300 to $800,099, suggesting a possible weakening in demand.
Meanwhile, condo sales dropped by 24 per cent, to 1,001 units sold in August. For all of 2015 so far, sales are down 6 per cent.
BILD attributes that to a shortage of supply as well. There was an unusually small number of new project openings in August, a BILD spokesperson noted in an email to HuffPost Canada — 85 per cent fewer openings than last August.
Still, the report notes the total supply of new condos decreased only "slightly." And high-rise prices don't suggest that condo buyers are having a hard time finding properties. They have essentially been flat over the past year, rising less than 1 per cent to $450,837, less than inflation or wage growth.
Nationwide, most analysts still see strong housing markets across Canada, except for areas impacted directly by the oil price collapse, such as Alberta and Saskatchewan.
In a recent economic outlook, RBC predicted Canadian real estate would have "one of its best years on record" in 2015, with home resales rising 5 per cent, while prices rise 4.6 per cent.
But rising interest rates will slow the market down in 2016, RBC predicted. It sees prices rising a more timid 3.2 per cent next year.
It will take a few more months' worth of data at least to be sure which way Toronto's market is headed this fall, but if current trends in new home sales continue, this will likely not be seen as one of its best years on record.

Toronto's Best Neighbourhoods, According to Toronto Life
Popular in the Community