OTTAWA — The Liberal government is preparing to sell off Canada's public infrastructure to billion-dollar investment funds and is not being honest with Canadians about it, New Democrats charged Monday.
NDP finance critic Guy Caron sounded the alarm as Prime Minister Justin Trudeau met with representatives from central banks, sovereign wealth funds, pension funds and insurers in Toronto to court investments for infrastructure projects.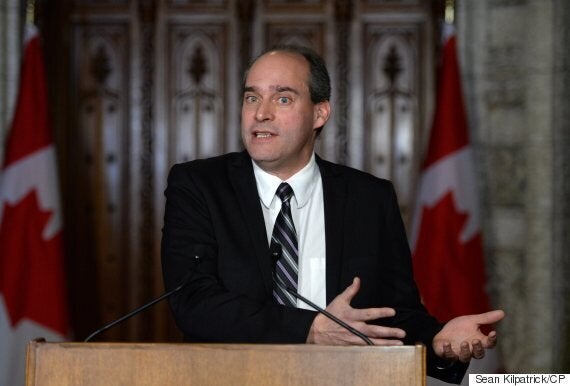 NDP finance critic Guy Caron speaks on Parliament Hill on Jan. 26, 2015. (Photo: Sean Kilpatrick/Canadian Press)
Caron told reporters these private investors who control pools of capital worth as much as $21 trillion are not joining an infrastructure bank out of the goodness of their hearts.
The Caisse de dépôt et placement du Québec said it wants seven to nine per cent return on investments, Caron said. "How do you get that type of return on waste water plants or roads or other types of infrastructure? ...
"There is not a thousand ways to do it. It is through tolls and it is through user fees."
Even if the infrastructure itself isn't sold off, the NDP critic said, the user fees generated from the public will go to private companies and line investors' pockets.
Trudeau didn't propose this during campaign: Caron
"Never during the campaign did the Liberals and Justin Trudeau tell Canadians about this plan," he said.
What the Grits promised during the 2015 election were two $10 billion deficits aimed at expanding the economy through public investments in transit, social infrastructure and green projects. "And now, instead of this," Caron said, "we have much larger deficits and an ongoing privatization plan for our infrastructure."
The Liberals announced earlier this month they want to create an infrastructure bank with $35 billion of public money — $15 billion of which are funds already committed to transit and housing projects. The federal government hopes to attract $165 billion in private capital, Caron said, giving private companies control over the infrastructure bank with an 80 per cent stake.
"Please tell me when this was discussed by Justin Trudeau during the campaign," Caron repeated. "The Liberals are going much further than the Conservatives ever dared to go," he later said.
Propositions are "win-win," PM says
After his meetings wrapped up, Trudeau told reporters what he was selling were "win-win propositions" that would support Canadians jobs and large-scale infrastructure projects.
There is a tremendous amount of global capital that is looking for stable long-term investments, he said, and Canada, "with its economic, fiscal, political, social stability, is an extremely attractive place to do business."
Trudeau touted Canada as an island of stability, a country with the fastest growth and the lowest business cost of the G7 countries, and the safest banking system in the world.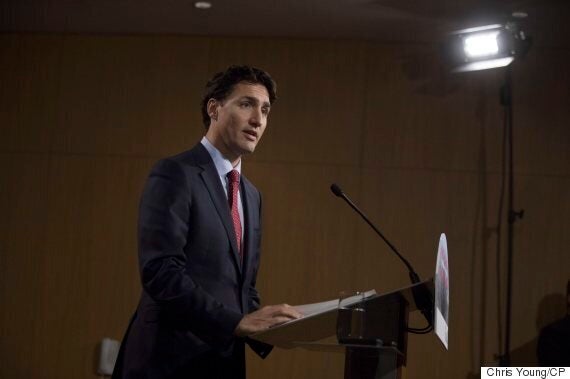 Prime Minister Justin Trudeau addresses the media following a summit meeting in Toronto with investors and members of the Canadian government on Monday. (Photo: Chris Young/Canadian Press)
But he tiptoed when asked if the private infrastructure investments would mean new tolls and user fees.
There are "many different models to look at and many potentials," he said, as he pointed to Vancouver's Canada Line [transit system]. "That was a mix of private and public investment that has given Vancouverites a tremendous amount of ease of access from the airport to the downtown core and places in between.
"We know that partnerships with the private sector can be done right, and we look forward to working with these significant global investors," he added.
Concerns about conflicts of interest
Caron also used his press conference Monday to accuse the Grits of placing themselves in a perceived conflict of interest. Finance Minister Bill Morneau's advisory council on economic growth includes, as chair, Dominic Barton, of McKinsey & Company, "whose bread and butter in the last five years was to promote the leverage of private capital with public funds for infrastructure." Michael Sabia of the Caisse de dépôt et placement du Québec and Mark Wiseman, the senior managing director of BlackRock — the world's largest asset investment firm with more than $5 trillion under management — are also on the council.
"All three stand to gain from this scheme. Their groups will make hundreds of millions, maybe even billions out of the return of this scheme and they personally, obviously, stand to gain a lot as well, in terms of bonuses," Caron said.
"The Trudeau Liberals were supposed to be for the middle class, they were supposed to be for the little guy. They are now showing their true colours — those of the party of wealthy private investors."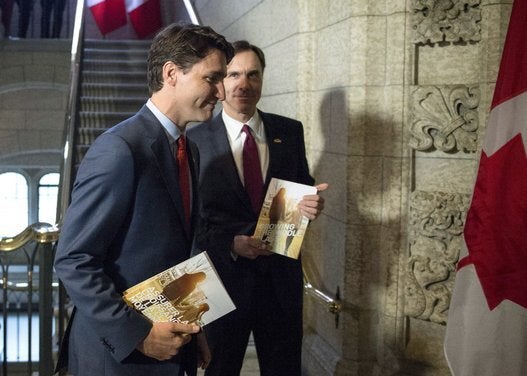 Federal Budget 2016 Highlights