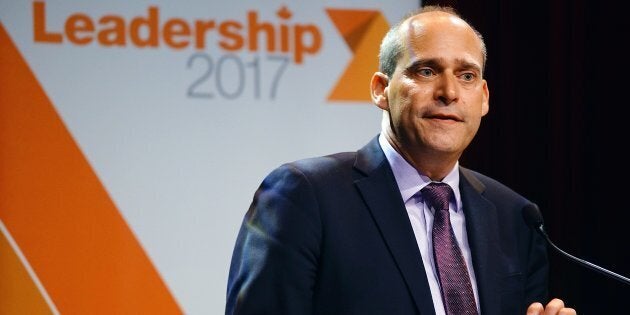 The first time Guy Caron ran for office he knew he had no chance of winning.
The NDP had obtained fewer than two per cent of the votes in that riding in the previous election. The Natural Law Party — those yogis who believed transcendental meditation would solve wars, climate change and hunger — had obtained more support than the New Democrats.
Caron was undeterred. This was, in his mind, a long-term project. He would run unsuccessfully in the Bloc Québécois stronghold of Rimouski-Neigette–Témiscouata–Les Basques in 2004 in 2006 and again in 2008. In 2011, Caron tried to get someone else to carry the NDP banner, but all the progressives he approached were separatists. His boss at the Communications, Energy and Paperworkers Union of Canada didn't want him taking time off to campaign because there were big projects on the go. But Caron didn't want to see someone else's name as "a ghost candidate" on the ballot.
"If someone was going to be a paper candidate, I wanted it to be me," he recounted to HuffPost Canada. "I went to see my boss and I said: 'Are you allowing my name to be on the ballot?' And he wasn't sure. I said: 'I promise you, I will not campaign. The only thing I will do is go for the debates. That's it. No campaigning. No canvassing. No time off.' He was still hesitating. So I said: 'You know what? I have no chance in hell of getting elected so why don't you say 'yes'?' And then he said 'yes'."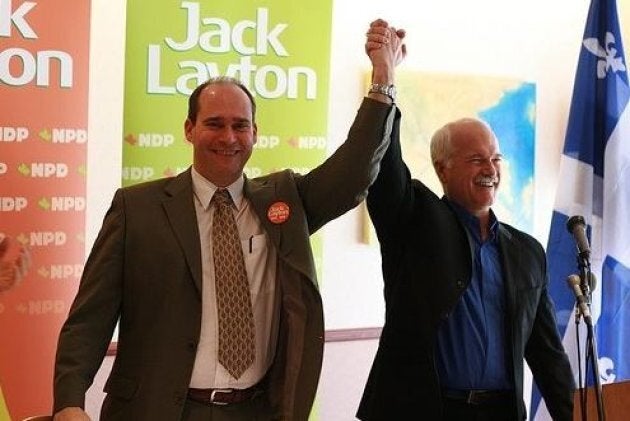 That was 2011. Caron, with no signs and no door knocks — he wasn't even in the riding on election night — was swept to Ottawa as part of late leader Jack Layton's "orange wave."
Now, six years later, Caron is running to lead Layton's party.
In an interview with HuffPost Canada's politics podcast "Follow-Up," Caron said he joined the race because he wants to leave the world a better place for his kids. He also believes he's the only candidate who can increase the party's support in Quebec and give the NDP a credible shot at forming government.
"I believe I'm the best positioned to do so," he said. "I don't want to go back to the time we were in before Jack. I want to ensure our message will still be attractive to Quebecers."
Before Layton burst onto the NDP scene in 2002, New Democrats paid scant attention to Quebec. "We were outside on the national question, and we never really had a position that was attractive. Now we do."
Part of Layton's legacy was the adoption of the Sherbrooke declaration: a recognition that Quebecers form a nation within Canada, a promise to support asymmetrical federalism — and financial compensation for any national programs Quebec declines to join, and a pledge to recognize Quebecers' right to self-determination with a 50 per cent plus one vote.
Caron, a self-described "federalist" who declined to state how he voted in the 1995 referendum on Quebec sovereignty on the grounds that he represents a nationalist riding and must represent and work with individuals on both sides of the question, said political leaders need more than bilingualism to be "accepted as an option for Quebecers."
"You need to understand the politics of Quebec. You need to understand the reality, the culture, the history of Quebec."
Caron is the only native Quebecer in the NDP leadership race. His challengers, Manitoba MP Niki Ashton, Ontario MP Charlie Angus and Ontario MPP Jagmeet Singh, can all speak French, though Angus and Singh have a harder time expressing themselves.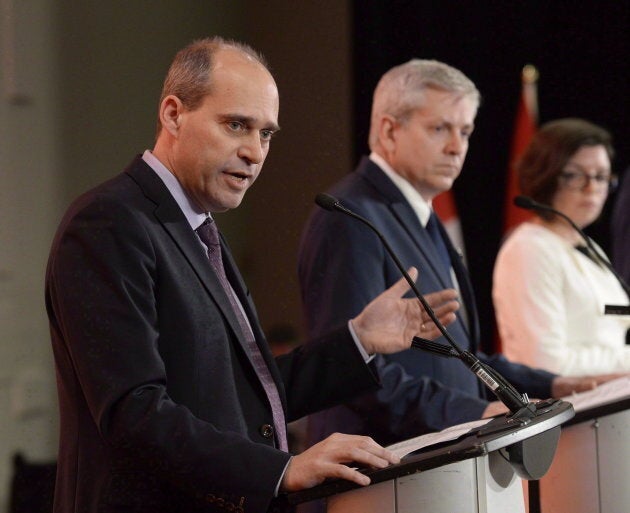 Understanding Quebec's history with its Quiet Revolution and frequent religious accommodation debates was placed front and centre in the NDP's leadership race by Caron. In August, he released what he called a "blueprint for success" in Quebec in 2019, in which he called on the party to "recognize that the National Assembly of Québec has all the authority and rights to legislate on issues of secularism and in its jurisdiction."
His comments touched off a firestorm. That arose, in no small part, because the National Assembly is currently gripped with Bill 62 — government legislation that would bar people wearing face coverings, such as the niqab or burqa, from delivering or receiving government services.
The NDP wrestled badly with the accommodation debate during the 2015 election race, seeing its support plummet in Quebec after then-leader Thomas Mulcair spoke out against the Conservatives' ban on women's wearing the niqab while taking the citizenship oath.
Caron supports Mulcair's position but thinks the NDP's position wasn't well communicated.
He personally believes, he said, that the state does not have "the right to dictate what women and men can wear."
When it comes to the province's right to dictate what anyone can wear, however, then Caron thinks Quebec's right to determine its own affairs trumps whatever concerns Ottawa has.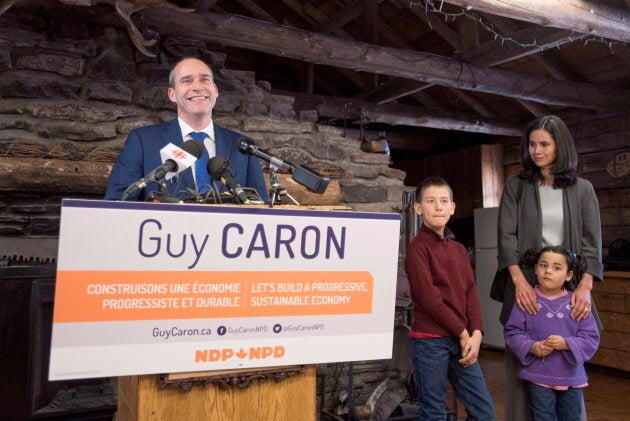 "I think Quebec has a right to determine what it wants," he said. "... If we [the NDP] are to recognize Quebec as a nation within Canada, if we are recognizing Quebec's right for self-determination, this is a debate we need to let them have."
Caron evokes his grandparents when he talks of the life in the province before the Quiet Revolution. At 49, he's too young to have lived through the time when the Roman Catholic church ruled over all aspects of life: health care, education, how many children you would have.
"When we came out — and those were progressives who actually helped Quebec come out of that time — there was always a distrust of the mix between religion and the state, which is currently there," he said, by way of explaining the debate in the province.
"Now, if secularism is actually used as a screen for say, racism or Islamophobia, that needs to be condemned," he said. But the debate that is happening and that has happened in Quebec over the past 10 years, "is something that comes out from Quebec's distinctive path and historical path.
"If it's done in a respectful way, if it's done especially respecting of consensus in Quebec society, then that is Quebec's decision to be doing so."
Caron pushed back against the suggestion that Bill 62 — which targets face coverings only worn by Muslim women — is Islamophobic. It doesn't single out religious symbols or garb worn by others, the top hats worn by orthodox Jews or the turbans worn by Sikhs. Although, maybe one day the province will.
The four parties in the National Assembly — the governing Liberals, the Coalition Avenir Québec, the Parti Québécois and Québec Solidaire — all support Bill 62. The opposition, however, would like to go further. They want to prevent anyone who represents the authority of the state — judges, prosecutors, police officers — from wearing religious symbols.
When asked if Caron thinks Singh — a turban-wearing, kirpan-carrying Sikh — would be accepted by Quebecers, he takes his time to answer.
"Jagmeet is actually a great candidate in this race.... He's playing a very important role and bringing issues to the table...."
But would it be difficult for the NDP in Quebec with him as leader?
Four attempts at the question later, Caron settles on: "I don't believe that is the case.... He is a candidate with strengths and weaknesses like we all are."
Guy Caron was born in Rimouski on May 13, 1968, the first child of Robert Caron, a high school teacher, and Diane Ross, a primary school teacher. He has two brothers, Yves and Éric.
Although his mother carried a Scottish last name (her ancestors arrived in 1760 to fight the French), she didn't speak a lick of English, and neither had any of her family members for several generations.
Caron recalled a happy childhood. He was involved in many activities: cubs, sports. He excelled at trivia and won several awards as part of "Genie en Herbes," a French version of "Reach for the Top."
"For as long as I can remember, I wanted to grow up to be a doctor."
Rimouski was a small town in the Bas-Saint-Laurent region. "For the first 19 years of my life I met two anglophones. That's about it. I met, I believe, two black people. And, only one Asian family." Everyone was white, francophone, and "Catholic, of course."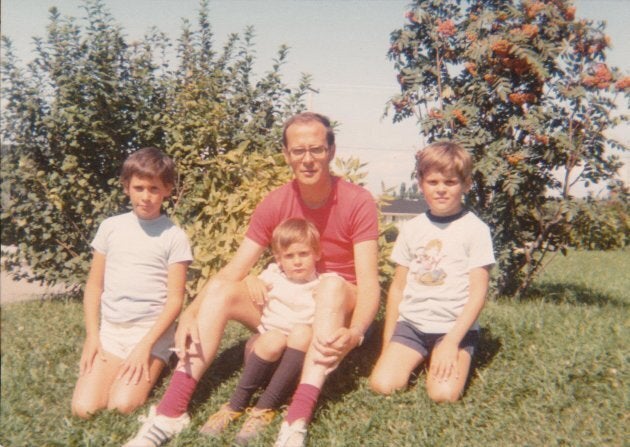 Caron envisioned himself working as a physician in the United States, somewhere "exotic." "I had a fascination with San Francisco from pictures I had."
But in high school, he caught the journalism bug. One of his friends had a radio show on the local community station, CKLE (now CKMN), and he occasionally participated in programming. In 1987, he moved to Ottawa to learn English and to pursue a communications degree.
At the University of Ottawa, Caron caught another bug: politics.
Listen to Caron talk about the NDP's post-Layton legacy and his pitch for basic income:
After a string of temporary jobs (mostly secretarial work), summer jobs (working for CKLE and writing for the weekly newspaper, Le Rimouskois), campus jobs (giving the play-by-play of Gee-Gees hockey games on campus radio and working as editor-in-chief of the student newspaper), Caron felt the idealized notion he had about being an investigative reporter evaporate.
"The world of journalism was changing a lot and at the same time, I was starting to see what politics was like through student politics."
After graduating in 1992, Caron became president of the student federation. He served as president for two years and, in 1994, was acclaimed as the chair of the Canadian Federation of Students (CFS), a position he held until 1996.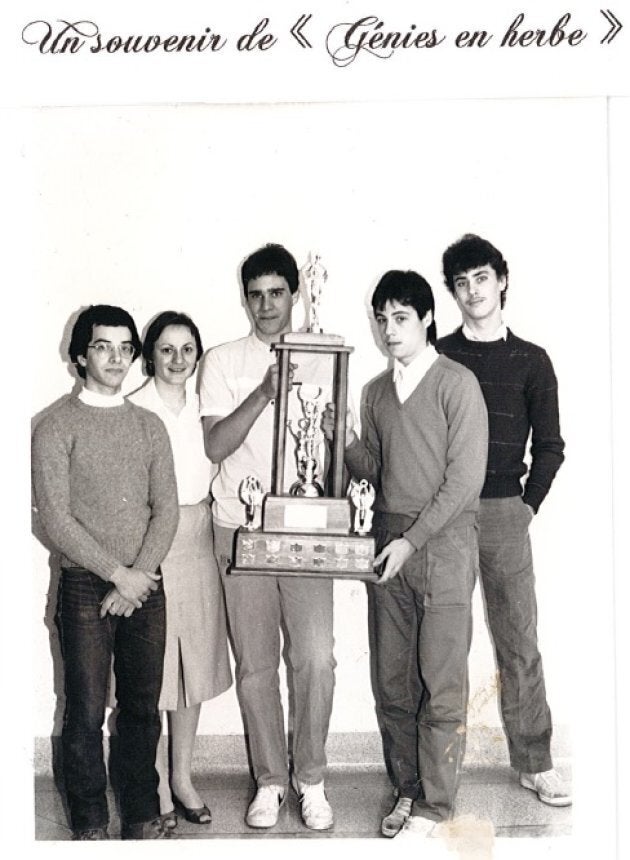 Caron credits his CFS experience with getting him interested in progressive politics and economics. As chair, he testified at parliamentary committees, lobbied provincial and federal governments, and led a nationwide student strike against the Liberals' social security review — drastic cuts to transfer payments, including more than $2 billion in education alone — that led to increases in post-secondary education costs.
"It became the largest student strike, even though it was a one-day event" on Jan 25, 1995, Caron said. "It was the most massive participation of any event since the Vietnam war at that time."
Newspaper reports at the time, however, suggest the protest never materialized. Only 2,000 people gathered on Parliament Hill, according to a write-up in The Ottawa Citizen, where protesters threw macaroni and eggs at then-human resources minister Lloyd Axworthy.
A report in the Kingston Whig-Standard quoted Caron saying the turnout "was little bit disappointing." Organizers had hoped 100,000 students across the country would walk out of class, but students in Kingston, Ont., St. John's, Moncton, N.B., Montreal, Ottawa, Toronto, Guelph, Ont., Saskatoon, Vancouver and Victoria only showed up in the low hundreds, if that.
It's during those debates, however, that Caron realized he wanted to deepen his knowledge of economics.
He was inspired by economists such as Jim Stanford and Armine Yalnizyan, who, he felt, were fighting the good fight but being outnumbered by Conservative think-tanks and right-wing economists cited in the newspapers. "I decided at that point that I would work to add my voice to the very limited field of progressive economics."
Caron packed his bags and headed to Montreal to study at the Université du Québec à Montréal. While he chugged away at his master's, he worked at the Media Awareness Network, a not-for-profit dedicated to media literacy.
That job led to a position with the Canadian Race Relations Foundation as a francophone media officer in Toronto. Soon after he arrived in August, 2001, two jetliners crashed into the World Trade Centre.
"It was a very interesting time, especially with the rise of racism and Islamophobia at the time following the attacks."
That month, Caron met Valerie Stansfield, an anglophone Quebecer who had been living in Toronto for 10 years. Stansfield would later become his wife.
Their courtship was quick. Eight months later, Caron was back in the national capital landing a job with the left-wing Council of Canadians, a position he expected would lead to what he really wanted to do: public policy work.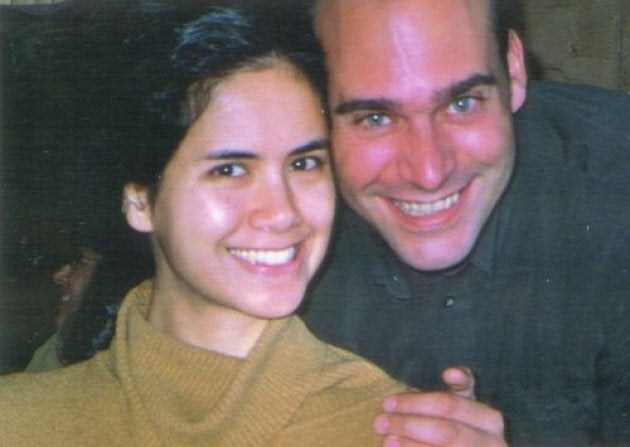 One day that summer, in 2002, when Stansfield was in Toronto (they were doing long-distance), and Caron wasn't sure what to do with himself, he accepted an invitation from friends from his CFS days — Brad Lavigne, Jamie Heath, and Rick Smith — to hear some man named Jack Layton speak.
Caron remembers two things from that afternoon: how inspiring and energetic Layton was, and how he talked about the importance of Quebec for NDP fortunes. "'Winning goes through Quebec,'" he recalled Layton saying.
"At the time, Quebec was an afterthought, there was no attention paid to the NDP, and Jack said it had to be central to the efforts of putting the party at the forefront of Canadian politics."
Caron bought a membership card and joined Layton's team. He volunteered to translate material into French, wrote speeches, helped with communications.
After Layton won the party's leadership — a decisive victory on the first ballot, Caron found the mix of Quebecers joining the team, from civil society activists to lawyers, rejuvenating. He joined the board of the NDP's Quebec wing and, in 2003, founded its riding association in his hometown.
'Are you crazy? This is Bloc country'
In 2004, he put his name on the ballot.
"My parents, their first reaction ... was: 'Are you crazy? This is Bloc country and it will be Bloc forever. What are you doing?'"
But they helped him. His dad crisscrossed the wide rural riding plastering signs on all the telephone and streetlight posts in sight.
By then, Stansfield had quit her job as an assistant to a lawyer at Brookfield Properties and moved to Gatineau, across the Ottawa river, to be with Caron. In 2006, they married.
He was still working with the Council of Canadians when, in 2008, the Communications, Energy and Paperworkers Union of Canada hired him as an economist. Caron made his NDP candidacy in the federal election a condition of his employment.
In January 2009, Caron and Stansfield welcomed the birth of their first-born, son Dominic.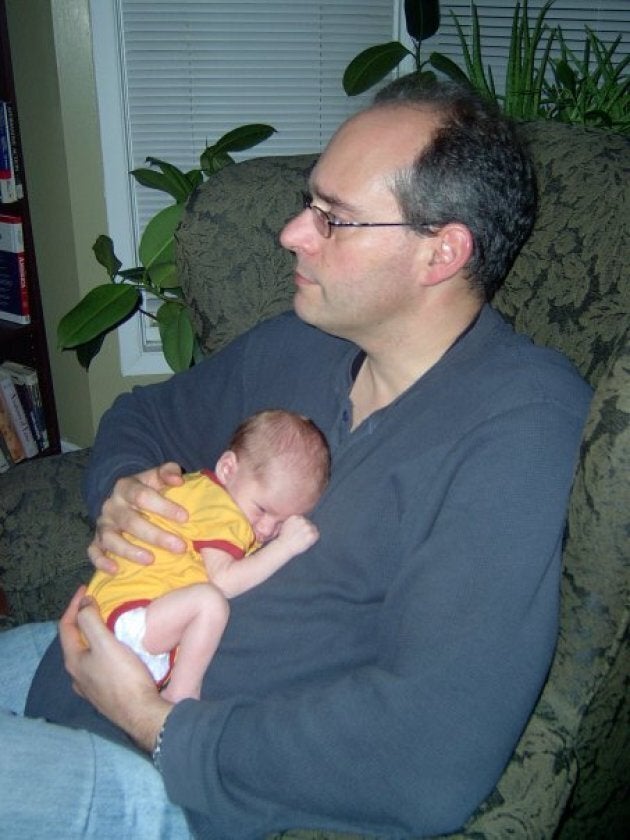 And in 2011, weeks after his surprise election win, Stansfield informed Caron that they had another surprise on the way. Their daughter Edith, or Edie as they call her, was born in January 2012.
After his win, Caron rented a house in Rimouski. The next year he purchased a property. The family stays in Aylmer, Que., when Parliament is in session. They spend the summers and Christmas in Rimouski. But Caron goes there every weekend.
He credits his presence and his visibility — through both local and national media — with helping ensure his victory in 2015. The party's Quebec seat count dropped from 59 in 2011 to 16 at the last election.
Although better known in Quebec, Caron knew going into the contest that his name recognition across the country was weak.
He figured he'd be behind the pack, as the MP with the least parliamentary experience: Ashton was elected in 2008, Angus in 2004 and Singh, although an MPP since only 2011, has a large following on social media.
Caron's plan was to "get known." "I had to get noticed in the debates. I had to put out policies that people would talk about and hope that it would work."
While his policy on respecting Quebec's ability to secularize the state has attracted attention, Caron has put other bold ideas forward.
He proposes a basic national income, a top-up on over income from already existing support programs that would reach the lower income cut-off line wherever someone lives. He estimates that would be $18,000 in rural areas, $25,000 in urban centres.
"Basically, if you work or if you have social assistance or any other type of income, but it is under the low income cut-off, you would get monthly payments. The same way as you would under the Canada Child Benefit if you have kids, or the same way as you would under the Guaranteed Income Supplement if you are senior."
Caron estimates up to six million Canadians and permanent residents would benefit.
"That tells you that we need to tackle this problem.... We have a wealth ... of social programs that are supposed to be tackling poverty, and we still are not able to eliminate poverty."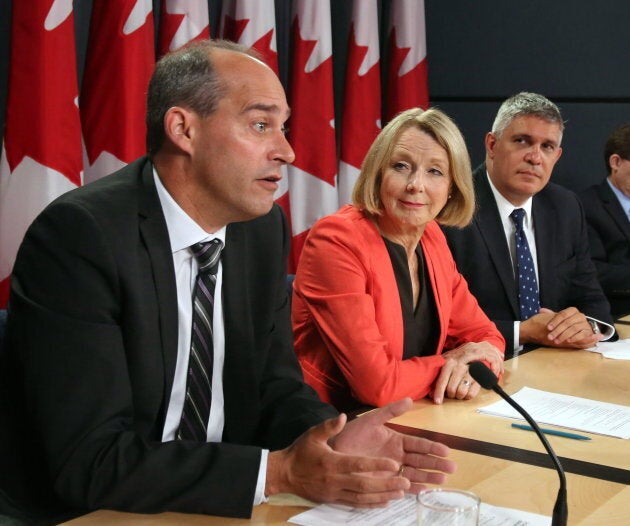 Basic income would not only help tackle poverty, he argued, it would also benefit communities, by reducing the crime rate, hospitalization rate, and divorce rates "because you are decreasing the level of stress for those people."
Caron likes basic income because it can be done quickly — possibly in a first budget — as a federal tax measure for which Ottawa would not need to negotiate with the provinces or create a large bureaucracy.
He thinks his top-up approach would cost the federal treasury an extra $30 to $35 billion annually.
But a top-up program is not without risks. Caron acknowledged its success would depend on maintaining provincial welfare programs.
"One thing I will ask provinces not to do is ... to be freeloaders," he said. If the provinces decide to slash their social assistance programs because of a federal basic income, Caron said there "would be the possibility of that province not being able to benefit from basic income."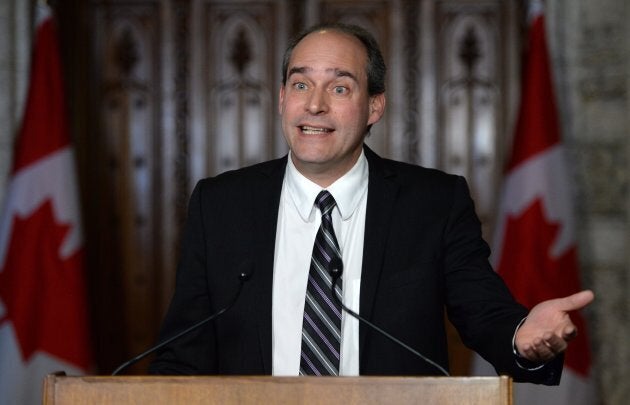 "I don't want them to do that. I really want the experiment to work well. I want for them to maintain the level of social services that they have... .
"Obviously, if one province decides to use it as a way to reduce their own expenditures on social assistance, then there's no reason that everybody else will not do it. So for this to work well, we need to ensure that everybody plays fair ball and that we can ensure that everybody gets to that level of poverty [support] and no one will remain under."
Would he really penalize a province's residents, potentially putting them further below the poverty line?
"That will not be my fault. It will be — I want everybody to play fair ball on this. And I want to ensure the provinces will also play fair ball if a province decides to do this, I will tell them 'You can't do that.' ... And that will be their decision to move in that direction because they will know what the consequences might be."
"...We are supposed to be grown-ups in politics," he added. "I want everybody to play fair ball and to be honest and try to work for the common good and for the good of our communities rather than playing political games."
Caron said he understands that he might come off as being a little bit naïve. "But I'm ready to use the stick if it has to be used," he said.
Another headline-grabbing proposal Caron put forward is the idea of reducing the work week for federal employees from eight hours a day to seven, without any reduction in pay.
That would help mitigate the effects of automation, he said, by ensuring that reduction in labour is less drastic than if an employer just bought robots to replace his full staff. "By decreasing the speed at which the loss of jobs will be obvious ... you're ensuring that you are giving yourself more time to face that situation."
Caron acknowledged his is a Band-Aid solution. It won't allow jobs to remain forever, it will just slow down the pace.
"If I had all the answers and all the ideas, I would probably be in government right now. But, at this point, what I want to acknowledge is that reality and the fact that we have to stop looking at the world the way it was five years ago but trying to imagine the world the way it will be in 10 to 15 years from now, which is what government should be doing."
Volvo is not going to be producing fossil fuel-based cars after 2019. They get it, we don't.Guy Caron
Part of imagining where the world will be is addressing the threat of climate change. Caron proposes to go deeper and faster than the Liberals' carbon pricing plan, imposing a $50 a tonne tax in 2020, rising to $150 a tonne in 2030. He proposes a carbon tariff to ensure imports are not given an unfair advantage over domestically produced goods. And he wants to all vehicles to be zero emission by 2041 — a timeline aligned with many European states.
"Volvo is not going to be producing fossil fuel-based cars after 2019. They get it, we don't. We need to change our way of thinking."
On the pipeline debate, Caron is opposed to Kinder Morgan, Keystone and Energy East. He wants to see the National Energy Board's evaluation process revamped to take into account the impact of climate change and the rights of Indigenous peoples. Caron said he'd give Indigenous groups a veto over resource projects.
"If it goes through their territory, of course."
If the federal government is serious about nation-to-nation dialogue, as in Quebec, the principle should apply to First Nations as well, he said.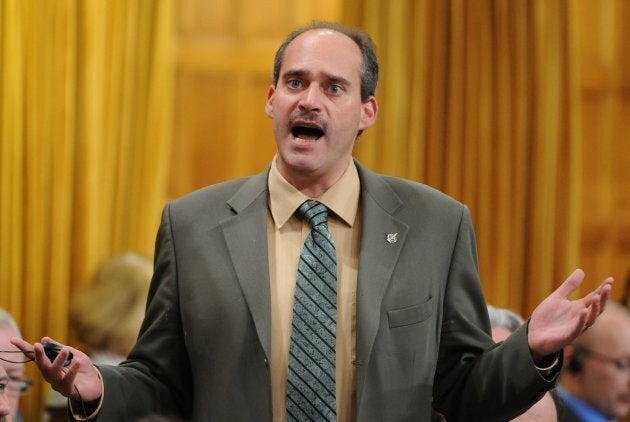 Caron plans to help workers transition to the new economy. He calls for massive infrastructure investments — $90 billion more than the Liberals have already pledged. And wants to tax the rich, raising $30 billion in new revenue, through an inheritance tax on wealth over $5 million (excluding first residence or small business), a $5 billion tax on the profits of financial institutions and their executives, and an additional one per cent tax on the top 10 per cent of income earners. He also want to return the corporate tax rate to 19 per cent from the current 15 per cent.
Much like the Liberals' proposed tax hike directed at wealthy privately incorporated individuals, Caron said he wants to address income inequality in Canada by rethinking the tax system.
"There are so many loopholes, it is leaking like a sieve," he said. "Much of it is untaxed. When you look at capital gains dividends, they have a preferential tax rate compared to labour income. What I'm suggesting is bringing back some balance."
Caron writes in his platform that his proposals might lead to a deficit. He doesn't say how high he is ready to go and there isn't a perfectly costed plan yet, although he promised one "by the end of the campaign."
"I'm not ideologically opposed to a deficit if it can be justified," he told HuffPost. "I think, back in 2015, we made the major mistake in saying that will have a balanced budget every single year."
Infrastructure investments are a good reason to plunge the country into deficit, he said, although he thinks the Liberals have mismanaged their deficit spending by not investing in programs that will have a positive impact on the economy and spur productivity.
"I do think that you have to balance the budget over an economic cycle," he said, about an eight-to-10-year period.
Deficit spending, he said, would be decided on a "case by case basis" depending on the circumstances.
Caron's campaign has so far attracted a number of big-name endorsements. Brian Topp, the former NDP leadership contender, Layton strategist, and chief of staff to Alberta Premier Rachel Notley, backed his bid Tuesday. Former party leader Alexa McDonough supports him. As do several current and former MPs, including: Ruth Ellen Brosseau, Robert Aubin, Jean Crowder, Yvon Godin, and Lorne Nystrom.
I think I've opened a few eyes in this race.Guy Caron
Caron hasn't raised the big bucks — Singh, Angus and Ashton are all ahead of him — although he pulled in more than $104,000. His team won't reveal how many memberships he signed up, but it's pretty clear Singh has outsold everybody.
His strategy is to court second-ballot support, he said. He wants to be seen as a "someone with a shot at winning." Without it, he added, he won't be able to "complete that final sprint."
But second-ballot support won't make a difference if he doesn't receive enough first ballot votes to keep him in the contest past the first round. This is a run-off race with a candidate eliminated each week until someone crosses the 50 per cent mark.
"Honestly, I'm in this to win, but if I don't win or I do win, the result will be the same for me. I'll be proud of what I've accomplished so far," he told HuffPost.
"I think I've opened a few eyes in this race."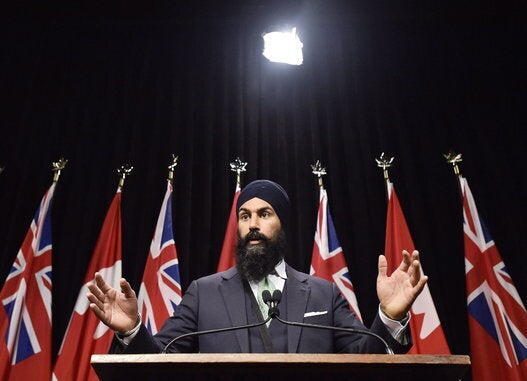 NDP Leadership Race 2017: Candidates
Popular in the Community