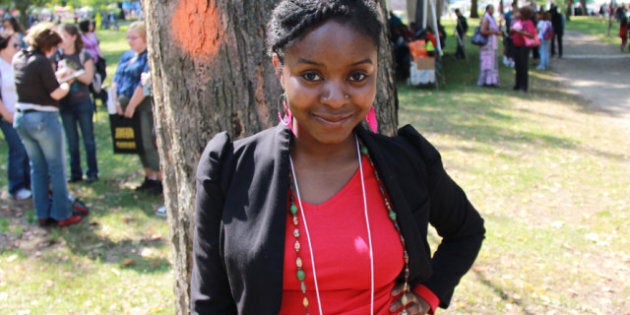 Habiba Cooper Diallo struggled to hold back tears upon meeting two young women in Ethopia's Addis Ababa Fistula Hospital, a facility dedicated exclusively to women with obstetric fistula.
"They had endured one of the most horrific afflictions known to humankind... and had the courage and willingness to share such devastating stories with me," the 16-year-old student recalled in an email to The Huffington Post Canada.
Returning to her native Canada from this trip to Africa in March 2012, Cooper Diallo founded Women's Health Organization International (WHOI) and started to file for its legal status. Its primary goal is to encourage women of the African Diaspora to take health care matters into their own hands.
"If disenfranchised women can achieve full autonomy over their medical experiences, growth, and most importantly, sustainability of effective health care resources -- for example, health care education and programming -- becomes feasible," she maintains.
Obstetric fistula is essentially a hole that develops between the vagina and rectum, or the vagina and bladder, due to extended labour without proper treatment. It results in fecal or urinary incontinence and can also cause medical complications such as kidney infection, infertility, nerve damage, and can even result in social isolation.
Cooper Diallo, originally from Toronto and currently living in Halifax, first became interested in women's health, particularly obstetric fistula, as a pre-teen. In 2008, she was moved by a news article about Anafghat Ayouba of Niger, who developed the condition as a pre-teen herself, after being in labour for four painful days.
"It was Anafghat's sheer courage and perseverance that the article communicated to me best. Following her treatment, she returned home where she became a staunch advocate for women's health issues and education," Cooper Diallo wrote.
Cooper Diallo has taken it upon herself to make sure that doesn't happen. Driven by her passion for women's health, she started to spread the word about obstetric fistula through speeches, such as her performance at Toronto's The Word On The Street in October 2011. She then embarked on her trip to Ethiopia and saw the affliction first-hand.
In April 2012, Cooper Diallo dedicated her sweet 16 to the cause, raising about $1,500 for online education and awareness. WHOI is now seven members strong.
"A seed has been planted and we, meaning the members of WHOI and myself, are tending to the shoots," she wrote.
Popular in the Community