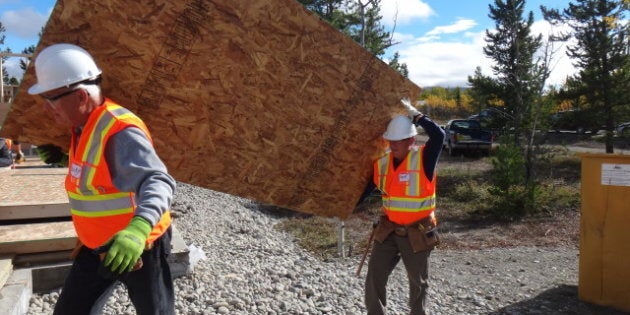 Attawapiskat, a reserve community in Ontario, was struggling to secure adequate housing through government channels. But a First Nation in the Yukon is exploring alternative ways to house a community.
When completed, an energy-efficient triplex will house three families from the community and include an assisted living unit. The first build has been named Kų Kàtthe Ä'ą or 'First House.'
The Nation's traditional lands can be found in the Yukon and northern B.C. A quarter of CAFN's members are in need of housing, and faced with long wait lists and limited funding, Habitat is helping to relieve the shortfall.
"We see housing as a human right. It's important to us that all Canadians have the opportunity to have access to safe, decent, affordable housing," said Stewart Hardacre, president and CEO of Habitat For Humanity Canada.
"We know that there's an affordable housing need across Canada … and the housing issues are even more acute in aboriginal communities."
In December 2011, Habitat For Humanity Canada signed an agreement with National Chief Shawn Atleo to explore opportunities for First Nation housing development. CAFN got wind of the deal and sought out how to bring the national effort to their community.
By March 2012, CAFN had partnered with Habitat Yukon; by June 20, ground had been broken; and this September, the walls have been raised on First House.
"We need to find a way to get moving, and Habitat does incredible work around the world, has worked and supported First Nations, Metis and Inuit families already across the country," said National Chief Atleo.
He said he and Habitat share a vision of solving "the crisis that is 85,000 homes needed in First Nations across the country, stories the likes of which Canadians very often heard for the first time of Attawapiskat .. of third-world conditions, of over a hundred communities on boil water advisories."
The project's success and speedy execution has a lot to do with the CAFN's ability to work with their community.
"Here in the Yukon they've really been leading the way in negotiating self-government agreements. Most of Canada, most First Nations are still within the Indian act," said National Chief Atleo.
As a self-governing Nation, the CAFN doesn't have to go through the bureaucratic channels of the Indian Affairs department, said Chief James Allen, and it's a model other First Nations can hopefully follow.
He also said the partnership works because Habitat's values of pitching in as a community and finding dignity and pride in doing it yourself are right in line with the traditions of First Nation culture. And Chief Allen says the project is giving the community a chance to renew those cultural values.
"This is the type of thing we would do in the past – we helped each other," said Chief Allen. "Working together strengthens our cultural values of helping, sharing, and showing respect."
The partnership comes at a crucial time for Canada's First Nations. As the rest of the country's population growth slows and its people age, First Nations are getting younger. Aboriginal youth are now the fastest growing demographic in the country.
"[This project] helps young people look at housing in a different light," said Chief Allen.
The typical First Nation housing model was for the band to build and residents to rent. CAFN has placed a priority on home ownership instead. For CAFN's 161 members between 16 and 23, this means coming of age in a community where owning affordable housing can be a real possibility.
"A young person that has a safe, secure house and home with food in the belly and a roof over their head and proper clothes, the fundamentals, provides that child an opportunity to be supported for success in education, to succeed in life, to reach their full potential," said National Chief Atleo.
"Statistically, from coast to coast to coast, a young person is going to end up in jail — incarcerated at a higher percentage that graduation from high school. We can and we must turn this around now."