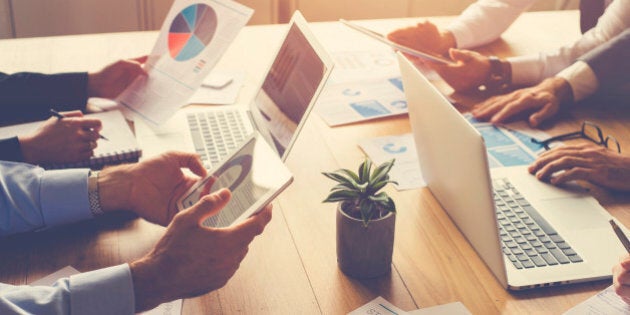 If you're in sales at a small business, reaching out to potential customers can be a formidable necessity. Most salespeople are motivated to find new customers, but the way they reach out can be cookie-cutter instead of well-researched, personalized to the prospect, and purposeful. Reaching out 'just to touch base' and using that as a motivation to contact someone is uninspired, and your prospects' time and energy are too precious to field communication that lacks intent. The best salespeople reach out with purpose, instead of just to touch base. Here are a few tips for reaching out to potential clients relevantly and with purpose.
1. Get Creative With your New Business Outreach Efforts
The first key to purposeful outreach is to break away from generic communications and come up with ways to engage your potential client. If there's a client on your wish list, it can be worth taking the time to put together a few creative ways you can add value to their business, whether that's by showcasing past projects, or coming up with potential campaign ideas to showcase your team's creativity.
When our marketing agency Eighty-Eight found out that eyeglass retailer Warby Parker was opening a location in Toronto, we set our sights on securing our dream account. We knew a simple email wouldn't catch the NYC-based team's attention, so decided to launch a public campaign aimed at getting on their radar. We created a colourful grid-style Warby Parker Looks Good on Canada poster featuring nine top Canadian celebrities including Justin Bieber and Celine Dion wearing Warby Parker glasses from the latest line. We sent a copy of the poster to their NYC headquarters, and shared it with them on social media. In addition to generating a lot of online buzz, the poster was also featured in Marketing Magazine and other advertising trades. We also succeeded in getting on Warby Parker's radar - both their CMO and marketing teams reached out to say how much they loved it. While we didn't secure them as a client since they work exclusively with NYC agencies, it was a great way to showcase our design work and our creativity, and the campaign is constantly referenced by potential clients. You can bet that we would not have gotten the same results had we sent a generic email just to "touch base." Solid, tailored ideas beat aimless communication every time.
2. Invest in Self-promo Marketing Campaigns
Self-promo campaigns are a great way to receive industry media coverage (which all marketers read), establish contact and relationships with potential partner agencies, and show off your creativity so when you are pitching to prospective clients you can use them as a sample of the types of ideas you come up with. A couple great examples of self-promo campaigns for Canadian agencies include Zulu Alpha Kilo's 'Say No to Spec Work' campaign, and The Garden's Tell America It's Great campaign. On our end we created an online game called Agency or Porn where visitors are asked to distinguish whether the name of something (Grip, Huge) is an ad agency or adult film. In the first month after launch, we had more than 78,000 unique visitors to the site, over 4,000 social shares, and media coverage around the world in outlets including AdAge and DesignTaxi. The campaign has generated a lot of inbound business and established our team as marketers who push the envelope with our creativity.
3. Develop your offline and online networks
Efficiency can be the death knell of creativity but if you can be both efficient AND clever, you don't have to sacrifice one for the other. The secret to clever efficiency is to work smarter, not harder when it comes to sales tactics. One way to work smarter - not harder - is building your networking through events.
Networking seems like a no-brainer, but it's essential in order to generate buzz about your company. Delivering your elevator pitch to like-minded individuals at conferences and events can be a great way to spread the word about your brand and make connections. Creating networks also adds an element of familiarity to your calls and helps to engage the person on the other end of the phone or computer so that you are not just touching base but building on a relationship. Don't forget about online events including Facebook live sessions, webinars, and Twitter chats, since you can attend great networking events without ever having to leave your house.
Another great tactic for getting in front of a lot of people at once is to speak at events. You can keynote, emcee, judge, moderate, or sit on a panel. If you speak at an event the entire audience will leave knowing your name and your brand, allowing inbound leads to generate organically, and saving you time from having to creatively reach out to each of those individuals. I recently emceed The Retail Marketing Conference, and from that generated 5-6 solid leads. Speaking at events also helps establish you as a thought leader - if you can speak about a topic in your industry, you become the go-to source on that topic.
4. Foster partnerships with companies who offer complementary services
Partnerships are ideally a bit like back scratching - if agencies can find ways to scratch each other's backs, then everyone is happier. We've cultivated strategic partnerships with several agencies who offer complementary services to ours, and we refer business each other's way. Maintaining those partnerships takes careful, purposeful work from all parties involved. We are constantly sending our partners intel, referrals, and information that might be relevant to them which has allowed us to build a solid network of people who are in the same position as us and look out for us. We also use these partnerships as an opportunity to expand our networks by co-hosting events and inviting each other's clients. This spring we co-hosted an event about chatbots for marketers with software studio TWG, one of our partners. They provided the office space and food/drinks, and co-presented with us on the topic, and we invited our clients and other marketers in our network. The event had over 75 attendees and was a great way to meet people in our network face-to-face, and to strengthen our partner relationships. Through our strong partnerships we get at least 1-2 solid leads a day.
5. Build solid rapport through events
Hosting events that showcase your expertise is a great way to engage potential clients, and to re-engage existing or past clients. It's much easier to reach out to prospects to invite them to an event and hold off on your sales pitch until you build a relationship. Events are a great way to provide value to potential clients immediately and get your foot in the door. We hold monthly lunch and learns at our office, where prospective and current clients are invited to learn about topics related to our subject matter expertise. We've held lunch and learns about chatbots, personal branding, and other topics, and find they're a great reason to engage with potential clients, while also offering them something of value in return. These events allow us to highlight what's new, and promote new services that existing clients may not know about. While they don't always generate a lead, they do keep us top of mind, and sometimes result in referrals to other companies. They also allow us to build solid rapport with attendees, and at the very least they make us top of mind and position us as industry experts.
Lastly during your sales outreach, don't get upset when prospects are less than enthusiastic about you reaching out. Blogger Niti Shah pointed out that while some prospective clients are eager to talk, other will never pick up the phone. A feeling of rejection can develop, making it hard to reach out over and over again. Don't take this rejection personally. Instead, approach your sales quota analytically. How many prospective clients do you need to call in order to meet your quota? Figure out the number of contacts you need to close a sale, and then multiply the number of contacts by the number of sales you need to make.
Each time you reach out, remember that getting ducks in a row takes more work than simply commanding those ducks to line up. Giving yourself a sense of purpose and an end goal as you reach out to potential clients will let you close more of those deals.
Fatima Zaidi is the VP of Business Development at Toronto creative communications agency Eighty-Eight. She was named one of Marketing Magazine's top 30 Under 30 in 2016.
Follow HuffPost Canada Blogs on Facebook
Popular in the Community