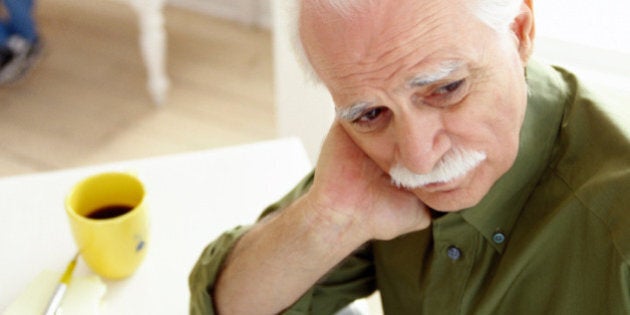 Nearly half of retired Canadians were forced to leave the workforce earlier than they planned, according to a survey from Angus Reid.
The poll shows working in the public sector or being a union member has its benefits when it comes to retirement. Both those groups reported a lower rate of being forced into early retirement, and a lower likelihood of financial problems.
Forty-eight per cent of all those surveyed said they had to retire "at least partly due to circumstances outside my control," while 46 per cent said they were able to retire when they planned. Only 6 per cent said they had to keep working longer than they had planned.
But among those retired from the private sector, fully 53 per cent said they were forced to retire early. Among retired union members, that number fell to 45 per cent, and among government workers it was even lower at 41 per cent.
While 8 per cent in the private sector had to work longer than planned, only 4 per cent of government workers had to do so, and only 1 per cent of members of professional associations had to do so.
Retired private-sector workers were twice as likely to report "struggling" to make ends meet (22 per cent of respondents) than those who retired from the public sector (12 per cent).
This "lends considerable credence to arguments about a growing inequity between Canada's public and private sector workers," Angus Reid said in the survey.
The survey found nearly half -- 48 per cent -- of respondents were worried they would outlive their money. But this anxiety is stronger among those not yet retired; 74 per cent of those still in the workforce say they fear outliving their retirement funds.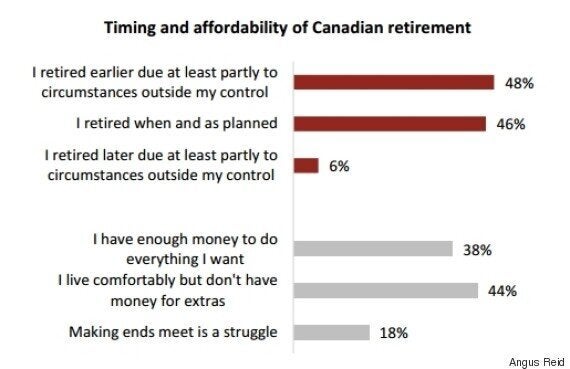 Canada is seeing an increase in the number of seniors dealing with insolvency. Bankruptcies among seniors have jumped 20.5 per cent since 2010, the Office of the Superintendent of Bankruptcies reports. Ten per cent of personal bankruptcies now take place among those aged 65 and over.
A recent study by Russell Investments, looking at private-sector retirement benefits, said the fact Canadians are living longer is putting pressure on retirement pensions. It also said that the recent low interest rate environment means many retirement pensions funds aren't earning as much as expected, and could therefore face funding shortfalls.
But a recent paper from the C.D. Howe Institute argued concerns about Canadians' ability to retire are overblown. Most Canadian households are saving enough to be able to live in retirement, the paper said, arguing most households won't even need the 70 per cent of pre-retirement income that is a rule of thumb for retirement income.
"The greatest challenges come early in … adult lives when the burdens of acquiring a home and supporting young children strain the family budget," the report argued. "After that, it gets easier."
Despite the concerns about finances, the Angus Reid survey found Canada's 6.4 million retired people are overall enjoying life post-work.
Eighty-six per cent said they "enjoy having enough time to do the hobbies I have always wanted to do," while only 16 per cent said they are "bored and have trouble filling [their] days."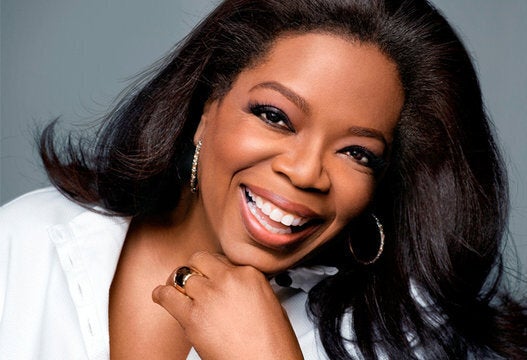 Six People Who Are Redefining Retirement
Popular in the Community