If you've ever been roped into trying a fad diet, you probably know they aren't easy to stick to. That's because many of these diets prescribe a strict structure of timing, rules and "forbidden" foods. Some even make you weigh and measure your meals and snacks, and calorie count.
This really takes the fun out of eating and is not very practical. Food should be fun! "Playing" with your food is not taboo, despite what mom said. Your food choices should inspire you to get in the kitchen and be creative.
Many Canadians aren't eating well because they don't make time to meal plan or put any effort into cooking at home. Yet, thousands of people learn how to eat paleo or "for their blood type" when there is a promise of weight loss.
While weight loss does normally result when someone follows one of these fad diets, it is not because the diet in question has finally figured out the right formula of macronutrients or added the right concoction of foods to melt fat away.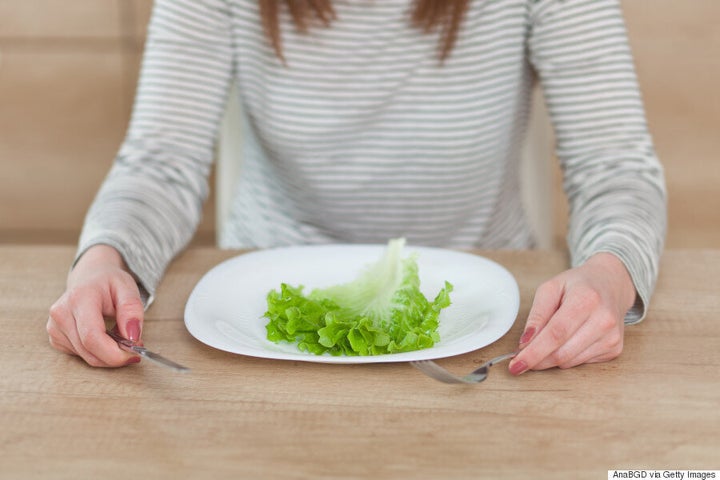 The only reason these diets work is because they force someone to follow rules and structure, and to think ahead about when and what they will eat. Calorie intake generally goes down when some foods or a food group is restricted, plain and simple. If you pay more attention to what you are eating, you will likely lose weight and feel better. Wheat is not the cause of your belly. And grain is not why you have a foggy brain.
We know that strict dieting rules do tend to work in the short term, but as time goes on and frustration builds, rules go out the window and most people revert to the way they were eating before going on a diet. I put a lot of effort into my meals and cooking, but following many of these popular diets seems like an unnecessary headache. I am very motivated to eat well and even I couldn't do it.
So what if I told you there was one simple rule you could follow that would help you eat better, get more nutrients and antioxidants, feel great and potentially lose weight?
All you need to do is make half your plate vegetables and fruit at every meal. Just eyeball it — no measuring required. And, best of all, no calorie counting! Having a mixed dish like a soup or stew? No problem. Just use the same principle and ensure about half the main ingredients are a fruit or vegetable.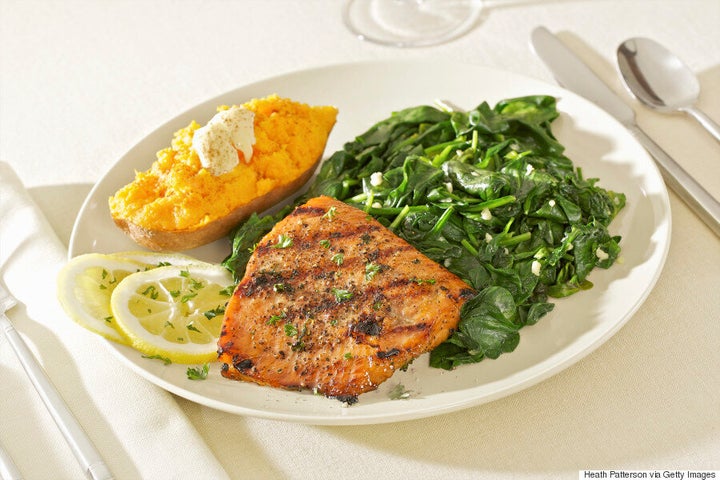 I use this rule in my own life and it works wonders. Generally, half my plate (or bowl) is fruit in the morning and I focus on vegetables at lunch and dinner. The other three food groups (grain products, milks and alternatives, and meat and alternatives) are important as well, but vegetables and fruit are one of the most under consumed groups.
The "half your plate" rule is simple, easy to follow, sustainable and allows for creativity and flexibility. Here are some of my favourite tested tips for ensuring half your plate is vegetables and fruit at each meal and snack:
Eating out? Ask for an extra side of vegetables and skip the grain that comes with your meal if you dipped into the bread basket. Or order an appetizer instead of a meal and add a side salad or vegetable.
Ensure your fridge is always stocked with pre-cut and washed vegetables for easy snacks.
Zoodles are all the rage: get a spiralizer and adding veggie noodles to meals becomes a breeze.
Try using vegetables in other creative ways, too. For example, add cauliflower rice to your next stir-fry or slice jicama into rounds and use it as you would a cracker with hummus or salsa.
Keep washed fruit in plain sight on your kitchen counter for an easy snack.
Add a mashed overripe banana to your morning oatmeal to sweeten it instead of sugar.
Try a fun new veggie or fruit-based recipe, like salad rolls!
Make a large batch of a vegetable-based soup and keep one-serving portions in the freezer for easy additions to meals.
Have fruit for dessert. It doesn't have to be boring! Try cutting a grapefruit in half, drizzle maple syrup on top and broil it until caramelized. Yum!
There is even a website dedicated to helping you achieve this goal: halfyourplate.ca. The website has recipes, storage tips, fun facts and more! You can look up a fruit or vegetable (endive, for example) and it will tell you what to look for when buying it, how to store it, how to prepare it and the nutritional information.
Are you up for the half your plate challenge? Share your favourite ways to get more vegetables and fruit in your diet in the comments section below.

Melissa Baker is a registered dietitian with a masters degree in nutrition communication. She loves being a part of the exciting nutrition world, and helping to improve the health and quality of life of Canadians. Every month, Melissa examines nutrition trends in her HuffPost Canada Living franchise, "What's The Deal?" For more from Melissa, check out her blog Upbeet.ca.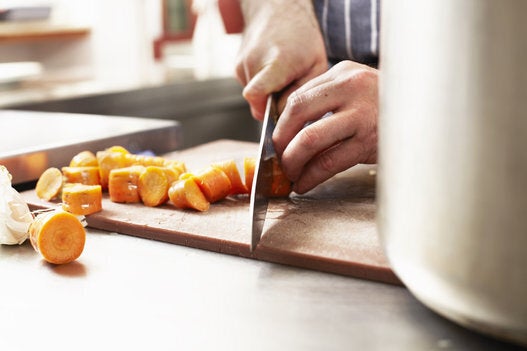 How To Eat Healthy At Work
Popular in the Community