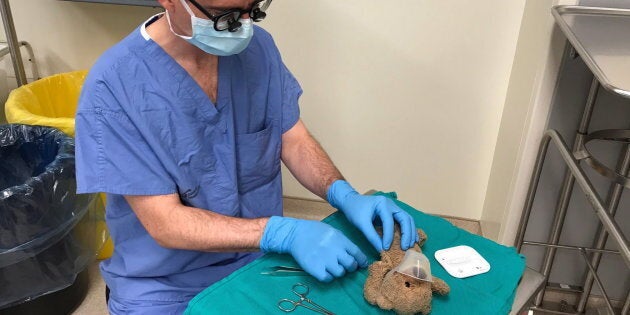 He's only tweeted once, but he did it with the precision and accuracy of a neurosurgeon.
"Patient asks if I can also fix teddy bear just before being put off to sleep ... how could I say no?" McNeely wrote in the post, which included two photos of the neurosurgeon poised over a wee teddy bear that was wearing a teeny-tiny mask.
The human patient, Jackson McKie, has been a patient of McNeely's since he was an infant, the Canadian Press reported. McKie, who lives with his family in Summerside, P.E.I., has a cyst on his brain and a chronic condition called hydrocephalus.
He brought Little Baby (yep, still crying) into the operating room last Thursday and — right before he was put under — asked McNeely if he'd fix his furry friend up, too.
"I thought if there was something I could do to help make him feel better, it seemed like a simple gesture and I was only too happy to oblige," McNeely said Tuesday.
The doctor asked the nurses to prepare a small table with some tools, and he used leftover stitches from McKie's procedure to patch up the bear.
McNeely's tweet of Little Baby's surgery (his first operation on a toy) — which was incidentally also his first tweet ever on the account @pdmcneely — has been widely shared across social media, the country, and really did a number on our collective heartstrings.