Fronting Allure's July "American issue," Aden is seen sporting a Nike hijab, as well as an activewear sweater in the colours of the U.S. flag: red, white and blue. On the cover, the mag describes her as "Muslim. Model. Destroyer of Stereotypes."
"Society puts so much pressure on girls to look a certain way," the Somali-American model told Allure. "I have much more to offer than my physical appearance, and a hijab protects me against: 'You're too skinny,' 'You're too thick,' 'Look at her hips,' 'Look at her thigh gap.' I don't have to worry about that."
"But there are women who are Muslim who choose not to wear the hijab," she added. "That's something people often forget."
Since finding success in the fashion industry, Aden says she hopes she can inspire other women.
"My goal is to send a message to Muslim women and young women everywhere that it's OK to break stereotypes and be yourself," the 19-year-old told Vogue during NYFW. "Always stay true to who you are — barriers can and will be broken!"
Aden's Allure cover is another example of how the model is breaking down barriers in the fashion industry. But it is also an empowering declaration on Allure's part for deeming Aden — and hijab-wearing women everywhere — as beautiful and as part of what makes America beautiful. After all, the mag's cover line reads, "This is American Beauty."
"The people that are doing bad things, they don't represent an entire group," Aden told ABC7 last year. "I feel like I'm here to bust those misconceptions and stereotypes of Muslim women."
Aden and Allure are certainly a match made in heaven, and this cover deserves all sorts of applause.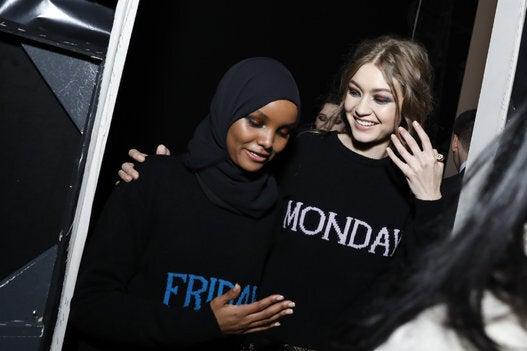 Refugee-Born Model Halima Aden
Popular in the Community