When 19-year-old Halima Aden made history by wearing a burkini and hijab during the Miss Minnesota USA pageant in November 2016, the fashion world knew they had a vibrant young woman on their hands.
"Embracing culture and diversity to break norms and change the thinking of modern-day fashion with Halima Aden," the brand wrote on Instagram. "Alberta Ferretti brings everyone together to celebrate strong females!"
And Aden's Milan Fashion Week takeover didn't stop there. The next day, the braces-wearing teen led her fellow pack of models down the runway for Max Mara's finale, wearing a stunning camel trench coat and delicate striped trousers.
"I never grew up seeing women that looked like me in magazines or on TV and didn't feel like I had a place in the world of fashion. I am honoured to be part of that change."
Will we see Aden at Paris Fashion Week in a few days? We're hoping so, considering she did land one of the covers of Carine Roitfeld's CR Fashion Book just last week.
Come on, fashion world. Keep the diversity coming.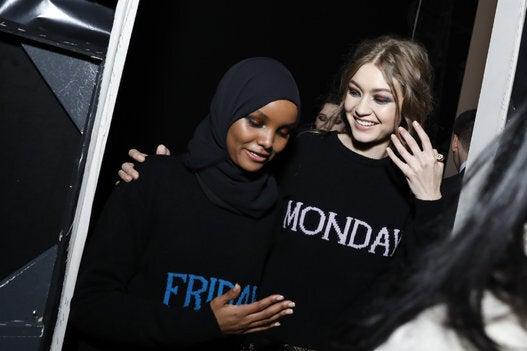 Refugee-Born Model Halima Aden