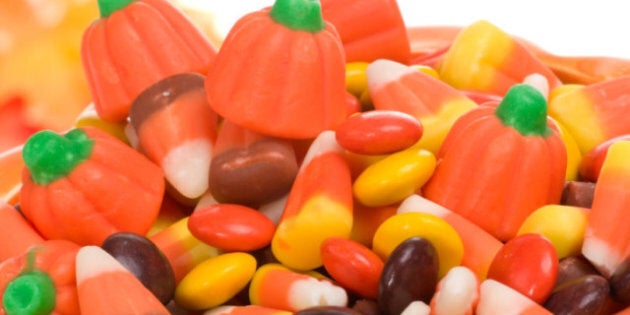 For many children, Halloween is one of the most anticipated days of the year. Not only do they get to dress up as ghouls or witches or superheroes or fairy princesses they also get candy. Lots and lots of candy. Chocolate bars, lollipops, potato chips, sour candy -- it's a smorgasbord of edibles that are usually off-limits.
Most modern parents are wary of giving their children too much refined sugar, artificial colours and trans fats. Some parents even ban all those things entirely. But on October 31, it's pretty much inescapable -- when your kids head out to trick or treat in their favourite guise, they are going to pick up a whole lot of that sweet, synthetic stuff.
So what's a responsible parent to do? You could let your child gorge on Halloween treats -- maybe it OK, seeing as it only happens once a year. Or perhaps you should limit the amount your child gets -- maybe even taking the sugary treats away in lieu of healthy snacks. But, then again, maybe that's just cruel -- is it too uptight to keep your kid away from enjoying a traditional, post-Halloween binge.
Ann Douglas, parenting expert and author of The Mother of All Parenting Books, says if you make too big a deal about candy, it becomes an even bigger deal for your child -- the whole "forbidden fruit" phenomenon.
"If you take a more low-key approach and treat candy like any other food, you may find your child doesn't have the same desire to go overboard with it," she says. "I know many parents who've ended up tossing out a half-eaten bag of Halloween candy many months after the fact because their kids have forgotten all about the candy. That's how little the candy mattered to them."
Toronto psychologist and family counsellor Lesley Lacny says while a total ban on Halloween candy would likely cause more problems than it solves, the trick or treating experience can be a great opportunity for parents to teach and reinforce boundaries for their kids.
"Think moderation," she says. "Find a balance of letting your child experience the fun and excitement of Halloween -- and the treats that come with it -- but also not letting it create unhealthy habits or behaviours. Leaving it all up to your child can be too much to ask. Depending on their age and personality, most children have limited self control and the inability to set healthy boundaries when it comes to indulgence. It can be hard enough for ourselves as adults!"
Lacny suggests parents "set up the situation for success." Be clear about the policies around Halloween with your child before the actual event so they know what to expect. Set boundaries around how much candy is coming in by limiting the time and vicinity of trick or treating, or by exploring fun alternatives (such as community Halloween parties).
"Allow your child to be a part of the decision making by giving them some options," says Lacny. "Let them know what the limits are, but provide alternatives."
For example, allow kids to pick out the candy they wish to keep up to a limit you've established and give options for what they can do with the rest, whether it's donating to a charity of their choice (like a food bank or nursing home) or using the candy to build a special Halloween craft project (check this site for creative ways to use leftover candy, from baking with it to repurposing it for science experiments or using it to decorate your holiday gingerbread house). Parents can set rules regarding when the candy can be eaten in order to lessen the negative impact of all that sugar (not before bed or school), as well as how many days or weeks candy can be consumed after Halloween night.
"The longer the candy is a part of the daily routine, there may be increased likelihood that your child will come to expect it," says Lacny.
As well, you can show your children that healthy is better through your own actions.
"Lead by example," says Lacny. "What type of candy do you distribute at your door? Do you give one or multiple pieces to each child? Consider distributing non-candy items like erasers, pencils, stickers."
While Lacny acknowledges that Halloween can be a valuable teaching tool, she says it's also important to remember that it only happens once a year.
"Look at the bigger picture," she says. "Are you adopting healthy habits throughout the entire year? If so, the less impact a few days of indulgence will likely have. If not, it may be good time to look at how to manage sugar intake and healthy habits beyond Halloween night."