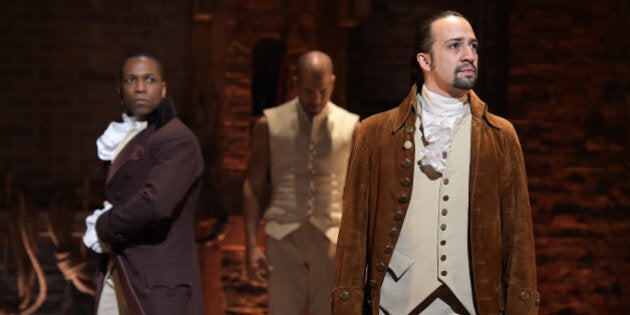 With today's release of Hamilton: The Revolution, the story of Lin-Manuel Miranda's record-shattering, boundary-breaking and (assumedly) Tony-sweeping musical comes full circle -- from book, to mixtape, to play, to book.
In a story that's been told in interviews so many times it's practically a folk legend, Miranda was on a vacation in 2008 (taking a break from his other Tony-award winning musical, In The Heights, because the man is non-stop) and wanted some reading material.
He grabbed a copy of Ron Chernow's biography of Alexander Hamilton from an airport bookstore, and by the time he finished the first chapter, he had the idea of Hamilton as a scrappy hip-hop icon in his head.
First envisioned as "The Hamilton Mixtape" (and presented to an initially bemused White House audience as such in 2009), the concept eventually became an off-Broadway production at The Public Theatre, before going full Broadway in July 2015, where it's been virtually impossible to see since.
The novelty of Black music in a non-Lion King musical wasn't the focal point: It was the story of Lin-Manuel Miranda, son of Puerto Rican immigrants.
(The current block of tickets is sold out until January 2017, and ticket prices range from "Hundreds of dollars" to "Your Mortal Soul.")
But, so what? If you're not from New York City (and I'm not -- I've never even visited), the trends that seem to take hold of the city (and more importantly, the city's writers and social media illuminati) can start to seem hysterical and ephemeral.
My Twitter started blowing up with enthusiastic #HamiltonCastAlbum tweets last fall, and it was hard to not lump them in with equally passionate screeds about man buns and rainbow bagels: It was just New York shit. It would pass, and somehow the dark recesses of The Rest Of Society would muddle along without this musical that was teaching hip hop to white people.
Then people in my own circles started to talk about it. And the tenor of conversation was different. The novelty of Black music in a non-Lion King musical wasn't the focal point: It was the story of Lin-Manuel Miranda, son of Puerto Rican immigrants. It was the fact that every single principal cast member (except the role of King George III) was played by a person of colour. It was the fact that Questlove and Black Thought from The Roots helped produced the album.
And so, I gave it a shot.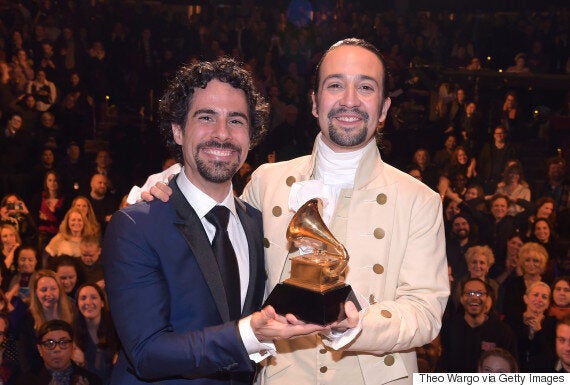 Since the end of January, I've listened to the Hamilton cast album more than 60 times front to back. If we're talking about individual tracks, especially the ones I've unashamedly taught myself how to rap alongside ("Guns and Ships," and I say that with pride), that number is in the hundreds.
I've scoured the (painstakingly annotated) Genius page for the album, learning more about American history and the making of the musical as I went along.
I watch and share all of the digital #Ham4Ham performances that Miranda releases to show his appreciation for the thousands of people applying to the daily Hamilton seat lottery, the winners of which I assume ascend to a tier of lower godhood upon winning one.
Basically, I really like Hamilton, even though I'll probably never get to see it live -- at least not as it exists right now, with the original cast (hell, Jonathan Groff already left). Maybe when the production rights open up and Mirvish (and let's not kid ourselves; it'll be Mirvish) mounts a huge version of it in Toronto. I'm willing to wait for it.
Because the reasons I loveHamilton have less to do with the content of the play, and more with the simple fact that it exists.
I'm a huge pop culture junkie. Musicals, movies, books, plays, shows, whatever; give it to me, and I'll absorb it. I believe in the power of stories to show us truths about ourselves as a group, to give us points of reference that we'd be otherwise unable to articulate.
I'm already used to characters who look like me and my friends being sidekicks and background gags and stereotypes.
But after a while, the fact that no one in these stories looks like me or acts like me becomes tiring. And it then it becomes exhausting and lonely. And suddenly I'm so damn tired of nothing that I'm willing to accept anything. I'm already used to characters who look like me and my friends being sidekicks and background gags and stereotypes.
It becomes to easy to stop rooting for and demanding better because, hey, at least we made it onscreen.
I've become accustomed to reading dizzying arguments online about why Idris Elba cannot play a fictional womanizing spy from a series of mid-20th century pulp novels.
I'm used to wearing a glowing Iron Man T-shirt to a comic convention and being called War Machine (because he's Black).
I've learned to love art forms that are indifferent towards me.
So, I wasn't ready for Hamilton.
I wasn't ready for this interview, where Lin-Manuel Miranda says that casting himself as the lead in Hamilton was the way for him to stop being cast as "the best friend of the Caucasian lead."
I wasn't ready to suddenly start thinking of all the drama-inclined teenagers of colour who, instead of looking at another high school production of Grease or Into The Woods and deciding that musical theatre isn't for them, look at the cast of Hamilton and realize what they bring to the table isn't just desired -- it's required.
Every now and then, there comes a movie or a moment that makes me feel a bit less tired, or a bit less alone, or a bit less stupid for loving something that never really seems to love me back. But it's always fleeting, or seems impossible to reach. A daydream at best.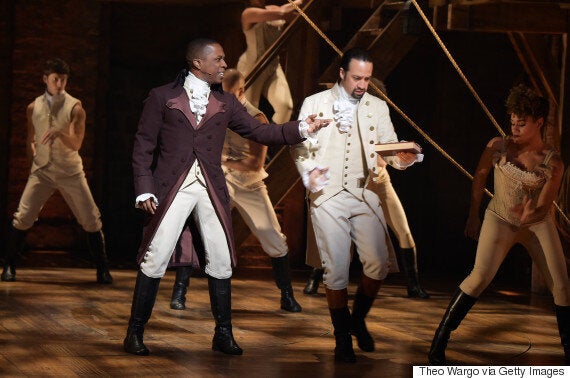 Hamilton is what it feels like to be loved back. Its existence is vindication that a production starring, created by, and celebrating people of colour can go on not to just be a critical success, but a ridiculously lucrative venture for everyone involved.
It's a further vindication for hip hop as an art form in one of the final few arenas yet to be convinced of its status as such.
And it's been vindication for me, because at the start of this year, I was going to give up the entire idea of ever really creating anything. Sure, I'd give an impassioned speech about the importance of diversity and representation in the media to everyone who'd listen to me, but afterwards I'd go back to feeling exhausted, like I was facing an endless uphill climb.
At a certain point, fighting against steep odds just begins to look like self-punishment. Maybe my energy would be better spent elsewhere. Maybe I deserved better.
And then I found Hamilton. And I saw something to aspire to in every character, and every member of the cast. I found Lin-Manuel Miranda (sadly, In The Heights completely passed me by in the late-2000s) and saw a guy who probably felt just as tired as I've felt at times, and just as likely to give up, but he kept going.
I was about to throw away my shot, and Hamilton convinced me otherwise. There's something to that.
Sure, it helps that he's an actual genius. And make no mistake; on my best day, it's far from likely that I'll ever create the most celebrated piece of art in a generation for an entire medium.
And that's okay -- I'm happy just trying my best and seeing where that gets me. Because I was about to throw away my shot, and Hamilton convinced me otherwise. There's something to that.
It's hard not to view anyone who snags Hamilton tickets right now as either freakishly lucky or as well-connected people grabbing the biggest status symbol the Big Apple can offer them right now. And I don't begrudge anyone the opportunity to see it: By all accounts, it's life-changing.
I'll see it one day. In the meantime I've got the album, I've got the new book, and I've got an endlessly growing amount of fan creations and tributes to tide me over.
If and when I see it live, it won't be with the fevered rush of capitalizing on a new trend. It will be with the ease and warmth of returning to something that supported me when I needed it most.
And until then, I'll keep writing like I'm running out of time.
Follow HuffPost Canada Blogs on Facebook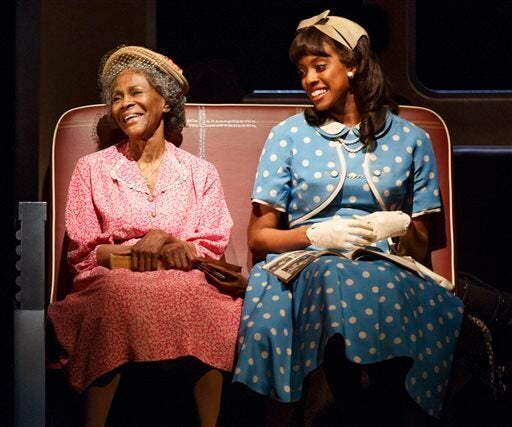 African-American Stars On Broadway
Popular in the Community