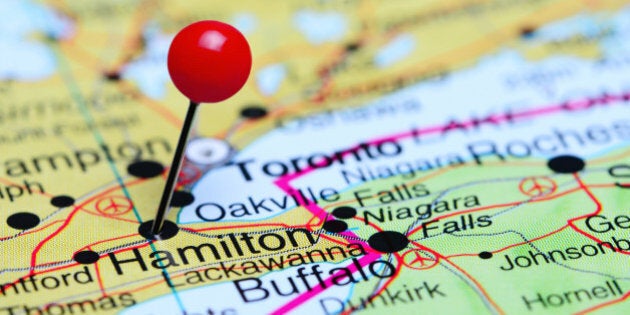 Yes, that's right, Hamilton, Ont. -- or, specifically, the Hamilton-Burlington real estate district -- not Vancouver or Toronto. But let's come back to that.
Prospective homebuyers throughout Canada, if ReMax's forecast for 2017 is any indication, you're about to get a break on home prices.
Even would-be buyers in Vancouver and Toronto -- heretofore Canada's most piping-hot housing markets.
After achieving strong price growth -- hitting record levels in some markets -- over the last couple years, gains are expected to slow in 2017, creaking open a window of opportunity for those looking to buy a home.
ReMax expects the average home price in Canada to increase two per cent in 2017, according to the realty firm's 2017 Housing Market Outlook Report.
"Strong demand in Canada's urban centres is expected to continue throughout next year and into the foreseeable future, as almost half of Canadians plan to buy a home in the next five to 10 years," says Christopher Alexander, regional director, ReMax Integra Ontario-Atlantic Canada Region.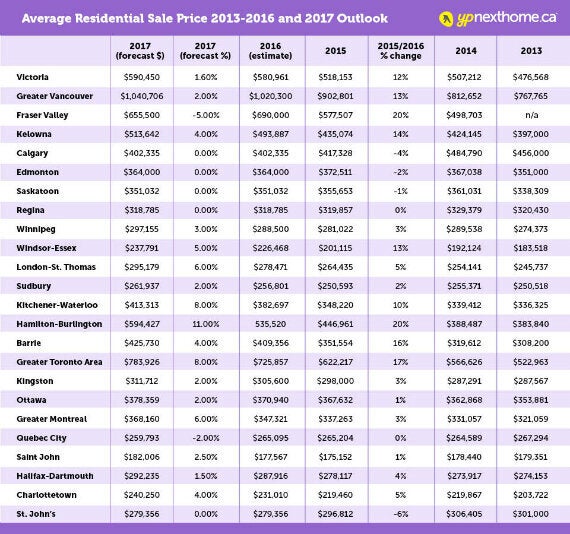 Vancouver and Toronto still garner much of the attention for price growth. High demand and low supply continued to characterize housing markets in these cities throughout 2016, as competition from buyers for limited inventory of single-family homes pushed prices higher.
The average residential sale price increased 13 per cent in Greater Vancouver to $1.02 million, and 17 per cent in the GTA to $725,857. Although demand remains high in both urban centres, limited inventory in the freehold market, the new 15-per-cent foreign buyer tax in Vancouver and the recent tightening of mortgage rules by the federal government are expected to soften market activity in the short term. In 2017, ReMax estimates average residential sale prices will increase by two and eight per cent in Vancouver and the GTA, respectively.
This slowing growth provides prospective buyers in these two markets a window of opportunity.
"There will certainly be opportunity for first-time buyers in both markets," Elton Ash, regional executive vice-president, ReMax of Western Canada, told YPNextHome. "The challenge will be in the higher qualification rates for high-ratio mortgages. Once first-time buyers, in essence, reset their affordability expectations, they will see price advantages in buying in 2017."
Hamilton-Burlington Leads Canada
Regional markets in proximity to Canada's highest-price cities continue to experience steady interest from local move-up buyers and buyers from these cities (so-called "move-over" buyers), who are looking to find a balance between affordability and square footage. The top markets for year-over-year price increases in 2016 were Hamilton-Burlington (20 per cent), Fraser Valley, B.C. (20 per cent), Barrie, Ont. (16 per cent) and Kelowna, B.C. (14 per cent).
As for major centres forecast to show the strongest price growth in 2017, Hamilton-Burlington will lead the country at 11 per cent, followed by Kitchener-Waterloo at eight per cent.
"Both areas will benefit from transportation upgrades and strong consumer confidence," says Ash. "Tech sector growth due to the cheap Canadian dollar is positive for Waterloo, as well."
The ripple effect of the foreign buyer tax in Vancouver can be felt in the upper end of the GTA and Montreal markets, as some foreign investors are expected to look for properties in these regions rather than Vancouver. New, tighter mortgage insurance criteria for new home buyers is expected to temper local first-time buyer activity across the country in the short term, but is not expected to have a long-term impact in most regions.
Out west, the housing markets in Calgary and Edmonton remained relatively stable in 2016, with moderate declines in the number of sales and average residential sale price as a result of the prolonged recovery of the oil sector over the past two years. The average residential sale price in Edmonton decreased by two per cent year-over-year, while Calgary's average residential sale price decreased by four per cent.
Buyer activity is expected to pick up slightly in the second half of 2017 if employment opportunities in the oil sector continue to gradually come back to the province. The recent approval of the Trans Mountain pipeline is also expected to provide a boost to the provincial economy and help keep housing markets relatively stable in next year.
"Alberta will experience a flat market in 2017," Ash says. "There is light at the end of the tunnel as we get into Q3 and Q4, as oil prices are expected to increase. (Two-thousand and 18) will likely be the rebound year for Alberta."
In Ottawa, market conditions were fairly balanced in 2016, with two-per-cent growth in average price. "We see that continuing in 2017, with a one-per-cent increase in average price. All segments of the market are performing well, with condos sales increasing by 1.9 per cent in 2016, and continuing the trend in 2017. The upper end of the market has also been performing well and will continue to do so."
Though price growth may be pausing, younger Canadians are still looking to creative ways to realize their dream of homeownership, according to the report. Thirty-three per cent would consider purchasing a home with a family member; 22 per cent would rent out a room in their home; 15 per cent would consider renting out a room via rental apps such as Airbnb; and nine per cent would purchase a home with a roommate.
Follow HuffPost Canada Blogs on Facebook

Hamilton's Best Restaurants