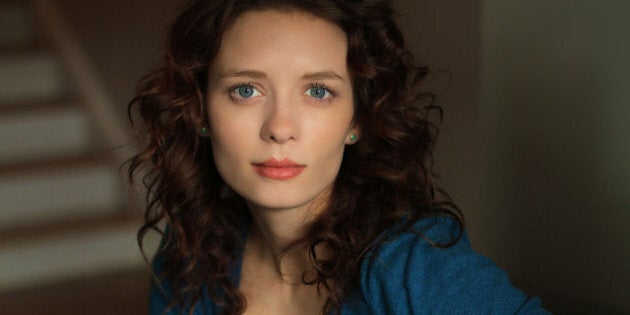 One of literature's creepiest psychiatrists ever is back to haunt our nightmares. That's right -- Dr. Hannibal Lecter, that uppity cannibal with an affinity for mind games, is returning, this time to TV. He's going to be toying with us during primetime in "Hannibal," from creator Bryan Fuller ("Pushing Daisies," "Dead Like Me").
The show will feature another one of author Thomas Harris's most fascinating characters: Freddie Lounds, the ladder-climbing tabloid reporter who sinks her (or his) teeth into a story and never lets go. Freddy, as a he, has been played by the likes of Phillip Seymour Hoffman ("Red Dragon") and Stephen Lang ("Manhunter").
This time around, Canadian actress Lara Jean Chorestecki ("Camelot," "Copper") is tackling the juicy role alongside Hugh Dancy, who plays Special Agent Will Graham, and Mads Mikkelsen, who plays the infamous Hannibal.
HuffPost TV caught up with Chorestecki to chat about the real-life journo her incarnation of Freddie is inspired by, what it was like stepping into Seymour Hoffman's shoes, what really creeped her out on set and those inevitable comparisons to "The Following."
HuffPost TV: So what sparked your interest in the project initially?
Chorostecki: What wouldn't spark your interest? When you get Hugh Dancy on board, that would spark any woman's interest immediately. He's so fantastic in this series. People are going to be so amazed with his work. And to get to work with Mads Mikkelsen, who is already a superstar in Europe and has started to make his way over with "Casino Royale." It's been a real learning experience to work opposite him. And then of course you've got Laurence [Fishburne]. So the cast is heaven, with Bryan Fuller at the helm!
Speaking of amazing actors, did Claire Danes ever pop by set to visit [husband] Hugh?
Of course! And their baby is beautiful! He's a wonderful, wonderful little baby. She popped by just after they wrapped "Homeland." When Cyrus was born we got to see him a couple of times. And they also have a very beautiful dog, which kind of became our set mascot.
Can you tell us a bit about your character?
So Freddie used to be a he, for those who know the Tom Harris novel and the previous incarnations of this character. Phillip Seymour Hoffman was incredible in this part. The resemblance that she bears to "he" is a little bit here and there. Certainly Freddie is brave. She has a good eye for a story. She's patient. She's also a little obnoxious, like he was. [For my] character, Bryan showed me a picture of Rebekah Brooks the first time I met with him, who's a journalist who ran News of the World at a very young age. And now she's been arrested in the phone hacking scandal. She's got wonderful, ferocious, tangled red hair on her head. And as you will see in the promo shots, I also have a big tangled mess of red hair on my head. So right down to the look of Freddie, Bryan took that characterization from Rebekah Brooks. Fans of the mythology know where he/she ends up. I have been told that is the plan. Where we go in the meantime between now and the "Red Dragon" storyline is up to the brilliance of Bryan.
What's it like playing a she who used to be a he? How do you channel that energy?
I think it's actually freeing to channel the masculine energy, but I tend to not really need it. You get the freedom of not being compared to previous incarnations. I don't have to be scared of being compared to Phillip Seymour Hoffman because they're just not going to be the same.
Did you ever think you might one day share a role with Phillip Seymour Hoffman?
No! I think it was TVLine that broke the casting announcement, and the headline was something like Hannibal Taps "Camelot" Actress to Fill Phillip Seymour Hoffman's Shoes. I remember my agent and I just went "Wow!" You couldn't pay to get a title like that. It's wonderful to have my name and his name in the same breath, but no, I did not expect that at all! [Laughs]
Who do you think the show will appeal to?
I really think everyone. Bryan's been calling it operatic, because horror really has an operatic feel to it. Anyone who's a fan of Bryan's work will just adore it. There is something for everyone. That said, it is also gory, so be forewarned. But I really think those who get a little icked out by the gore factor, it's not in a gratuitous way. It's an exploration of the psychological stuff that comes along with this kind of storyline.
Were you ever icked out by anything on set?
Yes! [Laughs] I have a fear of things growing on things. I don't know where it came from. But I go hiking a lot, and sometimes I can't handle moss growing on trees or tumors on trees or mushrooms. The special effects team does some amazing stuff. In the second episode, there's some things growing on some things, that is pretty gross. One day I was on set and one of these special effects things walked by me and I had a little bit of a scared moment seeing this person covered in things!
How does "Hannibal" compare to projects you've worked on before?
It's really different, having come off a long stint of period pieces. It's really nice to be back in modern-day costumes. It's fun to be in heels not on cobblestone streets! [Laughs] I've been really fortunate. I did "Camelot" a couple of years ago and also worked with a really incredible cast on that production. Joe Fiennes was amazing, Claire [Forlani] was amazing, James Purefoy was fantastic. You often get a richer vocabulary when you're doing period pieces, but Bryan's vocabulary is so rich and wonderful, anyone who knows his work knows his writing is very intricate.
Speaking of James Purefoy, do you think that "Hannibal" will appeal to the same audience that watches "The Following"?
Our show is in the same realm, of course, because they're both about serial killers, but it's different. People are naturally going to draw the parallels. When you put the Bryan Fuller stamp on it, it's so surreal and so inventive in some ways that I think it will stand out on its own as well. They're both two quality TV shows. I hope it will attract the same audience. You'll get a double-dose of horror through the week!
"Hannibal" premieres on NBC in the U.S. and City in Canada on Thursday, April 4 at 10 p.m. ET/ PT.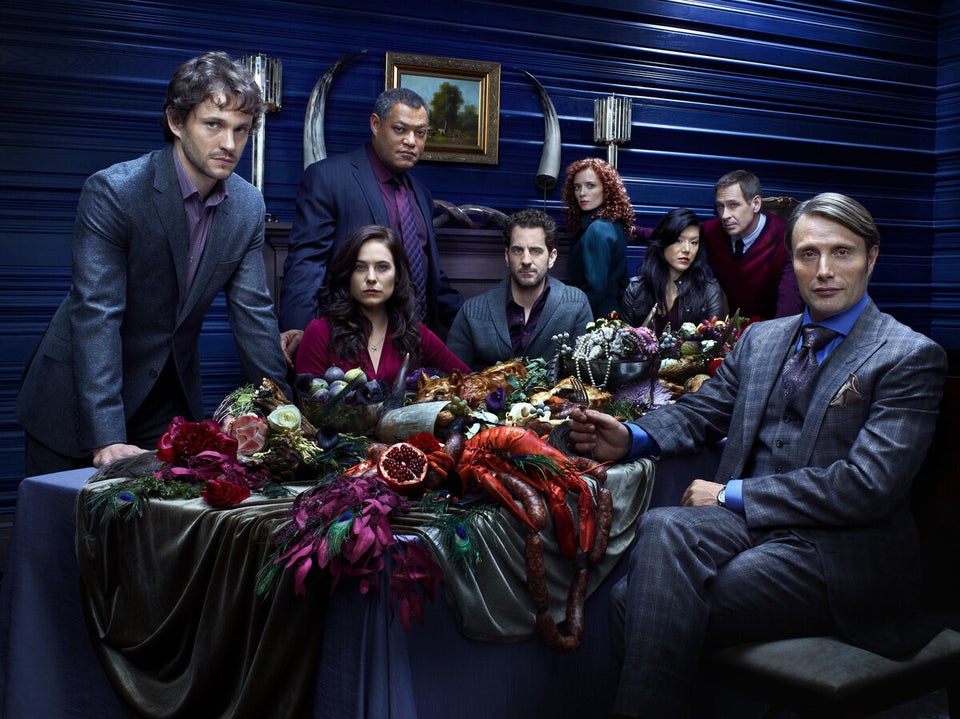 Hannibal