TORONTO — An NDP Quebec candidate, best known as a celebrated separatist who scaled the cross atop Montreal's Mount Royal to showcase his support for the province's language law Bill 101, is now under fire for his apparent support of the first Palestinian intifada.
In his 1990 book, Un Pays A Faire (translated as A Country To Make), Hans Marotte writes that: "When a Palestinian comes to ask me to sign his declaration of support for the Intifada, and tells me how happy he is to have my name on his list, I see how important it is that we not close in on ourselves."
The first intifada was a violent Palestinian uprising against Israeli occupation in the Gaza Strip and the West Bank that began in 1987. During its six years, more than 1,100 Palestinians and 100 Israeli civilians were killed. It also marked the first use of suicide bombings in Israel — an attack on an Israeli bus in 1989 that killed 16, including two Canadian women. The attacker, however, survived.
Shimon Koffler Fogel, the CEO of the Centre for Israel and Jewish Affairs, called Marotte's comments "unfortunate."
"The views he expressed at the time are entirely incompatible with the official and current position of the NDP, and fringe sentiments of this type have long been rejected by NDP Leader Tom Mulcair. We hope Mr. Marotte's perspective has matured and now reflects the legitimate needs of both Israelis and Palestinians," Fogel told The Huffington Post Canada.
B'nai Brith CEO Michael Mostyn said his group is trying to reach out to Marotte to verify the accuracy of his statement and find out whether his opinion has changed over the past 25 years.
"The quote in question displays a certain naiveté about the fact that one does not sign a petition to support an intifada, jihad or any other extremist act of violence. Seeking to promote a pluralistic society in Canada does not translate to supporting calls for violence against innocent civilians," Mostyn said.
Marotte is a well-known lawyer and spokesperson for Mouvement Action Chômage in Montreal, a group that defends the rights of the unemployed. He did not return HuffPost's requests for an interview.
The comments in his book were made in the context of explaining to Quebecers how they needed to be more open towards individuals from other cultures. Despite some initial negative emotional reactions, he writes, he is hopeful new immigrants can become true Quebecers.
The NDP declined to say whether NDP Leader Thomas Mulcair agreed with Marotte's comments.
New Democrat spokesman Marc-André Viau sent a statement saying: "Hans Marotte, NDP candidate for Saint-Jean, is in agreement with our policy, which recognizes the state of Israel and supports a two-state solution that includes a secure state for Israelis alongside a viable state for Palestinians."
The Conservative Party is highlighting Marotte's comments on its new website, which features controversial comments from current NDP candidates under the banner: "How well do you really know the NDP? The truth may shock you."
Other candidates featured include Toronto Centre's Linda McQuaig, who praised Venezuelan president Hugo Chavez as a "feisty mix of Robin Hood, Che Guevara and Michael Buble," North Vancouver's Carleen Thomas who said people working in the oilsands "have to brainwash themselves" to believe their projects are for the good of the country, and David McLaren from Bruce–Grey–Owen Sound, in Northern Ontario, who suggested it is not "principled" to pick a side in the Israeli-Palestinian conflict because it is like picking a side in "a telephone booth packed with dynamite."
Conservatives party spokesman Stephen Lecce defended the website, saying Canadian voters deserve to know more about the candidates Mulcair has recruited to run for him.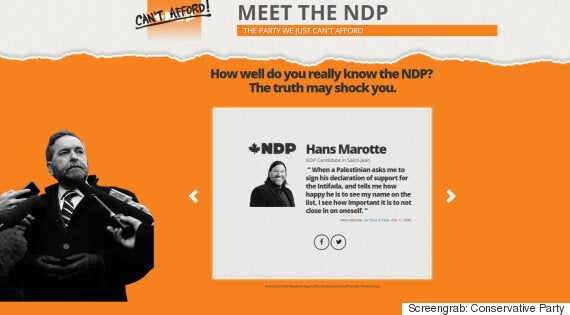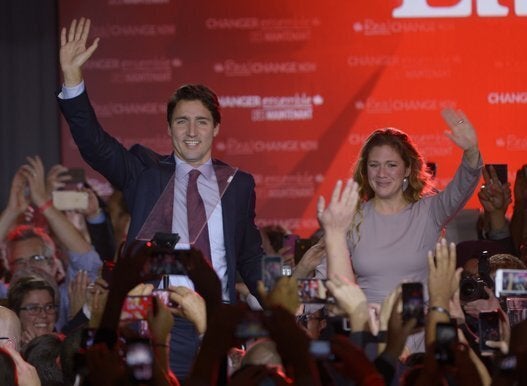 In Photos: Canada Election 2015