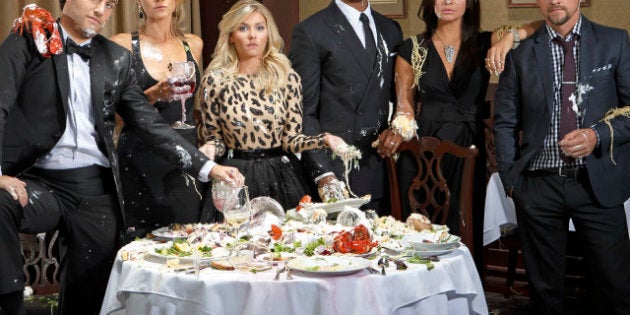 Last April, I wrote about my love for Don't Trust the B in Apartment 23. Fast-forward a year and the Krysten Ritter/Dreama Walker/James Van Der Beek comedy is gone, pulled by ABC. So it's only fitting that I write about its former partner-in-crime, the awesome Happy Endings, which the network also seems to want to do away with.
In February, the alphabet net announced than when Happy Endings' two-month hiatus was up, it would be moving from Tuesday to Friday for Celebrity Wife Swap. Because ABC's powers-that-be hate us. Really, why would they move one of its edgiest, funniest shows to the dead zone? While CBS has seemingly cornered the market on end-of-the-week programming (Blue Bloods, CSI: NY, Ghost Whisperer, Numb3rs ... we'll see how Vegas performs), the other networks haven't fared as well.
Back-to-back episodes of Happy Endings is a fan's dream TV night. Back-to-back eps of Happy Endings on a Friday? Not so much. It's clear ABC wants the show to finish its ordered run before it inevitably gets cancelled, just so execs can say they aired every episode, but the network isn't even pretending it's willing to give the consistently laugh-out-loud, critically acclaimed show a chance. Brutal.
After watching the first four episodes of the show in its crappy new timeslot, it is still as good as ever. Even when it is a sub-par ep, it's still better than most of the stuff out there. Which is why it's so disappointing to watch ABC's shoddy treatment of the comedy.
Instead of bitching and moaning, however, I have a couple of solutions so ABC, listen up. You're about to get a scheduling lesson from a lowly blogger.
- Put Wife Swap on Fridays and Happy Endings back in its Tuesday night home.
- Cancel Red Widow (how it's still on is beyond me), bump Revenge to 10 p.m. (the timeslot it should be in anyway) and put Happy Endings between the guilty pleasure and Once Upon a Time. Yes, it seems random but it's still better than its current teaming with Shark Tank and 20/20.
- Shorten the Dancing With The Stars results show -- which has more filler than a hot dog -- to 30 minutes and let Happy Endings sit back and enjoy its highest ratings ever.
Sadly, my brilliant ideas will be disregarded, thrown away kicking and screaming like Better Off Ted, GCB, and that bitch in apartment 23 by the network that thought Man Up and Work It! were good ideas. Meh.
Happy Endings' best chance for survival will likely mean it will follow in Cougar Town's footsteps and find a new home on another network. The Courteney Cox comedy, which was in the same quicksand-like predicament last year as Happy Endings is in now, was valiantly rescued by TBS. USA -- which has been looking to build a decent comedy block for a while now -- could be the net that gets to play hero and benefit from ABC's poor judgment, so yay for us.
Whether ABC decides to keep Happy Endings in whatever crap timeslot they shove it in, or USA or another network that appreciates Dave (Zachary Knighton), Alex (Elisha Cuthbert), Penny (Casey Wilson), Max (Adam Pally), Jane (Eliza Coupe) and Brad (Damon Wayans Jr.), nabs them and allows Happy Endings to develop and flourish remains to be seen. Obviously USA is the better option, but at this point, I'll just be happy if it stays on the air.
Happy Endingsairs Fridays at 8 p.m. and 8:30 p.m. ET (blech) on City and ABC.