"It tastes like a soda water, but with booze!"
"Imagine alcoholic LaCroix!"
That's how canned vodka sodas are usually pitched by friends, bars and liquor stores in Western Canada. These vodka sodas in cans — with brand names like Nude, Nutrl and PYUR — are marketed as low-calorie, refreshing and easy to drink alternatives to other alcoholic beverages. Right now in Canada, they're a uniquely West Coast thing — head to any beach or patio in Vancouver and you'll spot the signature white cans.
I remember my first Nude — a minimalist white can filled with low-sugar, low-calorie lime-flavoured alcoholic goodness. Fittingly, it was earlier this year at a screening of "The Bachelor" (Colton's season) at a friend's Vancouver apartment, which felt like the ideal place to consume vodka soda in a can.
Last summer, stores across B.C. reported selling out of popular brands. And it's continuing to grow. In the first quarter of 2019 alone, spirit-based coolers — including these low-calorie vodka sodas — were a $60-million industry.
Julius Makarewicz, CEO of Nude Vodka Soda, says that to date the company has sold over 24 million cans since launching in July 2017.
"Ever since we launched, this whole boom of vodka sodas started happening," he told HuffPost. "And now there's like 20 brands across Canada."
A status symbol
You might notice that all of the Western Canadian vodka soda brands look kind of the same — a sleek white can, simple black lettering and clean-cut images of fruit to denote flavours.
Makarewicz claims his company was the first to use the white can, and say it's meant to represent the drink's healthy aspects.
"The whole concept behind the can is we made it as simple as possible," he said.
Yann Cornil, a professor at the University of British Columbia's Sauder School of Business, says that's intentional.
"The white symbolizes healthy and purity," he said. "So [these companies] are trying to move away from that category as a vice."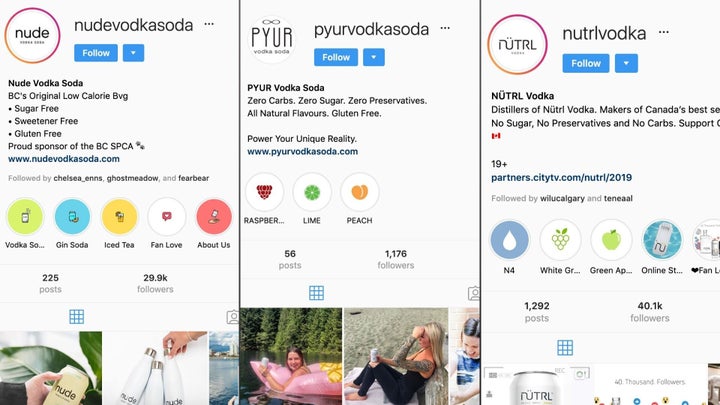 Cornil says that products like canned vodka sodas are marketed to convey a healthy, affluent lifestyle and are largely targeted at young millennial women. He says that products like these can act as social signifiers.
"The consumer cares about the image that they're projecting when they engage in social drinking," Cornil told HuffPost Canada. "When people consume, they give information about who they are to others."
He warned that the way many of these products are marketed can make them seem more like non-alcoholic soda than drinks with very real alcohol contents.
"They might drink it just like soda, and you might end up drinking more alcohol than you intend," Cornil said.
WATCH: This boozy iceberg tour offers beer made from ... icebergs. Story continues below.
"The Claw"
Similar beverages in the United States have quickly become associated with party and "bro" culture, most notably White Claw. White Claw is not widely available in Canada outside of online retailers. For the uninitiated, White Claw is a hard seltzer brand introduced in 2016 that's risen to meme-level popularity this year.
Most states do not allow for the sale of premixed hard spirits in cans. So companies in the U.S. looking for light, low-calorie drinks have had to get creative beyond simply bottling vodka and soda, leading to malt-based drinks like White Claw and the new Four Loko (which boasts a whopping three times the alcohol content of its competitors).
While they taste similar to a vodka soda, these drinks are based off of a gluten-free alcohol base and seltzer water, and often distributed by existing breweries or alcohol producers — White Claw is made by the same company as Mike's Hard Lemonade. Hard seltzer is undeniably having a moment, prompting thinkpieces, rankings and market analysis.
According to a 2019 Nielsen study, there has been an increase of 210 per cent in spending in the U.S. on alcoholic sparkling water compared to last year. That's a lot of The Claw.
Canada's surge
But north of the border — and especially on the West Coast — we're having our own surge too.
According to data from B.C. liquor distribution, a of June 2019, vodka sodas accounted for 36 per cent of BC cooler sales vs 14 per cent this time last year. Brands including PYUR, Nutrl and Nude have sprung up with flavoured products that line the shelves and fridges of B.C. liquor stores and bars. Some companies have expanded beyond B.C. — Nude is available in Alberta, Saskatchewan and the maritime provinces.
Many are also buying into the West Coast yuppie health craze. They partner with yoga studios, in the case of PYUR, or the SPCA, in the case of Nude. Their advertising is sleek, simple and uses the word "inspire" a lot. Like, a LOT.
PYUR is one of these companies and started this year in Vancouver. The brand sells four different flavours of canned vodka soda across B.C. PYUR marketing director Mathieu Aubin says it's expanded exponentially.
"Previously we saw [the hard seltzer] trend in the U.S. a bit before us here in Canada," Aubin told HuffPost. "But it's really emerged in the last two years here in Western Canada."
According to the B.C. liquor board, as of June, unsweetened beverages like canned vodka sodas account for 16 per cent of total cooler sales in Canada versus six per cent last year, and it's growing by 239 per cent.
Aubin says that while his brand is focusing largely focusing on Western Canada, there's potential for the market to evolve.
"I think in Canada, we will have a mix of hard seltzers and vodka sodas as the market evolves," Aubin said. "I believe that the low-calorie, low-carb drinks are here to stay now."
CORRECTION: A previous version of this article noted that PYUR started in 2017. The company started in 2019.