You might think Harjit Sajjan takes a pretty mean combat gear photo, but Canada's new minister of national defence is some kind of next-level Spy vs. Spy war hero.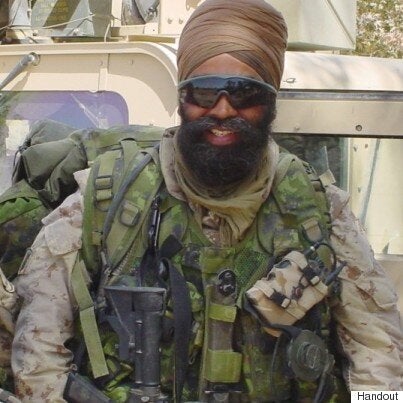 Harjit Sajjan, Canada's new defence minister, is seen during one of his deployments in Afghanistan.
A 2006 letter of appreciation for Sajjan's services from the commander of Canada's Coalition Task Force in Afghanistan has surfaced, and it reads like a Bourne trilogy movie script.
Sajjan was considered "the best single Canadian intelligence asset in [war] theater" whose "hard work, personal bravery and dogged determination undoubtedly saved a multitude of Coalition lives," according to the letter, recently obtained by National Observer.
He's further credited with providing the intelligence foundation for a military operation resulting in the "kill or capture" of 1,500 Taliban fighters.
At the time, Sajjan was a reservist with the Canadian Armed Forces and was employed by the Vancouver police as a detective constable. The letter from Brig.-Gen. David Fraser to then-Vancouver police chief Jamie Graham thanked him for allowing Sajjan to deploy on the mission.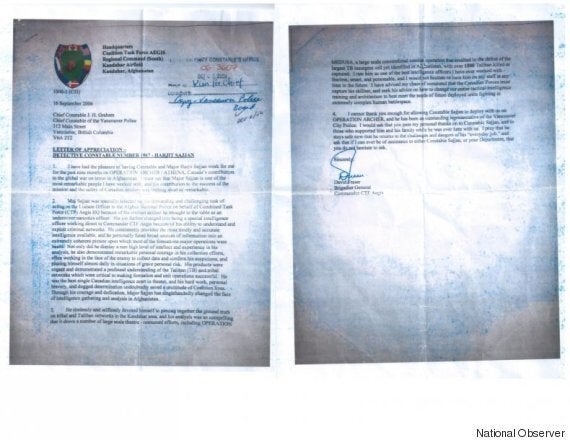 It includes the following excerpts:
"Not only did [Sajjan] display a rare high level of intellect and experience in his analysis, he also demonstrated remarkable personal courage… often working in the face of the enemy to collect data and confirm his suspicions, and placing himself almost daily in situations of grave personal risk."

"[He] demonstrated a profound understanding of the Taliban and tribal networks…"

"Through his courage and dedication, Major Sajjan has single-handedly changed the face of intelligence gathering and analysis in Afghanistan."

"I rate him as one of the best intelligence officers I have ever worked with."

"I have advised my chain of command that the Canadian Forces must capture his skill-set, and seek his advice on how to change our entire tactical intelligence training and architecture to best meet the needs of future deployed units fighting in extremely complex human battlespace."
What set Sajjan's anti-terrorism intelligence apart was his ability to connect and build trust with local populations, something he's known to attribute in part to the Canadian military's openness to turbans. His access granted him special appreciation of the unique dynamics and local conditions on the ground in Afghanistan.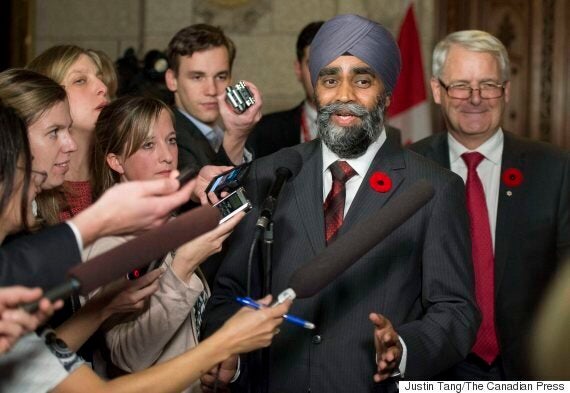 Defence Minister Harjit Sajjan speaks to reporters in Ottawa.
Sajjan's intelligence-gathering and analytic skills soon attracted the attention of senior U.S. military and strategic advisors. His opinion letter concerning the Taliban, local warlords and the Afghan opium trade was appended in full in a major 2008 report on U.S. anti-narcotic strategies by Barnet Rubin, senior advisor to the U.S. Special Representative for Afghanistan and Pakistan.
In both 2006 and 2009 Sajjan came under enemy fire, saw open combat, and coped with dead and wounded soldiers.
Following Sajjan's second deployment in 2009, U.S. Maj.-Gen. James Terry, commander of U.S. forces in Afghanistan's southern provinces, requested that he join the U.S. Command Team for a third tour in 2010, where he served as special assistant to Terry.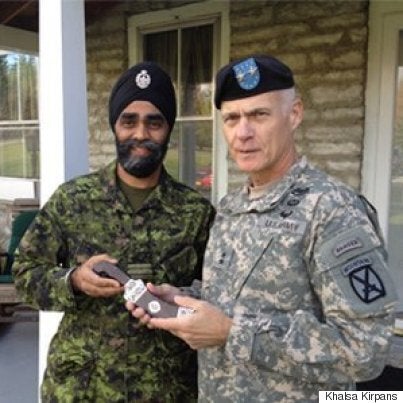 Harjit Sajjan presents U.S. Maj.-Gen. James Terry with a Sikh ceremonial kirpan in 2011.
Among the many honours bestowed on Sajjan is the Order of Military Merit, awarded in 2014.
Reached for comment on Wednesday, the new minister emphasized that the national defence portfolio is a team effort.
"When you're the government or minister," said the MP for Vancouver South, "you don't work alone. We have a tremendous civil service and military who are exceptionally capable. In national defence, we work as a team."
Nor did Sajjan want to talk about individual heroics. Instead, he voiced concern for Canadians now serving in the military.
"It's the responsibility of government not to put soldiers into harm's way except as a last resort, when it's absolutely necessary to do so," he said. "When we do send them into harm's way we have to ensure that we've done everything in our power to find other methods to reach our objectives."
Very properly, little was made of Sajjan's military achievements during the election campaign. His own personal style, like that of all good intelligence officers, is decidedly low-key.
But you can only hide badass for so long.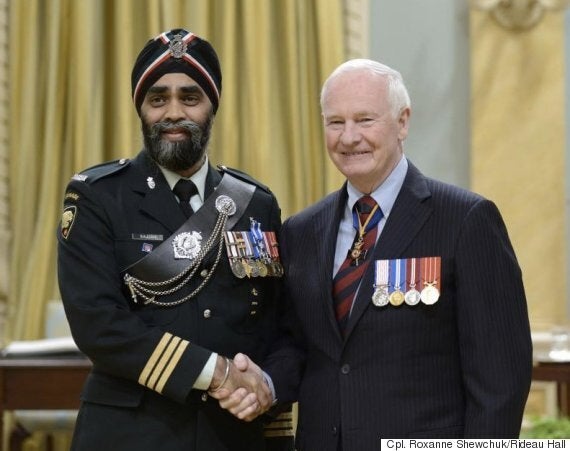 A major at the time, Harjit Sajjan was recognized by Gov. Gen. David Johnston in March 2013. (Photo: Cpl. Roxanne Shewchuk/Rideau Hall)
Here's the full text of the Sept. 16, 2006 letter:

Chief Constable J.H. Graham

LETTER OF APPRECIATION—DETECTIVE CONSTABLE NUMBER 1967-HARJIT SAJJAN

1. I have had the pleasure of having Constable and Major Harjit Sajjan work for me for the past nine months on OPERATION ARCHER/ATHENA, Canada's contribution to the global war on terror in Afghanistan. I must say that Major Sajjan is one of the most remarkable people I have worked with, and his contribution to the success of the mission and the safety of Canadian soldiers was nothing short of remarkable.

2. Maj Sajjan was specially selected for the demanding and challenging task of acting as the Liaison Officer to the Afghan National Police on behalf of the Combined Task Force (CTF) Aegis HQ because of the civilian skillset he brought to the table as an undercover narcotics officer. His job further changed into being a special intelligence officer working direct to Commander CTF Aegis because of his ability to understand and exploit criminal networks. He consistently provided the most timely and accurate intelligence available, and he personally fused broad sources of information into an extremely coherent picture upon which most of the formations major operations were based. Not only did he display a rare high level of intellect and experience in his analysis, he also demonstrated remarkable personal courage in his collection efforts, often working in the face of the enemy to collect data and confirm his suspicions, and placing himself almost daily in situations of grave personal risk. His products were cogent and demonstrated a profound understanding of the Taliban (TB) and tribal networks which were critical to making formation and unit operations successful. He was the best single Canadian intelligence asset in theater, and his hard work, personal bravery and dogged determination undoubtedly saved a multitude of Coalition lives. Through his courage and dedication, Major Sajjan has singlehandedly changed the face of intelligence gathering and analysis in Afghanistan.

3. He tirelessly and selflessly devoted himself to piecing together the ground truth on tribal and Taliban networks in the Kandahar area, and his analysis was so compelling that it drove a number of large scale theatre-resourced efforts, including OPERATION MEDUSA, a large scale conventional combat operation that resulted in the defeat of the largest TB cell yet identified in Afghanistan, with over 1500 Taliban killed or captured. I rate him as one of the best intelligence officers I have ever worked with—fearless, smart, and personable, and I would not hesitate to have him on my staff at any time in the future. I have advised my chain of command that the Canadian Forces must capture his skillset, and seek his advice on how to change our entire tactical intelligence training and architecture to best meet the needs of future deployed units fighting in extremely complex human battlespace.

4. I cannot thank you enough for allowing Constable Sajjan to deploy with us on OPERATION ARCHER, and he has been an outstanding representative of the Vancouver City Police. I would ask that you pass my personal thanks on to Constable Sajjan, and to those who supported him and his family while he was over here with us. I pray that he stays safe now that he returns to the challenges and dangers of his "everyday job," and ask that if I can ever be of assistance to either Constable Sajjan, or your Department, that you do not hesitate to ask.

Sincerely,

David Fraser

Brigadier General

Commander, CTF Aegis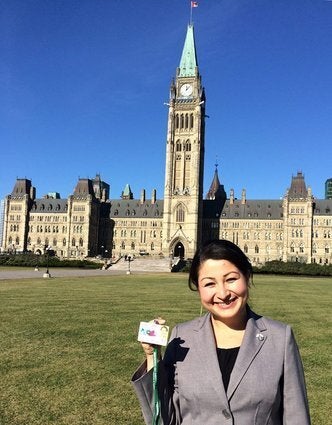 Rookie MPs To Keep Your Eye On
Popular in the Community