"They can call bullshit really quickly."
The profanity seemed perfectly on brand for rookie Defence Minister Harjit Sajjan when he sat down with HuffPost Canada in December 2015 to talk about adjusting to a new life in politics.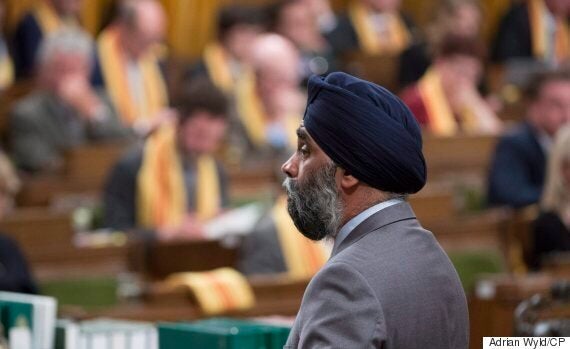 Sajjan, a man who faced real bullets in real war zones, had already been loudly proclaimed a "badass" after that G.I. Joe-like image of him sporting a camouflage uniform and sunglasses made the rounds online. The photo was taken shortly after Operation Medusa, he said at the time.
The former lieutenant-colonel — a veteran of three tours in Afghanistan and one in Bosnia — conceded in that interview that he was having trouble getting used to "political talk," even though the Vancouver South MP was, well, a politician.
Pitfalls could be avoided by being straight with Canadians, he suggested, and by staying genuine.
"You'll never get caught in a lie if you're just always telling the truth," Sajjan offered.
Some 17 months later, opposition MPs are calling for him to resign for what they see as intentionally misleading remarks about his service. That's "political talk" for a lie.
In the House of Commons Monday, Sajjan tried to answer for his boasting during a speech in India last month that he was the "architect" of Operation Medusa, a major 2006 offensive in which 1,500 Taliban fighters were killed or captured. It was Canada's largest battle in the conflict. Twelve Canadian soldiers died.
Yet it was also revealed over the weekend that Sajjan told a British Columbia podcast in 2015, just before that year's federal election, that Gen. Jonathan Vance had referred to him as the "architect" of the operation.
Vance declined to respond to questions about Sajjan's remarks at a news conference Friday.
On his way to what was certain to be a difficult question period, Sajjan told Parliament Hill reporters that he wanted to again "apologize for my mistake" and said he never intended to diminish the work of his former superiors.
A journalist wondered how the remark was a mistake if he said it twice. Isn't that a lie?
"I'm not here to make excuses," Sajjan said. "I'm here to acknowledge my mistake, apologize for it, learn from it and continue to serve."
Trudeau says he has 'full confidence'
In the House, Prime Minister Justin Trudeau said he had "full confidence" in Sajjan. He too stuck to a careful script, repeating that his minister "made a mistake," for which he had taken responsibility.
There's little question that Sajjan's exemplary military service has been politically useful for Trudeau, who not so long ago was publicly accused by his predecessor of harbouring a "deep distrust" of the military.
Just last year, Sajjan forcefully shut down a Tory critic accusing the Liberal government of a "visceral hatred toward the Canadian Armed Forces."
"Every member in this House supports our military," Sajjan shot back at at time. "Let's not play this ridiculous game."
When Conservatives blasted the government last month over a danger pay issue affecting troops in Kuwait, Sajjan sparked applause from the Liberal benches by reminding the House that he knows all about what it means to serve in combat.
"Every time I make a decision, it is about thinking about when I had boots on the ground," Sajjan said. "That is how I will take every future decision."
But the controversy has now opened the door for opposition MPs, most of whom have not served in uniform, to target Sajjan on something that was once unassailable.
Accused of 'stolen valour'
"The military have a name for what he did," interim Conservative Leader Rona Ambrose said in the House. "It is called 'stolen valour,' when someone takes credit for the brave actions of another. What he did was wrong. Now, he has lost the confidence of our men and women in uniform."
Tory defence critic James Bezan claimed Sajjan is now seen as a laughing stock.
"His reputation is damaged beyond repair. Canadians do not believe him. The military does not trust him. Our allies are not going to take him seriously."
Deputy defence critic Pierre Paul-Hus, himself a veteran, wondered how the prime minister could be satisfied with a defence minister "willing to stretch the truth to raise his own profile."
MP John Brassard highlighted the #SajjanBattles Twitter hashtag that has mocked the minister for "his personal involvement in everything from the War of 1812, right up to the destruction of the Death Star."
Liberal MP Marc Miller came to the minister's defence Saturday by sharing an image of Sajjan's many hard-earned medals.
"Nuff said," Miller responded to the Twitter pile-on.
"I rate him as one of the best intelligence officers I have ever worked with — fearless, smart, and personable," Fraser wrote.
But Sajjan was unable to hit back Monday. Rising a dozen times from his seat in the House, he said he wanted to own his screw-up and move on. He apologized, again and again, for his "mistake."
There can be no doubt that Sajjan, the soldier, showed profound bravery. But on Monday, he sounded like a politician hoping to ride out the storm.
With a file from The Canadian Press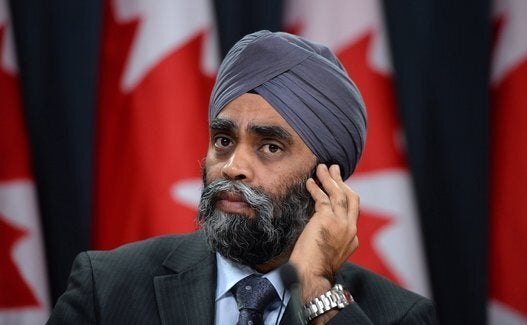 Current MPs With Military Experience (2016)