But some may say the timing is convenient, as Harper faced a number of tough questions regarding the Senate expense scandal and the recent Elections Canada charges laid against his former parliamentary secretary, Dean Del Mastro.
And that has his main rivals accusing the prime minister of running scared.
Mulcair told CBC's Evan Solomon that Harper's absence in the House of Commons will be both "undignified and unprecedented."
The NDP leader was also highly critical of Harper's decision to prorogue Parliament by one month this summer. NDP MPs instituted "virtual question periods" on Twitter, where they lobbed questions at Harper and his key ministers online, but were mostly met with radio silence.
"He can run, even to Brussels, but he can't hide," Mulcair said.
"I think we've gotten used to a prime minister that prefers not to be held accountable," Trudeau said.
This is not the first time Harper has hit the road in advance of a difficult question period.
In May, Harper took off to South America shortly after his chief of staff, Nigel Wright, resigned over the infamous $90,000 cheque he cut for then-Tory Senator Mike Duffy.
"Mr. Speaker, when the going gets tough, the tough get going … to Peru, apparently," Mulcair said.
The EU deal could be a major feather in Harper's cap. One agriculture expert has said it could mean up to $1.3 billion in new exports from Canada, mostly beef.
And perhaps most importantly for Tories, it may give Harper another chance to change the channel.
NDP House Leader Nathan Cullen told HuffPost on Sunday that Harper is facing a grilling this fall over the various controversies that have plagued Tories all summer.
"Boy, oh boy, he's going to have trouble with question period," Cullen said. "If the prime minister didn't outright lie, then he lied by hiding the truth that he knew, and he needs to account for that."
With files From The Canadian Press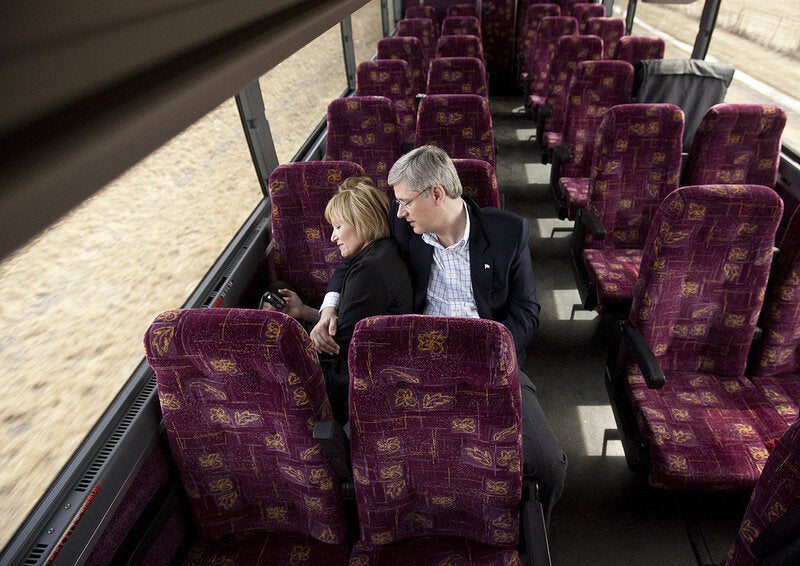 Memorable Stephen Harper Pictures