Stephen Harper declined to explain Monday what he meant when he said that his current chief of staff Ray Novak was "very clear" with him about the Nigel Wright and Mike Duffy affair.
"You said yesterday that Mr. Novak, your chief of staff, has been clear with you about the Duffy deal," CTV News' Laurie Graham said to Harper in Drummondville, Quebec. "I wonder if you can elaborate. What did he say to you and why do you believe him?"
Harper responded that he wasn't going to comment on matters before the court, as he has whenever asked about the situation on the campaign trail.
"I've been very clear with you, I have confidence in this individual," the Conservative leader said of Novak.
"But more importantly, I point out to you who is responsible, and this is very clear. Mr. Duffy took the money that I say he should not have taken. He did not pay it back. The reason he did not pay it back [was] solely due to the actions of Mr. Wright, done without my knowledge and done without my consent and authorization.
"And that's why he has been held responsible. He was the boss. They were his actions and he has been held responsible."
Benjamin Perrin, Harper's former legal counsel, testified in court last week that Novak was well aware of Wright's plan to provide Duffy with $90,000 to repay the senator's expenses. The testimony contradicted the Conservative campaign's assertion that Novak did not know anything about the deal.
Tory campaign spokesman Kory Teneycke even told reporters this month it would be "unfathomable" for Novak to have known of the deal and not told Harper.
'Mr. Novak has been very clear with me'
On Sunday, Conservative supporters in Rockland, Ont. let out an audible groan when Graham rose to ask Harper about Novak.
"There is an outstanding question still unanswered and that is about your current chief of staff Ray Novak," she said. "Did he know about the deal and did he tell you?"
"Mr. Novak has been very clear with me," he said. "The fact of the matter is this. In my view, there are two people responsible. Mr. Duffy, who is the only one on trial, who took money. In my judgment, should not have taken it, should have paid it back, did not do so.
"Instead, Mr. Wright did that for him and I grant he paid back the taxpayers but he did so without my knowledge and without my agreement. These were his actions. He was the boss and he is fully responsible for them."
The Conservative leader has been dogged with questions on the Wright-Duffy affair as evidence in court has shown a number of people in the Prime Minister's Office were aware of the deal between the two men.
And a new poll suggests most Canadians paying attention to Duffy's trial don't believe Harper has been truthful.
According to Forum Research, two-thirds of those following the senator's trial believe Harper knew about the cheque all along. The poll was conducted between Aug. 17 and 19 among 1,473 Canadians via interactive voice response.
Chris Woodcock, the former director of issues management in the PMO, is testifying at Duffy's trial on Monday.
Read more about the Wright-Duffy affair: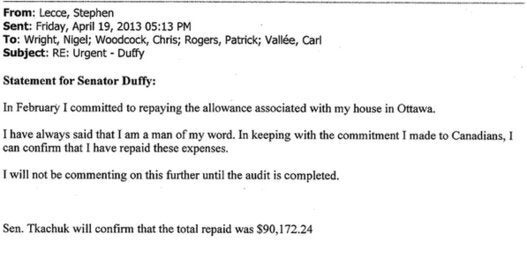 Nigel Wright Emails In Mike Duffy Case
Popular in the Community