The Huffington Post Canada is delighted to once again be partnering with the Writers' Trust of Canada Shaughnessy Cohen Prize for Political Writing. In the weeks leading up to the April 2 announcement of this year's prize winner, we are publishing excerpts from each of the five finalists. The authors have personally chosen the portions they'd like to share, and each excerpt begins with a brief explanation of why that particular passage was chosen.
A note from author Paul Wells:
This excerpt comes from the chapter on the 2008 election. Harper made a great show of being forced into that election by un-cooperative opposition parties, but in fact the whole thing was meticulously planned with a TV ad shoot at Harrington Lake and a series of strategic leaks by his spokesman Kory Teneycke. Here we see several Harper characteristics together: Secretive, careful to keep the advantage of surprise -- and always, always on the offensive.
And so Harper settled into a wingback chair in a Harrington Lake study while a small knot of senior staffers, including Patrick Muttart and the Conservatives' Toronto-based admaker, Perry Miele, read to him from a long list of questions. They had no script as such. Harper might briefly discuss the gist of a possible answer with his helpers before launching into a full-blown monologue. If he stumbled he would start again. If they liked an answer he would repeat it a few more times in hopes of a better performance. But mostly he was riffing on themes.
The Conservative leader was wearing a navy sweater vest over a lighter-blue dress shirt. Nobody in the video crew wanted him in a suit. They wanted something softer. The sweater vest was what was in his dresser. "He doesn't have an unlimited wardrobe," said someone who was there.
Harper's answers to the many questions were much like his getup: improvised, but with a goal. Later the campaign team would pore over hours' worth of digital video recordings to find, and then display for voters, evidence of a gentler Stephen Harper.
The ads, when they ran, were tiny perfect imitations of real moments. There were three of them. Each opened with a shot of a maple leaf flag flapping, then cut to Harper in his sweater vest conversing with his of-camera visitors. In one ad he talked about his children. "You know, the time is precious. But being a father is the best experience of my life." In another he marvelled at the importance of immigrants' contribution to Canada. "We can build this country together."
The third ad offered Harper's gratitude to veterans. "What you always remember when you meet a Canadian veteran is that everything we have in this country was earned. And those men and women went out and put their lives on the line for this country. Never forget what they contributed. But more important, never forget how precious it is -- how precious what we have is."
It would be easy to miss the significance of the most telling details in the ads if you didn't know to look for it. In each of the three version, after Harper finished delivering his folksy homily, the soundtrack's string orchestra swelled and a closing message appeared over a blue background: "Canada: We're Better Off With Stephen Harper." This was new. Until 2008, Harper had never been popular enough for it to be worth making his persona the centrepiece of his party's campaign pitch.
In 2004 voters barely had a clue who he was. So he appeared in those hilariously contrived ads in which he complained about the Liberals, offered some kind of solution, and then paused and added, slowly, "My name is Stephen Harper." Viewers came away wondering about his speaking style but pretty sure, whoever this guy was, his name must be Stephen Harper.
When the next campaign began, at the end of 2005, Harper had been opposition leader through two years of constant electoral brinksmanship. It hadn't helped him much. The Conservatives' research showed that Harper, personally, was not a popular guy. Voters were intrigued by the notion of getting rid of the Liberals, but telling them they would be handing power to Harper didn't generate much excitement. So even in the ads in which Harper appeared, the party took care not to tell you who he was.
This practice reached its surreal pinnacle in an ad that featured various people talking about the leader without ever naming him. And unidentified blonde=haired lady whom experts would have identified as Laureen Harper say next to ... some fellow ... on a sofa. "He works long hours," she said." He works very hard," A voice-over described the same ... fellow ... as "a leader who looks more like one of them" and as "a leader who will not just bring the country together but final take it forward." Great. And what was his name? The ad was not helpful on this score. "Stand up for Canada," the voice-over said.
But that was 2006. Two and a half years in power had made Harper the party's best asst. The new ads reflected their voter research. The election was his decision. The vote would be a referendum on his record and the alternative.
And the mistakes, when they came, would be his own.
As the Harrington Lake ads began going to air in the last week of August, Harper's new communications director, Kory Teneycke, started taking reporters out to lunch. My turn came on Thursday, August 11, at a fabulously cheap and plentiful Chinese buffet on Albert Street. Teneycke ladles himself some wonton soup, swore me to secrecy, then announced that Harper had concluded, at some point during the summer, that getting anything done in the current Parliament was like "swimming in molasses." He would meet the opposition leaders soon. Very soon. "We're not talking week here." Unless one of Harper's opponents promised to refrain from voting no confidence, Harper would ask the governor general to dissolve Parliament and call an election.
A day later. Teneycke decided he'd be warning reporters about a fall election until Christmas is he did it one lunch date at a time. So he summoned representatives from all the Ottawa news bureaus to a briefing room inside the Langevin Block. "An election would clear the air and give a government - ours r a Liberal government - some open water to manoeuvre in," he said, still off the record. Why bring all these reporters in to tell them the plan? "If you have to guess, you may guess wrong," Teneycke said. "So I'm telling you so you'll guess right."
Paul Wells is the political editor of Maclean's magazine. His previous book, Right Side Up, was chosen as one of the Best Canadian Political Books of the Last 25 Years by the Writers' Trust of Canada and Samara. Wells has worked for the National Post, the Gazette (Montreal), and has written for L'actualite,La Presse, Time, and the Literary Review of Canada. He lives in Ottawa and can be followed on Twitter at @InklessPW.
He is shortlisted for the Shaughnessy Cohen Prize for Political Writing for The Longer I'm Prime Minister: Stephen Harper 2006 -
The Shaughnessy Cohen Prize winner will be announced at the Politics & the Pen Gala in Ottawa on April 2. www.writerstrust.com
Publisher credit: Excerpted from The Longer I'm Prime Minister. Copyright © 2013 Paul Wells. Published by Random House Canada, an imprint of the Knopf Random Canada Publishing Group, which is a division of Random House of Canada Limited. Reproduced by arrangement with the Publisher. All rights reserved.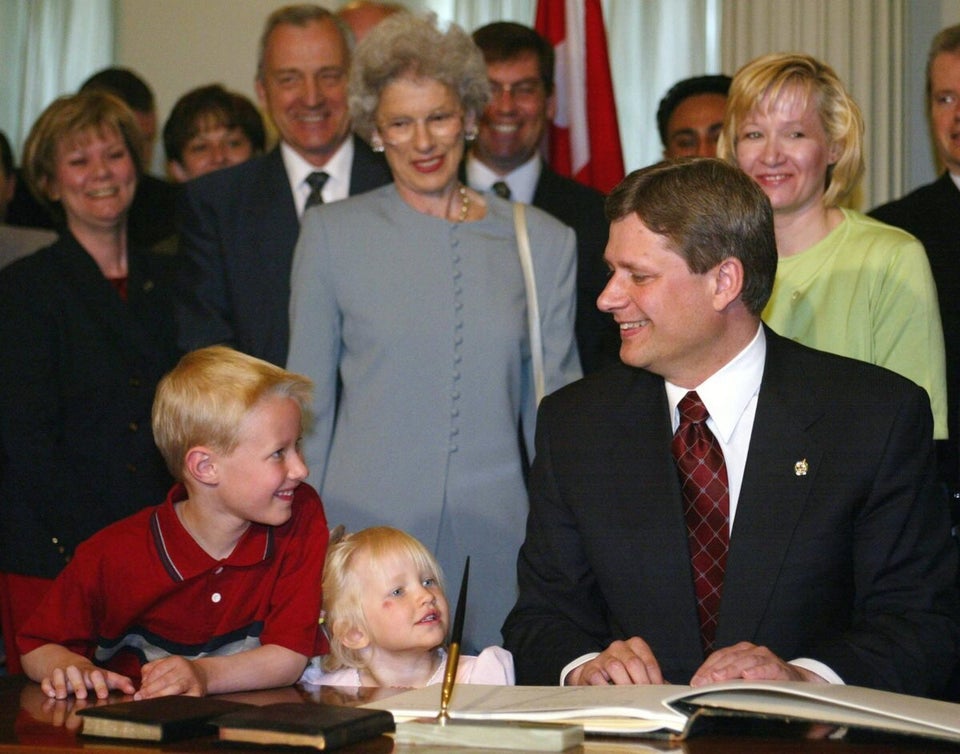 Harper's Children Then And Now